The Kitchen Appliance That's Worth The Investment If You're Looking To Sell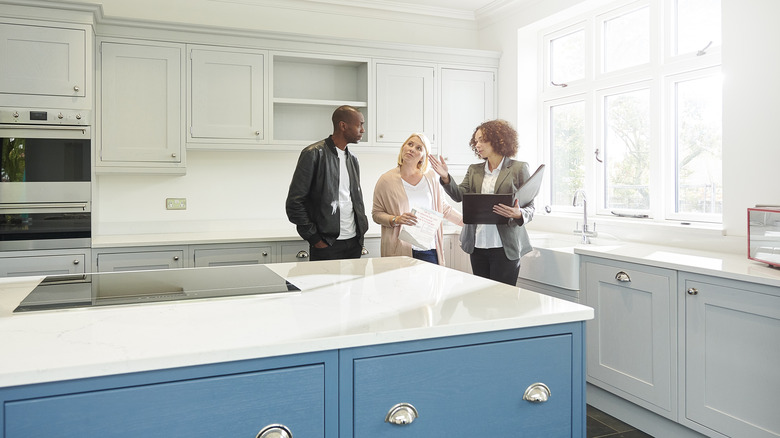 Sturti/Getty Images
The kitchen is arguably the most important room in the house for both dwellers and buyers. Often considered the heart of the home, it usually serves as the center for activity and gathering for a household and plays a significant role in the selling process. A modern, well-maintained kitchen determined by elements like custom cabinets and modern appliances is more appealing to buyers, which is why you need to invest in the right refrigerator. Sub Zero fridges, in particular, have become a big green flag, having the potential to make or break a sale.
A modern refrigerator has become a normal expectation for buyers. They expect to see a functional fridge that is also stylish and even energy-efficient, so they won't have to spend more time and money on upgrading it. They also enhance the overall appeal of your kitchen and your home, affecting a potential buyer's confidence about the condition of the property as a whole.
What makes Sub Zero fridges different?
From wine coolers to fridges, US-based manufacturer Sub Zero has a reputation for producing luxury kitchen appliances that are built to last for many years. Sub Zero fridges especially stand out from the crowd because their features and design are typical of what buyers want to see these days. They are designed with aesthetics in mind, which is a key part of the modern décor decision-making process, and fit well in upscale kitchens. They also come with various customization options, like panel-ready models.
Sub Zero continually invests in research and development to incorporate the latest technology into their products, which appeals to people who seek practical and convenient features. Some of these features are precise temperature and humidity control, air purification systems, independent cooling systems for the freezer and fridge, and the ability to connect to your phone. Some models are also Energy Star certified, exceeding the federal minimum standard. Longevity is another thing that sets this fridge apart. While fridges typically last around 10 to 15 years, the Sub Zero can be expected to hit the 20-year mark and keep going.
Why the Sub Zero fridge is worth the investment
Because Sub Zero refrigerators are considered luxury appliances, they come with a higher price tag compared to many other brands. They range from around $4k to $40k but remain a popular choice with the general public and even some celebrities. This, coupled with the fact that buyers love to see them in home listings, shows that the brand's reputation makes it worth the investment.
According to Yahoo! Finance, President and CEO of Sub Zero James J. Bakke acknowledges that the fridge is a lifestyle product while emphasizing its quality. Due to its strong reputation for excellence and reliability over many years, buyers tend to seek it, whether when shopping for appliances or homes. The combination of aesthetics, functionality, and brand recognition with this product makes it worth the investment for not only those looking to sell their homes but for those who prioritize quality and durability in their kitchen appliances.