Create A Gorgeous Fall Centerpiece With This Festive Dollar Tree Hack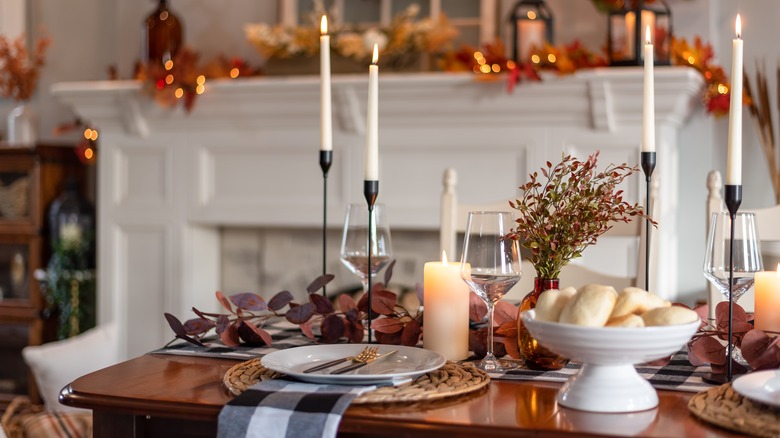 Kristen Prahl/Shutterstock
Distinctive and creative fall décor is a must, particularly during a time when autumnal entertaining takes precedence. Large and lush centerpieces filled with gold and orange leaves, fall flowers, and berries can make your seasonal tablescape stunning but can all too often break the bank. TikTokker @hometalk recently showed off a great DIY tutorial for a custom centerpiece that looks far more luxe and pricey than its Dollar Tree supply roots. Using two 3D pumpkin-shaped wreath forms and some rope, you can create a rustic and festive pumpkin centerpiece for well under $10.
You will need two wire pumpkin wreath forms, rope, a glue gun, and some twine to secure your pumpkin forms together. The end result of this hack is a beautiful large pumpkin rope piece that can serve as a framework for flowers, leaves, and other fall foliage bits peeking out and through. It makes a perfect Thanksgiving centerpiece that looks like something far more expensive from popular home retailers while still being easy and affordable to assemble.
Making a rope-covered pumpkin
Begin this DIY hack by wrapping the wire pumpkin forms completely with rope, using hot glue to hold the ends in place. When you've wrapped each piece and allowed the glue to dry, use twine to bind the two halves together to form a circular whole pumpkin.
Place the pumpkin inside a basket or tray to provide the base for your centerpiece, then fill the rope-covered form with fall leaves, twigs, flowers, and other autumnal elements, weaving them in and out of the framework. You can use fresh or artificial flowers and natural materials. For a more permanent centerpiece, you can use glue to firmly adhere the flowers in place.
The centerpiece looks stunning alone or can be paired with other seasonal décor elements like candles, dishware, and fall figurines. Use it for inside or outdoor tables for a bit of rustic charm. While a basket base will give the centerpiece a more farmhouse or cottage feel, a sleek tray imparts a more modern vibe that can be augmented with votives.