The Biggest Mistakes You're Making When Buying A Doorbell Camera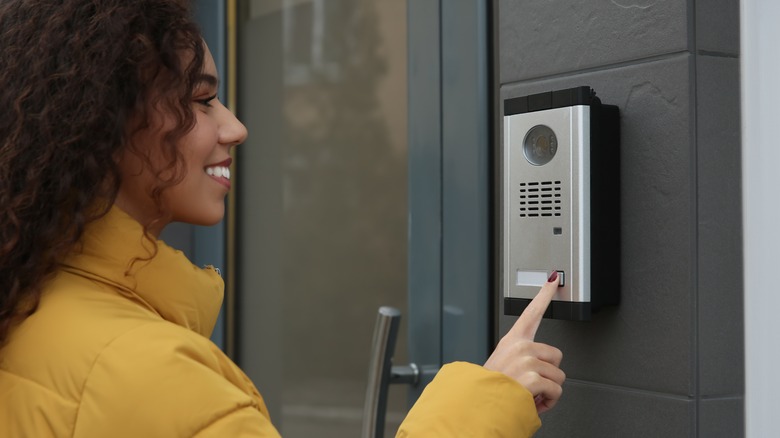 New Africa/Shutterstock
Doorbell cameras have boomed in popularity in recent years. Now, having a home security system is more accessible than ever. Simple options install wirelessly right next to the front door with no complex mounting or power tools necessary, and a full-blown 360-degree view of the perimeter of your home can be accessed with just a few more strategically-placed cameras. However, in this new era of convenience, it's not uncommon to run into issues that seriously impede the efficacy of your setup. The best way to avoid these issues? Look at all of your options before buying.
Having a doorbell camera is great, but there are two major things you should look out for when you're browsing: connectivity to an easy-to-use and reliable app and a clear view so you can ensure that you don't miss anything. If you buy a camera that doesn't prioritize these two functions, you're likely going to feel like you wasted your money.
Options without a functional app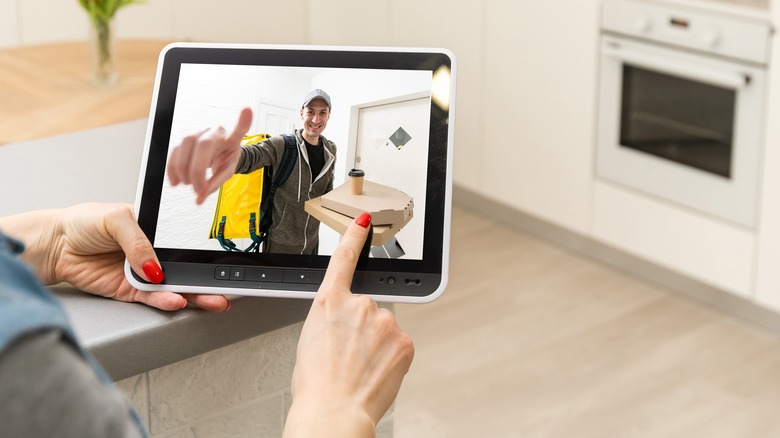 Andrew Angelov/Shutterstock
Having a doorbell camera is a great way to feel more secure in your space and deter potential package thieves. However, unless you have a way to access the content it records, there's really no point in setting it up. Because of this, it's important to do some research into your chosen camera's app before buying. Look out for companies that allow you to store and download video, as well as ones that will play a live stream regardless of if there's outdoor activity. They also need to have interfaces that load quickly and seamlessly so you don't face lags during important moments.
It's also important to consider that many companies offer these services as a perk of a yearly or monthly subscription, but they aren't included in the base cost of your doorbell camera. Popular brands like Ring and Vivint utilize this approach, but the exact price and what is included in your package will vary from brand to brand and from model to model. Therefore, if you're on a budget, don't just look at the price of the device but also take into account the cost of the subscription before purchasing a doorbell camera.
Issues with resolution and view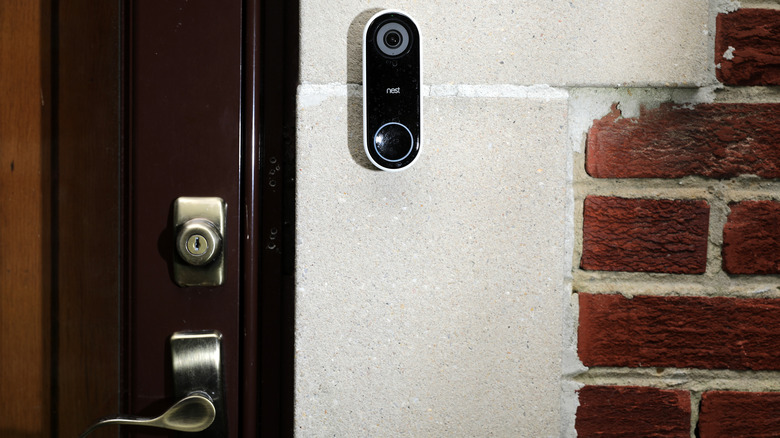 Chip Somodevilla/Getty Images
Once you've guaranteed that you can access your camera's feed and recorded video on an easy-to-use app, it's time to ensure that the video will be good-enough quality to be useful. Blurry camera quality, poor night vision, and a limited field of view can lead you to completely miss an event, whether it's simply a package delivery or more serious evidence of a crime. Before you buy a doorbell camera, look up the camera's more technical details. Go for something that's preferably 1080p HD with high-quality night vision. 
If you have a wide porch or front door area, you should also check to see if the device covers all the necessary angles. If your field of view is too limited, it might be a better idea to invest in a more traditional mounted home security system. Even if an option is popular or the cheapest doorbell camera available, it's not guaranteed to be a good purchase, as it may not have a high-quality camera. If you take your time and shop around to find a device with both a functional app and high-quality video feed, you're significantly more likely to be satisfied with the device you choose.