Why TikTok Is Obsessed With Target's Newest Halloween Decoration, Lewis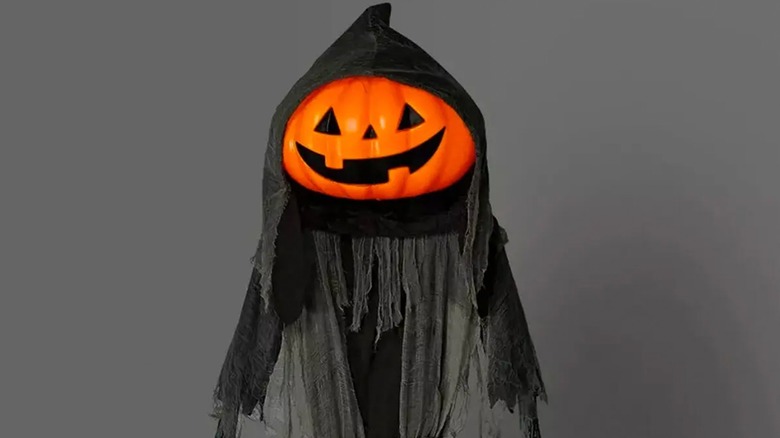 Target
When it comes to decorating for Halloween, trends come and go. This includes differing flavors of Halloween yard décor that range from cute and cozy to gore-filled and terrifying. While every popular retailer clamors to offer the season's "it" item, like the popular 12-foot Home Depot skeleton that has reigned supreme the past two years, this year's sensation, spurred on by social media platforms like TikTok, comes in at a slightly less impressive height, but a whole lot more mystery. Target has been catching attention with its slightly sinister 8-foot tall hooded pumpkin figure known only as "Lewis." 
Described by Target as "Light and Sound Pumpkin Halloween Ghoul," this impressive figure is selling out right and left since it went viral, making its way into the yards of ecstatic homeowners. While at first glance, one might consider it a more traditional jack-o'-lantern, you'll be quickly corrected by the spooky form itself, which says in a deep formidable voice, "I am not a jack-o'-lantern, my name is Lewis," followed by a trail of evil laughter.
Meet Lewis, the pumpkin-headed ghoul
Lewis has particularly caught the attention of TikTok, where many videos can be found of shoppers filming him as he looms over the seasonal Halloween décor aisle in Target stores. With an oversized pumpkin head and long, creepy orange fingers, Lewis is clad in a ragged gray and black robe with a hood. He makes a sinister impression with his crooked grin and motion, particularly on a front porch or greeting guests in a yard. His large and frightful appearance has earned him over 598 million views (and counting) on TikTok, where users are tagging him with the hashtag #LEWIS and search terms like  "jack-o-lantern Target."
The attention means he's tough to find in stores and online, with buyers paying a cool $180 to take the mysterious figure home, where he also says a number of other phrases that only add to his mysterious charm like "Trick or treat, all you creepy crawlers" and "Hello, hello, hello! I'm so happy you could carve out some time to come out tonight."
Spooky and mysterious origins of Lewis
While Lewis' story and Target origins remain a mystery, he bears a strong resemblance to the horror legend known as the Headless Horseman, long one of Disney's most popular Halloween villains from the 1949 animated favorite "The Adventures of Ichabod and Mr. Toad," a story in part inspired by Washington Irving's "The Legend of Sleepy Hollow." As for Lewis' appeal? Mostly it seems his mysterious air and slightly sassy tone have been drawing people in. Who exactly is Lewis? Where did he come from? What does he want? While no one may know, Lewis has TikTokers shooting videos and laughing uneasily as they encounter him.
While a bit smaller than his giant spooky décor brethren, like the 12-foot skeleton now available from a number of retailers or the even larger animatronic 13-foot Jack Skellington of "The Nightmare Before Christmas" fame, which can be found this year at The Home Depot (for $399), Lewis is sure to be a great addition to your outdoor yard decorations. While his origin story remains unknown, half the fun may be in creating your own version of Lewis' tale to horrify or delight your family and guests.