Turn Clutter Into Conveinence With This IKEA Kitchen Rack Storage Idea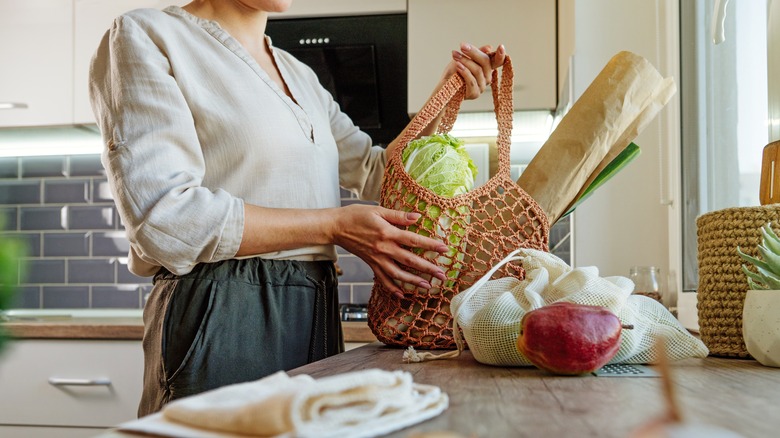 Lithiumphoto/Shutterstock
Reusable grocery bags are a great way to help save the environment and provide a sturdy rip-proof way to carry your groceries, whether you are hauling them short distances or long. All too often, however, you arrive at the market only to realize you've left your reusable in the car or tucked away at home. If you buy more, you solve your hauling problem, but soon realize you are drowning in a sea of bags you don't have enough room to store. Lately, the internet has been filled with a great solution for this never-ending problem, one that not only keeps your bags in plain sight where you are more likely to remember them but also offers a way to get a little bit more functional storage from the bags rather than just shoving them in a drawer.
Many have suggested using your bags as extra storage for items you want easy access to. This includes produce like onions, garlic, and fruit, which work wonderfully in mesh or netted shopping bags, as well as other things you find yourself using regularly or grabbing to go.  These bags, when hung in visible spots like the wall, under cabinets, or from other storage like shelves or carts, like the IKEA OMAR system, make you much less likely to forget to grab one.
Using your bags as extra storage
All you need are some bags in designs and colors that you like or that fit with your decor and some hooks.  Mesh bags, like these IKEA KUNGSFORS bags work well for holding things that you want to be semi-visible like produce.  Having items like bananas, oranges, and apples not only gives your kitchen a cozy European market vibe but also makes you and your family more likely to grab fruit or veggies as a snack before they start to go bad. They also work well for other non-produce things you like to have at the ready, such as masks, coffee filters, dryer sheets, and pet supplies. Using the bags for storage also keeps things visible to easily determine when you are running out of something. For things you'd like to store out of sight, canvas, linen, or burlap bags, like these closable NEREBY bags from IKEA, are a great option and still allow you to quickly grab what you need.  
Use colored bags to add a fresh pop of color to your kitchen, like these cute aqua KUNGSFORS bags, or go with shades like cream, white, brown, or beige in more neutral-driven rooms. You can purchase a variety of hooks that work splendidly on shelves, carts, doors, walls, and underneath cabinets that will keep your bags and their contents at the ready.