The Simple Way You Can Transform The Look Of Your Garage Door Without Any Paint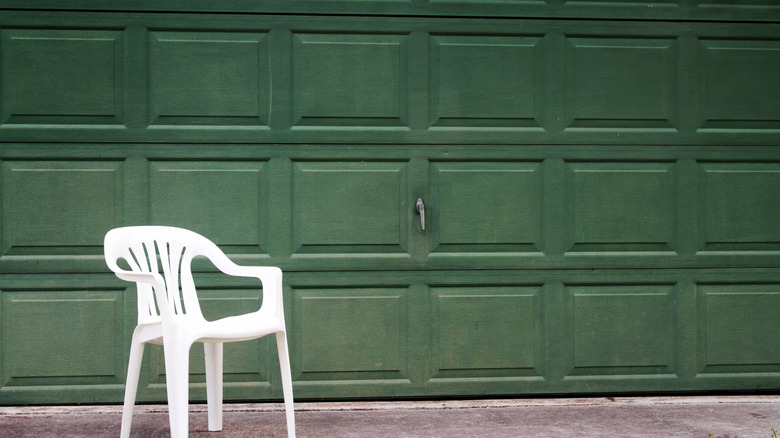 Noderog/Getty Images
Garage doors, which can often occupy a significant proportion of the view of the front of your house, are a huge part of your home's curb appeal. An attractive garage door can make your home look polished and put together, while a shabby one can ruin the otherwise great profile of your home. While many suggest painting your garage door routinely to combat damage and wear, a great paint-free alternative is available in the form of garage wraps, which use materials like vinyl and aluminum to cover the door with a durable finish that can last several years.
While garage door wraps cost a little more on average than a coat of paint (anywhere from $500 to $1,000 dollars, depending on size and material) the wraps often prove more durable than paint, which is prone to deterioration, peeling, and cracking that results in rust spots, particularly in high moisture areas. The wraps can last in perfect condition for five to seven years if treated well, making them a great alternative to paint. 
Varieties of garage wraps
Garage wraps come in various materials, including several kinds of vinyl and aluminum. The covers fit snugly over the existing door and adhere smoothly with the help of a heat gun, making them an easy DIY project. Alternatively, you can also get help from a professional. While aluminum covers can be, like the door itself, subject to rust if damaged, the vinyl wraps are a great alternative for all climates and come in a number of finishes perfect for your home, including matte colors, glossed varieties, and textured finishes that mimic wood or stone. 
The covers are moisture and UV-resistant, which means they will resist the peeling, rusting, and fading that can befall painted doors. They are a great option as well for rental properties where exterior painting may not be allowed or when you want to try out a bold new color, texture, or finish but aren't sure if you want to do something more permanent with your garage door.