Jenn Todryk Loves This Nontraditional Moody Kitchen - Here's How To Replicate The Look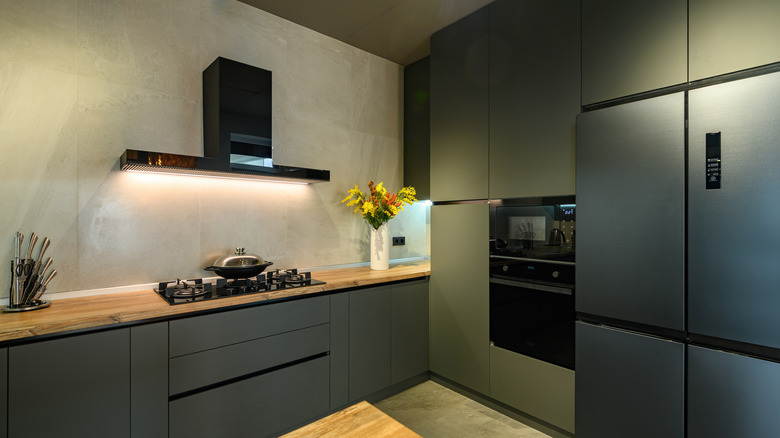 Serghei Starus/Getty Images
A moody décor aesthetic is typically characterized by deep, dark colors that work together to create a dramatic atmosphere. When done right, such colors can add dimension to the space to prevent the darkness from feeling claustrophobic. Jenn Todryk found a way to make this happen in one of the homes on "No Demo Reno" and she can't stop raving about it. "I love the depth that this kitchen gives all while being extremely cozy and charming," she says in an Instagram post.
A main concern of a moody aesthetic, in addition to feeling cramped, is creating a room that feels cold and unwelcoming, but this kitchen is an example of what you can do to keep things light. "'Moody' doesn't have to be dark! Moody is a feeling... a vibe," says Todryk (via Instagram). Adding various types of textures is a great way to ensure a moody space doesn't feel sterile because they add warmth and visual interest with the colors they bring.
Using texture to create a moody but lighthearted space
The featured kitchen has black mist granite countertops and muted sage gray cabinets that act as a strong, neutral foundation for the moody design. However, they are enhanced by the presence of plants, wooden accessories, and some light colors. "It's layer on layer of texture and even though nothing is white it feels like it's still calm and neutral," explains Jenn Todryk. The white silk quartzite island, for example, isn't actually white at all but more of a creamy shade with gray lines. This makes it feel more inviting and less jarring than it would've been if it was a stark white.
The two different types of plants add life and texture with their shades of green and distinct forms while the wooden shakers, mortar and pestle, and fruit bowl add the homeliness that is typical of wood. One tip for enhancing the texture brought by these accents is to keep colorful fruits in the bowl and choose light-colored plant pots so the space feels warm. The other textures that help the moody kitchen maintain its charm have to do with the cabinets themselves. The arched cabinet doors are simple, but they soften the space, while the brass cabinet pulls also add some warmth.