Transform A Dollar Tree Mop Into A Light Up Ghost With This Incredibly Easy DIY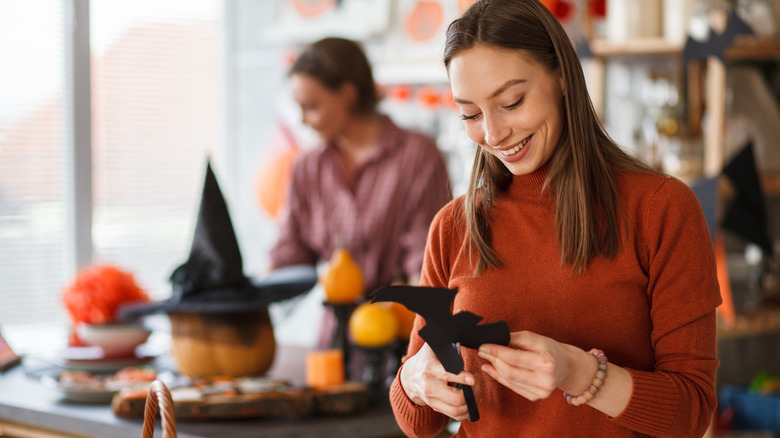 Fotostorm/Getty Images
Halloween is the ideal time to let your creative side run wild and come up with some truly unique decorations. Moreover, you can accomplish a lot of your indoor Halloween decor goals with affordable projects. If you're on the hunt for a DIY Halloween idea that feels fresh and is easy to accomplish, you'll love the light-up ghost project shared by YouTuber @TheNavagePatch. The gist of this creative concept is to glue a vase inside a mophead to create a rounded, ghostly shape, then place a light underneath to give your little ghost a spooky glow. 
You can get all of the materials for this fun craft from Dollar Tree or any other discount store in the area. For the mophead, look for a detached one at the discount store, such as these ones from Dollar Tree. You could also get an entire mop with a handle, but you'll have to take the head off of the handle before you begin the project. The other necessary supplies include a clear vase, hot glue or another strong craft glue, battery-powered lights (think string lights or fake candles), scissors, and black felt or paper. A small witch's hat is optional, as you could add another topper instead. You could also use any extra felt to make your own hat. With these materials gathered, you'll be able to create a super cute light-up ghost.
Turn a mop into an adorable ghost
The first step is gluing a clear vase to the mophead. Pull back the strings to reveal a flat base at the center of the mop, then use a hot glue gun or alternative strong adhesive to secure the base of the vase to the mophead. Follow your glue product's guidance on drying time before moving onto the next step. Once the vase is firmly in place, attach a decorative piece to the top of the mophead, where the handle attachment is located. The practical purpose of this step is to cover the handle attachment, but it's also a great opportunity to give your ghost a little more personality. A small witch's hat is perfect for this, but if you're feeling extra crafty, you can always experiment with making other playfully-spooky pieces out of felt or cardboard.
Complete your simple DIY ghost by cutting some adorable round eyes out of the black felt or paper to glue to one side of the mophead. If you'd like, you can also make a tiny ghost mouth as well. You now have a sweet little mop ghost. To create the light-up effect, use your battery-operated light of choice. Turn on the light and place it underneath the vase to provide an eerie glow that's the perfect finishing touch to this fabulous Halloween decoration.