Turn That Unused Space In Your Home Into A Cozy Hangout With Nate And Jeremiah's Clever Idea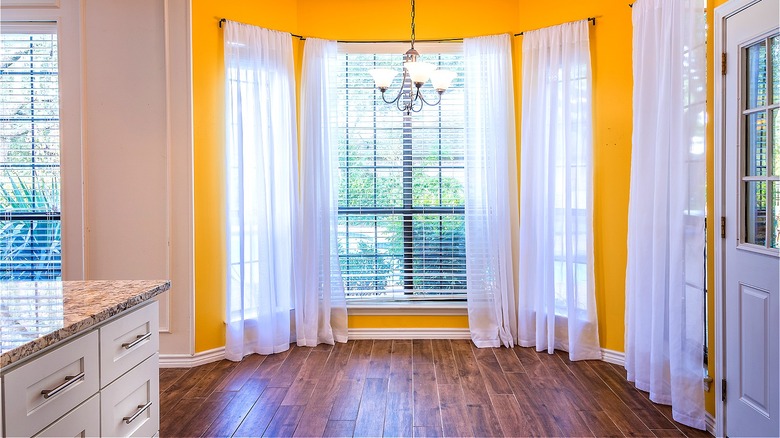 Martina Birnbaum/Shutterstock
In Season 2, Episode 5 of "The Nate & Jeremiah Home Project," Nate Berkus and Jeremiah Brent tackled a turn-of-the-century home that had a gloriously large kitchen but an awkward, dated layout and a mostly unused dining room. In the remodel, the design duo settled on an island for the kitchen, a smaller round dining table that made more sense in the formal dining space, and a larger opening between them. But it was the home's redesigned sunroom that stole the show, turning a formerly unused space into a cozy, versatile hangout.
Berkus and Brent took a novel approach to the room: window seat benches around the entire perimeter. Not only do the custom window seats provide a comfy spot to sit and spend time with whoever may be working at the adjacent former dining room table-turned-desk, but the seating does double-duty for entertaining. The designers noted that by adding a few long rental tables and chairs, they easily can seat up to 50 people along the length of the room's new look.
Benefits of banquette seating
Banquette seating (also known as bench seating or booth seating) is an adaptable element that works in any space, particularly narrow or compact ones where a table surrounded by chairs would be too tight or not possible. As in Nate Berkus and Jeremiah Brent's redesign, it is also an efficient way to get more seating in any room, as well as potential storage. Many window seats and banquettes offer storage space out of sight underneath, perfect for housing larger platters, dishware, and infrequently used appliances.
Banquette seating is particularly wonderful for rooms that have large windows with gorgeous views, or, as said, tight spots like a breakfast nook. There are a number of easy tutorials on building DIY benches or banquettes in your home, as well as pre-made options that can be purchased to fit your space. With some cushions and throw pillows, they can be just as comfortable as your conventional furniture.