Create Spooky Halloween Sconce Covers On A Dollar Tree Budget With This DIY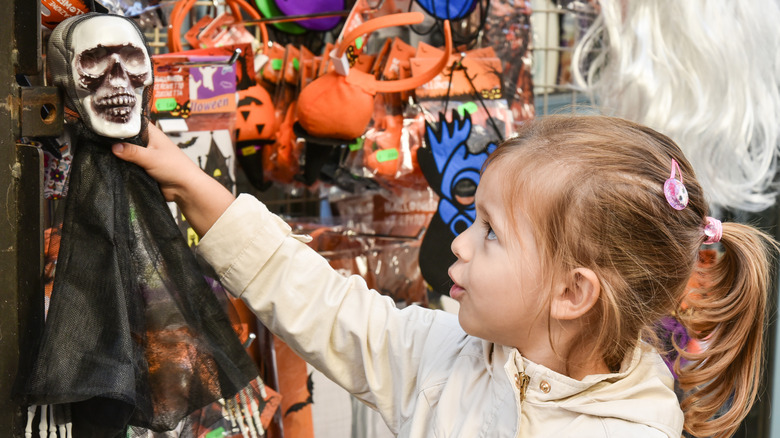 Davide Zanin/Getty Images
Sconces, even when they're not overtly themed, are a great way to encourage a spooky, haunted mansion-esque feel in your spaces around the Halloween season. Traditional lightbulbs can be swapped for flickering faux candles or colored LEDs that cast an ominous purple or green light, basic neutral lampshades can be exchanged for seasonally inspired colors and patterns, and existing setups can be topped with layers of faux spiderwebs to give off that abandoned, ghostly look. If you don't already have sconces or you're looking for something that's a bit more scary than a bit of texture or color, however, look no further than this DIY sconce hack shared by @wonderandwhimsypartyco on TikTok.
If you're able to find everything the creator uses in her video at your local Dollar Tree, your grand total for this indoor Halloween décor DIY should only come out to under $5, with the added cost of batteries, hot glue, and a bit of optional paint if you don't already have these on hand. All in all, this hack is low-cost, low-effort, and high-reward, meaning it's a great choice if you're looking to get your space into the seasonal spirit without shelling out money on more expensive pre-made decorations.
How to use this TikTok hack yourself
In her TikTok video, @wonderandwhimsypartyco begins by gathering the necessary supplies: two Hanging Skeletal Ghouls, one pack of Luminessence Flameless LED Emergency Candles, four AAA batteries, a hot glue gun, and a small amount of orange paint. She unpackages the ghoul decorations first, then begins to bend their flexible arms to hold the candle. Once they're in position, she simply fills the candle with the required batteries and hot glues the candle to the ghoul's hands. Because the light cast by the candles is very bright and cool, she also decided to go in with a coat of orange paint to change the color of the flame, but you could substitute this for a permanent marker or skip this step if you like the bright LED look. After this, your decorations will be ready to hang.
If you're feeling creative, you can also easily customize this hack. Dollar Tree has other similar hanging decorations like this Halloween Hanging Jack-O-Lantern Faced Ghoul Decoration and the Hanging Witch Ghoul that can be used to replace the classic black and white skeletal ghoul. You can also use these Dollar Tree decorations if you already have sconces in your home by simply wrapping the arms around your existing shades for a spooky touch. Just make sure you're using a lightbulb that doesn't produce a large amount of heat — ghouls might be scary, but hidden fire hazards are even scarier.