Make HGTV's Spooky Faux Topiary With Just A Few Budget-Friendly Items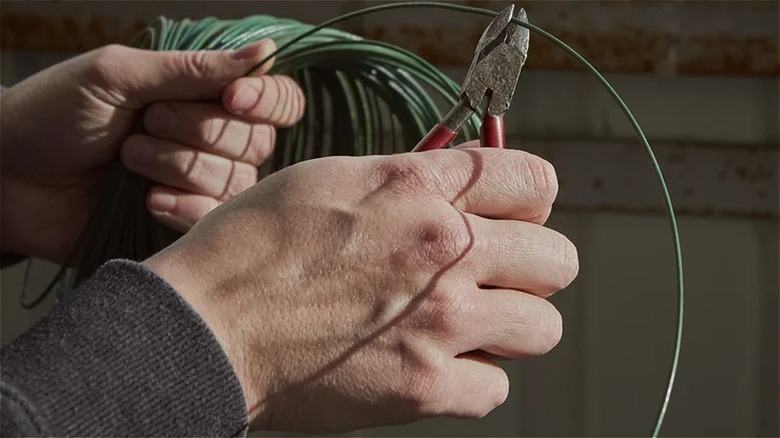 Andrii Hibelchuk/Getty Images
Depending on the neighborhood, you might see a friendly competition rise up every fall between neighbors trying to outdo each other with cute-yet-spooky Halloween decor. People rent or buy animatronics, lifesize witches, ghosts, or aliens, and install purple and orange lighting displays. All those are super fun, but we like to give out bonus points for lower-cost originality. For crafty DIYers who want a budget-friendly decoration, try HGTV's faux topiary made with an urn-shaped planter, skulls, bones, and a touch of decorative moss.
Although you'll need many items, this is surprisingly easy to put together. Get yourself a large plastic urn planter like this option from Walmart, a wire tomato cage, and cardboard boxes of different dimensions. You'll also need plastic skulls in various sizes like this budget-friendly option from Dollar Tree, and a few plastic leg bones like these on Amazon. As for the greenery, a few packs of Spanish Moss like this option from Home Depot will create the trees. Then, gather some floral wire, a wire cutter, crumpled-up paper, and zip ties for assembly. You'll also want to have a utility knife, a drill and Forstner bit, and a saw on hand.
How to create this spooky faux topiary
First, set the tomato cage upside down on the urn and place empty boxes inside of it to give it some structure. Then, you'll drill holes into the skull temples, string a piece of floral wire through about three of them, then secure them to a section of the tomato cage wires. For a tapered look, place the large and medium skulls on the bottom-most rows, getting progressively smaller as you rise, stringing and securing row after row. Add skulls until they cover most of the exterior surface of the cage.
As you work, stuff in some crumpled paper to push the skulls out so they're not looking downward. Drill three holes in the bottom of a large skull and secure it onto the legs at the top of the cage as a tree topper. Secure leg bones with zip ties to cover any vertical openings. Finally, fill in every open nook with hanging moss — creating an original and super creepy topiary!
Now that you've got the basic look down, you can customize it in ghoulish ways. Instead of moss, get black (or white) creepy cloth from Amazon that you can drape and shred. Using snips of adhesive velcro, secure plastic mice or rats onto the cloth. To make the top row of skulls more ferocious, perch bat skeletons like these, also from Amazon, on top of each one, securing them with a glue gun.