How To Find The Right Landscaper For Your Yard's Weeds, According To A Professional Gardening Coach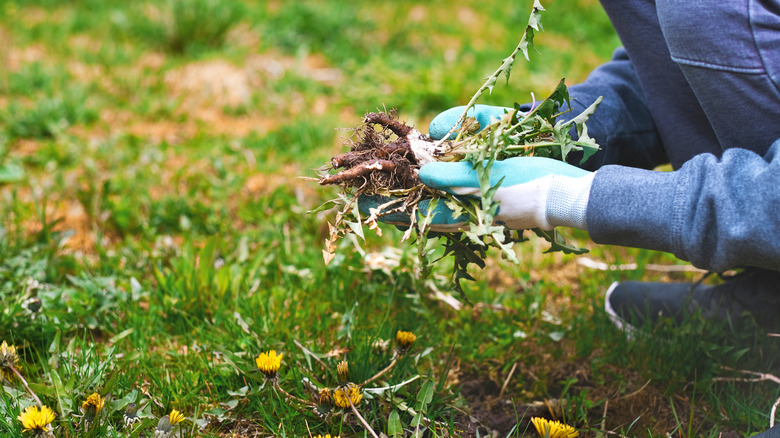 VisualArtStudio/Shutterstock
Having a beautiful yard and garden involves quite a bit of work. You may be ready to tackle a lot of this work yourself, including battling invasive weeds. But after you prepare all your tools and walk outside to begin working on the issue, you may find yourself sighing, shaking your head, and getting overwhelmed, leaving you unsure where to start. One landscaping pro has an idea: Hire a landscaping company and outsource some of the hardest work.
Professional gardening coach and consultant Jessica Zander says you should not feel guilty about hiring someone else to tackle weeds and clean up the most overgrown areas around your garden and yard. "It can be exhausting to battle invasive weeds. If you're just too busy or are not physically able to do everything that needs to be done, it's OK to get help. And you should. This allows you to focus on the fun stuff," Zander says on her TikTok channel.
Figuring out how to get rid of weeds in your garden and yard can be exhausting work. Unless you are able to pull the invasive plant and remove the root at the same time, the issue will grow back. Back pain while eliminating weeds is common as well. That's why hiring someone to do this hard work can give you a fresh start physically and emotionally.
Tips for finding a landscaping service to eliminate your weeds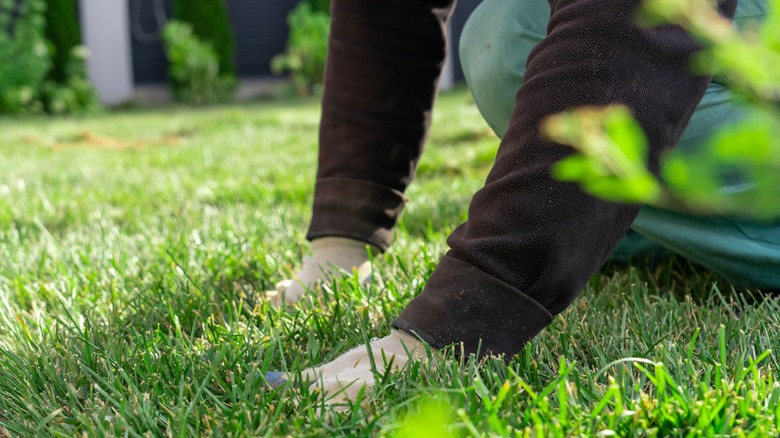 sommthink/Shutterstock
If you are only planning on hiring a landscaper to take care of your weed problem, it may be your first time searching for a landscaping company. It can be tough to find the right person or company who will do the work within your budget. Always start by asking the landscaper for a free estimate. Most services will give you an idea of the cost with no obligation on your part.
You can obtain a few different estimates to help you decide whether the work will fit in your budget. Understand that most landscaping companies would prefer to do a large project rather than a small one, like removing weeds from your yard or garden. Once they realize it's a small job, you may have a few companies turn it down, so you'll have to be persistent with calling multiple people. Some companies like doing small jobs, though.
Before hiring a landscaper, make sure they have some references you can call. See if they have memberships in any national or local landscaping associations. You also should ask whether the landscaper is willing to do a one-time weed-pulling service. Some landscapers will only agree to do this type of job if you are willing to sign a monthly contract.
What to do if you can't afford to hire a landscaper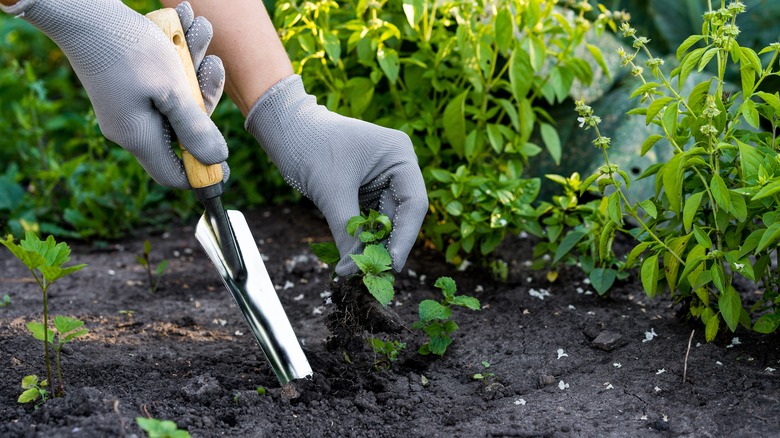 Uryupina Nadezhda/Shutterstock
Although Zander suggests paying a landscaping company and outsourcing some of the toughest weed control jobs in your yard and garden, she also has advice for people who simply can't afford to hire someone. "My advice to you is to do your work in little chunks so it's not quite as overwhelming. Do 15 minutes and chip away at it. Try to think about the rewards once you're done," Zander says. Taking your time when doing the work can help you recover faster physically. You then may be able to go back and do more work the next day.
If you suffer from joint pain and back pain after pulling weeds, consider using long-handled weed-pulling tools that limit the amount of time you have to spend kneeling or bending over. To make it easier to remove the plant and its roots when pulling, try to do the work after a little bit of rain or after watering the area. Weeds come out of the soil easier when the dirt is softened with moisture. Use a trowel to loosen the soil around the plant and root before pulling.
There are multiple ways to landscape your yard on a budget, many of which involve keeping weeds at a minimum after the initial removal. Creating a thick mulch bed or using landscaping fabric can block weeds from returning in the future.