HGTV's Tarek & Heather Share How To Make Your Outdoor Area More Exciting For Buyers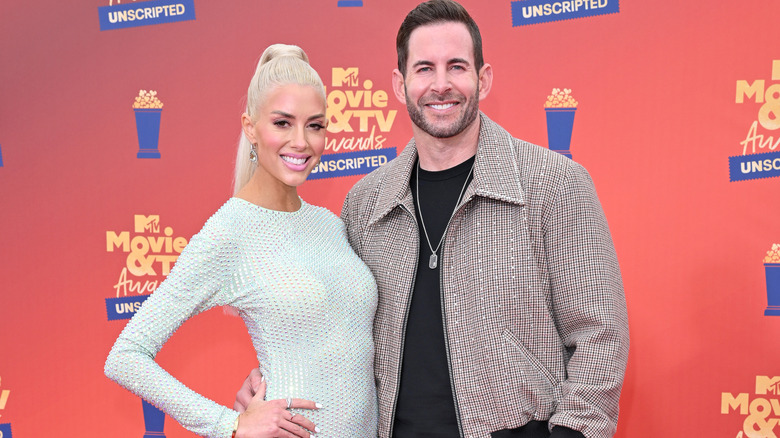 Axelle/bauer-griffin/Getty Images
When you put your home on the market, the first thing people notice is how it looks on the outside. As potential buyers drive by the house, they'll judge whether it's a home they'll want to return to every night, a space they'll simply live in, or somewhere they never want to see again. While you can't change your house's entire look, a few simple upgrades will excite buyers and may help you sell your house faster. The front yard is easy to improve with a well-maintained yard. However, if your backyard needs work, HGTV's Tarek and Heather Rae El Moussa know how to elevate your balcony, patio, or other outdoor space. During Season 1, Episode 1 of "The Flipping El Moussas," they transformed a balcony by upgrading a glass wall and adding outdoor furniture, per HGTV. The El Moussas recommend highlighting your view or any special features and staging your outdoor space to get buyers excited about your home. 
Taking the time to add jaw-dropping features and sprucing up the landscape shows buyers that you took the time to create a homey, livable yard. Even though buyers can decorate and personalize their space when they move in, making the area more attractive could get you more offers. These quick and easy ideas will make you one step closer to closing a deal on your home.
Highlight the features around your home
Tarek and Heather Rae El Moussa focus on the home's features and work with them to improve the overall outdoor space. Because the home they're flipping has a stunning view, they choose to upgrade the glass balcony by extending the wall higher and adding new panels. If your home has stellar backyard views of either nature or a skyline, clean up the area to give the view a clear shot from wherever you're standing. For instance, cut down trees that block the view from the house, especially if you can see the view from the kitchen windows. In addition, arranging furniture to point in the view's direction will focus everyone's attention towards it. It will give potential buyers ideas on how they can set up the backyard or patio to enjoy the property's view.
On the other hand, if you live in a standard neighborhood without a stellar view, then it's best to improve the features you do have by cleaning up the space and sprucing up the yard. For instance, if you have a massive dirt area that's not a garden or grassy lawn, pave it with inexpensive materials such as gravel or rock. Hardscaping your yard with cement can be expensive, so using more affordable materials will save you money while also elevating your outdoor space. Gravel and rock surfaces are easier to install and still allow you to stage seating arrangements so potential buyers can picture themselves living in your home.
Stage the space with outdoor furniture
Another excellent way to get potential buyers excited is through staging your outdoor space with furniture. Even though you'll be taking your belongings with you when you sell the house, you still want to help buyers visualize how the space will look when it's fully furnished. When designing the balcony for the home on "The Flipping El Moussas," Tarek and Heather Rae El Moussa incorporated modern chairs and a side table to create a cozy hang out space. Transform your backyard or patio with interesting elements to pique buyers' interests. For example, you could include a grill or a portable fire pit to showcase that the outdoor area can be used to host gatherings. You might also want to add furniture sets like cozy couches and a coffee table or a formal dining table and chairs. 
However, if you don't have a large budget for staging your space, there are still a few ways you can make your outdoor area feel more inviting. Hang string lights around the patio or backyard to give the area a cozy glow at night. You could also add some flower pots to provide bold colors and a lush feel. When staging outdoor furniture and extra accents, try to put yourself in the buyers' shoes and set up the outdoor space with elements you'd want to see if you were considering purchasing the home.