Why The Internet Is Obsessed With IKEA's Desk Lamps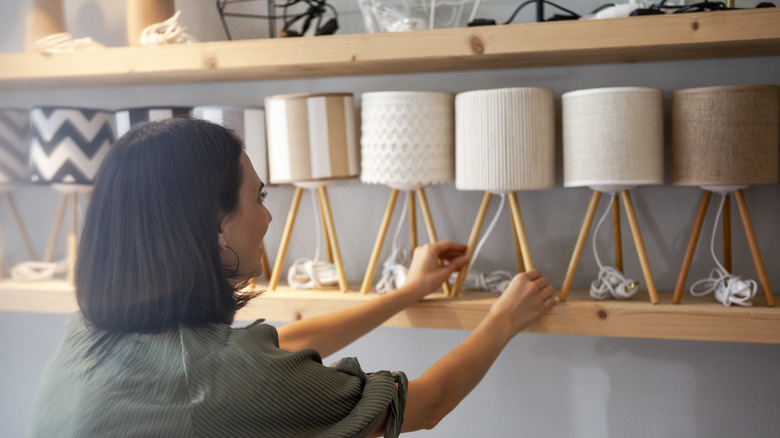 Mindful Media/Getty Images
Lighting is a critical part of any space. It sets the mood like candles for a romantic evening, a cold spotlight for an interrogation, or flashing LEDs for a dance party. IKEA's DEJSA table lamp creates the perfect cozy atmosphere. Its soft glow and minimalistic yet whimsical silhouette are why the feature has been trending since 2022. The designer behind the hit piece is Hanna-Kaarina Heikkilä. Her design fingerprint is to make functional furniture that is lovable and embracing. She captures that head-on with this DEJSA lamp. You get a high-end piece for a low price.
Whether your style is mid-century modern, rustic farmhouse, or eclectic, the DEJSA table light will blend in. It is one of those mushroom lamps that will look perfect in any room. Its neutrality is another reason the internet has this product flipping between sold out and restocked. The opaque white glass shade and beige glass base combine with everything from traditional off-white walls to colorful patterned wallpaper. Just take it out of the box to enjoy its luxurious feel or pump up its decorative appeal to elevate your home décor.
How IKEA's DEJSA lamp fits in your home
You can use the DEJSA lamp as a centerpiece. Layer two or three books underneath the fixture to make it a focal point. The book's rigid outline contrasts the sculpted soft edges of this lighting. You can achieve the same look with rectangular artwork or boxy planters propped behind or beside your lamp. Or keep with the circular layout and add cylindrical vases, a clock, and a round mirror. It is a stylish way to decorate the corners of your home while having a functional piece that emits enough light to brighten your space.
The light fixture is just under a foot tall, measuring 11 inches, and the shade spans 10 inches. It is the perfect size for any table, nightstand, shelf, or desk. IKEA suggests pairing the mushroom lamp with a dimmer bulb. A warm white bulb matches the cozy feel of the lighting accessory. Controlling the bulb's intensity brings a stellar, high-end feel to your DEJSA. You can emit a soft glow for a super intimate setting or embrace the full light power for a relaxing evening. However you use it, prepare to have your home's coziness through the roof.