The Best Countertop Materials To Use Alongside White Cabinets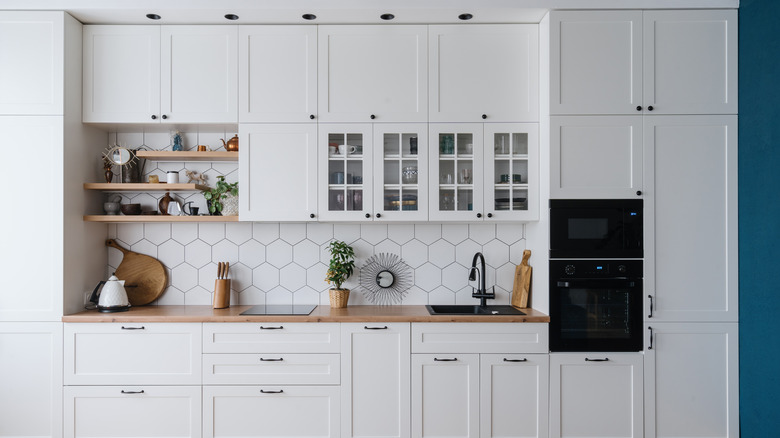 Brizmaker/Getty Images
If there's one thing that's true about design, it's that white kitchens will always be in style. If you have just recently renovated your kitchen to have white cabinets or fancy a change, you may be wondering what the best countertop materials are to match your new cabinet look. From farmhouse-style wood countertops to refined granite and affordable laminate, the selection can feel a bit overwhelming at first. Even amongst these three materials, the myriad of textures and colors available is huge.
Whether you want a light and airy look or a darker contrast, countertops really can make or break a kitchen. Luckily, white is one of the most versatile colors out there, so you have plenty of choices amongst wood, granite, and laminate. Alongside materials and cost, you additionally should think about factors like durability and longevity when picking out countertops. Kitchens are expensive enough without second guessing — those rose quartz counters may look gorgeous at the store, but you need to reflect on how they will work in your home above all.
Choose the best color for your kitchen countertops
The first thing you should consider when choosing countertops is the shade of white your cabinets are. There are heaps of whites within the spectrum, and a warm shade of white will require a different style of countertop than cool white cabinets. If your cabinets fall on the cool side of the white spectrum, black or gray countertops can make for a stunning contrast. However, if you want to create a kitchen space with a welcoming ambiance, beige and brown countertops will match a cozy farmhouse vibe.
Moreover, the color of kitchen countertops is an important factor to think about when it comes to functionality. Light countertops may look great when they're fresh out of the box, but how they hold up over time is a different story. If you have pets or children (or are just generally prone to making a mess), stains will be a lot more obvious on countertops with a light finish, meaning they will be higher maintenance overall.
On the other hand, in this aspect dark countertops are lower maintenance because they won't show wear and tear as obviously, though keep in mind that not all dark countertops are necessarily low maintenance. Next, materials. As mentioned, wood, granite, and laminate are three popular options for countertops, and all have pros and cons that make them a good or bad fit for your kitchen.
Think about how you want your kitchen to wear
Wood countertops, also sometimes referred to as butcher block, are perfect for creating a rustic vibe. While they do look nice, wood countertops require maintenance in the form of resealing every so often to upkeep their appearance and also show scratches easily. Plus, most types are not resistant to moisture, meaning your countertops could start to show signs of mildew if not looked after properly. Because of this, we would not recommend them for high traffic areas of the kitchen.
An alternate option is granite countertops, which don't carry the same rustic look but will give your kitchen an elegant and sophisticated appeal instead. Granite comes in many different colors, dark and light, with the three main finishes being solid, marbled, and speckled. On the whole, granite is durable, but it can be a pricey choice depending on the type you opt for. However, in comparison to wood, it is much more low maintenance.
Finally, laminate countertops can be a great alternative if you want a certain look but can't quite stretch your budget. Their maintenance level is medium due to the fact laminate can be very easily cleaned, but is prone to issues like warping if water builds up under the surface. Nevertheless, the design options with laminate are basically unlimited, so it's a good pick if you have a specific look in mind.