Use TikTok's Dollar Tree Hack For Space-Saving Floating Shelves On A Budget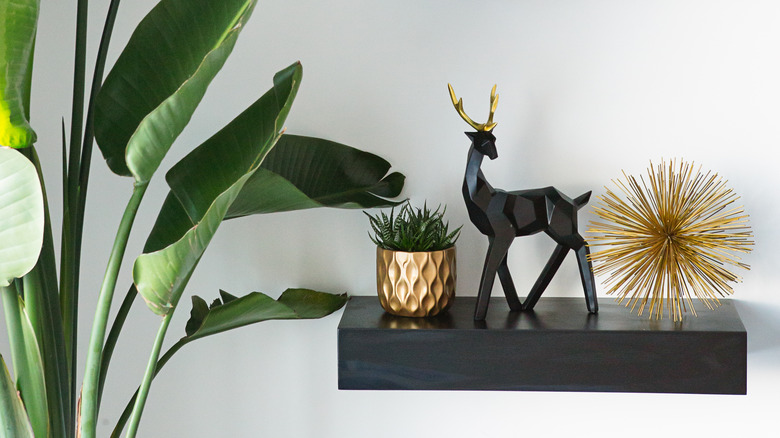 Christopherbernard/Getty Images
A lack of floor and wall space can call for some creative solutions to include more storage wherever you can find it. Floating shelves can be an efficient and space-saving way to add extra storage to your home, particularly in cramped rooms like bathrooms or small home offices. While useful, floating shelves can also transform your space by creating a streamlined appearance with clean lines. TikTokker @onthecheaptip shared an amazing Dollar Tree hack that added more storage as well as a stylish marble look to a tiny bathroom corner, and all they used were three plastic file trays as well as some screws. By turning the trays over and attaching them to the wall, you can create small shelves that can be used for a variety of needs.
The end result is a polished look for under $5 in supplies and hardware with endless style. Use these easy floating shelves in any corner or tight spot in your home, including above a desk in a home office or along a bare corner in your bathroom. They would also work great in a tight corner spot next to the bed where a regular nightstand wouldn't quite fit. This would keep storage up and off the floor, which would create a more spacious and open feel than a traditional nightstand would.
Creating shelves from file trays
To complete this simple hack, you will need three or more plastic file trays from Dollar Tree, large screws, painter's tape, a level, and a drill. Use a level to create straight lines with painter's tape on the wall, marking where you want the top of each of your shelves to be placed. Using the tape as a guide, place the trays with the open end in the corner so it's out of sight. Use the drill to drive two screws through the side of the tray to attach it to the wall. Add an additional screw to the open end to grant a bit more stability to the shelves. 
While the plastic of the pieces may not support very heavy items, if used as small storage shelves in the bathroom, they could easily hold essentials like towels, candles, and small jars. If used in the home office, they could hold decor and lightweight supplies. This hack also works with other solid file trays, including ones made out of materials like metal or wood. Choose whatever look you prefer to match the aesthetic of your room.