Save Time And Money When Choosing Paint With Jenn Todryk's Expert Advice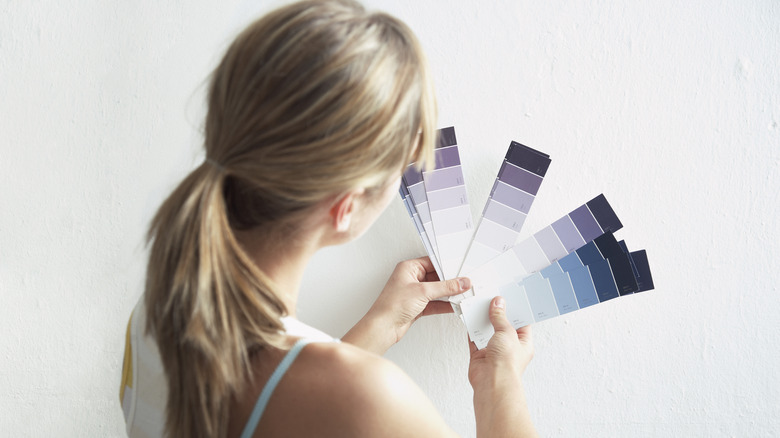 Paul Bradbury/Getty Images
Picking out the perfect shade of paint can be a tricky process. Sometimes, a color can look good in the store but entirely different in your home, not to mention that factors like lighting can change the look of a color completely. Still, there is a solution to this problem that HGTV's Jenn Todryk highly recommends — sampling. In a blog post, the interior design expert shared why sampling is so key to the paint-choosing process.
"I can't stress enough that you must sample before you commit to buying gallons of paint! While a color may look amazing on the show, it does in fact look different in person based on natural light, other colors bouncing off of the paint in each room and color editing does happen while editing a television show and definitely alters the paint colors," Todryk wrote, going on to explain that, while she tried her best to keep the on-screen colors as accurate as possible, small and necessary changes did happen. If you don't sample, that beautiful earthy sage green shade you love online could be more of a dark forest green in real life, causing you to have wasted heaps of money on tins.
Sampling paint is a lengthier process than you may think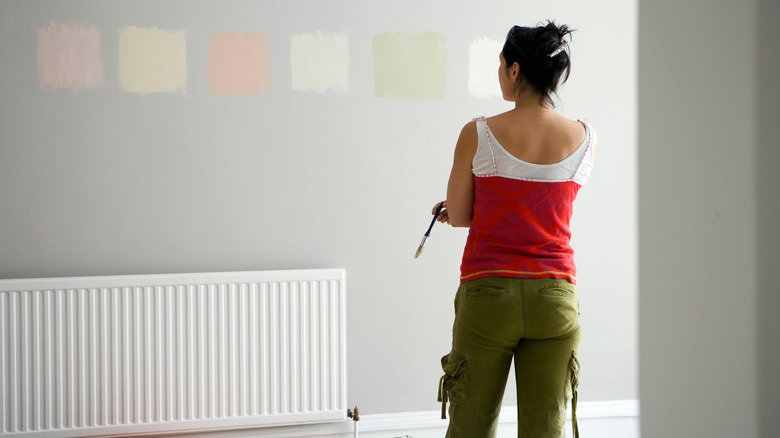 Air Images/Shutterstock
When paint swatching, there are a few things you should think about, and lighting is one of them. Lighting changes from hour to hour, but it drastically shifts from day to night. This is especially key for dark colors, which could look grand when in broad daylight but make a room appear far too miserable in artificial lighting during the evening. Even white, cream, and gray tones can shift to have different undertones you may not like. The best way to avoid this is to buy multiple samples and place them in different parts of a room to observe throughout the day and night.
Moreover, check the lighting sources in a room. You may love a color in warm light, but if you swap out your bulbs, would you also love your chosen color in cool light? To test this, take the paint sample to a place with brighter lighting, like your kitchen. Lighting can massively affect neutrals in particular — a warm white could look gorgeous and cozy in matching white lighting but sickly and slightly off in cool lighting.
Don't rush out to buy a color before taking time to see how it wears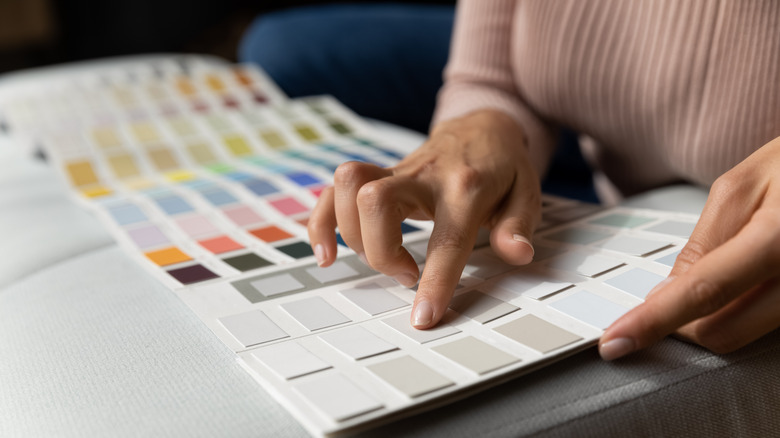 fizkes/Shutterstock
As well as lighting, you should give your paint sample time to settle in before deciding. Paint can change as it dries, something you'll know if you have ever touched up an area and panicked that the new paint looks way lighter than the color already on the wall. One of the worst mistakes you can make when looking for a new paint color is to decide you love the color as soon as it's on the wall and buy full tins, only to return and find it has changed to a shade that isn't your thing anymore. 
To save yourself time and money, find the extra patience to let the sample sit. In general, two hours is a good amount of time to see how a color settles. Finally, as Jenn Todryk warned, you can never tell the true shade of a color when looking at it on a screen. Always take time to order a sample or go to a store to see the color in person so you're not disappointed. By following the above tips and taking Todryk's advice, you can feel confident that you're picking out a paint you love.