Customize IKEA's Motorized Blinds To Your Window With This Smart Hack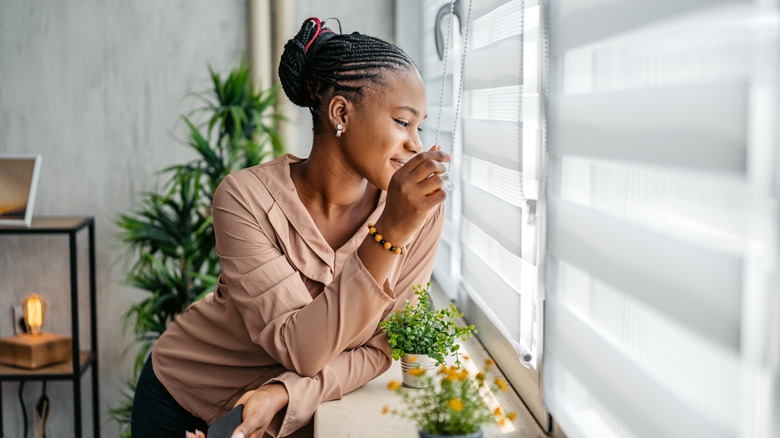 Urbazon/Getty Images
There are countless reasons to invest in motorized blinds. You can set them to a timer, allowing the sunlight to slowly filter in as you wake up each morning. You may find that you love a pair of Ikea's motorized blinds, namely the FYRTUR black-out roller blind. Unfortunately, these wireless blinds may not fit your window. However, you can easily cut them to fit any space, thanks to this genius TikTok hack. Yes, you need a few tools, but you can DIY this project at home, transforming any room into an oasis with the perfect amount of sunlight on demand. 
A healthy sleep pattern isn't the only reason to invest in motorized, wireless blinds. If you're frequently away from home, you should consider installing them just in case you forget to close the blinds and don't want someone peeking in your windows. You can easily use the Ikea Home smart app to ensure your home maintains a certain level of privacy, even when you're not there. These blinds can even offer UV protection and are ideal for any room in the house. You can also use them to regulate the temperature throughout your home, especially in spaces that receive too much or too little natural sunlight. Even better, you may even be able to reduce your energy consumption. And it's all thanks to this awesome TikTok trick that shows you how to make custom-fit blinds, courtesy of Ikea. 
Pick out a set of motorized blinds
Once you purchase your Ikea motorized blinds, the fun begins. According to @thecarlofranco, you'll need to begin by measuring your blinds to the exact length needed to fit your window. And as the saying goes, "Measure twice, cut once." Unscrew the large caps first (these are the ones that mount into your windows) and measure your blinds to the desired length. Use some type of straight edge to create the template for where you'll cut. You can also use fabric chalk if that helps. Next, remove the small caps from the base of your blinds. Using a decent pair of scissors (the blinds are made from a thick polyester), cut along your measured line. You may need needle nose pliers to remove the end caps, so have them ready. 
You'll then need to use a handsaw to cut the curtain rod itself, along with the aluminum bottom rail. Once you're done, all you need to do is reassemble your custom blinds and install them. It's that easy! You don't have to contact a professional window treatment company, and you can have bespoke blinds tailored to your windows for just $159.99. Even better, these Ikea blinds use at least 90% recycled materials, so you'll be doing something good for the environment.