Common Window Treatment Types (And Which Is Right For You)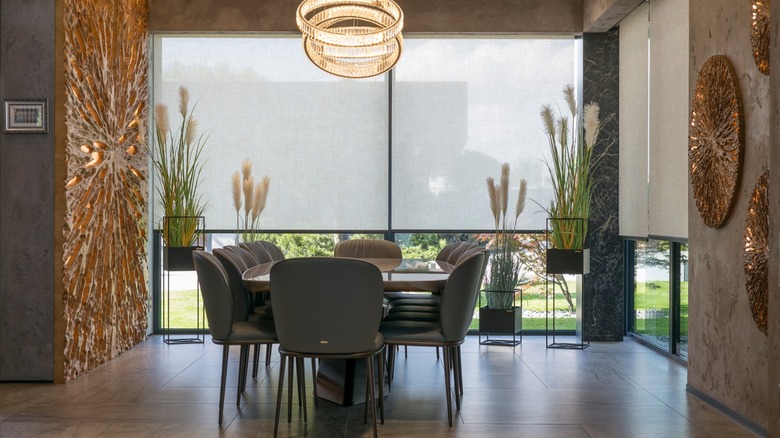 Astibuk/Shutterstock
When you're in the market for window treatments, the choices can be overwhelming. There are so many things to consider and so many types to choose from, it's a wonder anyone is able to successfully navigate this arena. Before you start shopping for your window treatments, be sure you shop around and get free samples of any type you're seriously considering. Understand that this is a product that's typically better to purchase in person, though you can certainly narrow down your candidates online. Typically, you can even have a representative come to your house and bring samples, go over options, take measurements, and give you an estimate at no charge.
If you'd like to handle the shopping on your own, write down the measurements for all the windows you're shopping for. Think about what you want from your window treatments for each room. For example, are you trying to block sunlight? Help insulate? Gain privacy? Or is it primarily for aesthetics? Ask yourself which of these is most important, as some types will be more appropriate than others. You might also mix it up and use different treatments in various rooms of your home. Here's all you need to know about common window treatment types and which one is right for you. 
Venetian blinds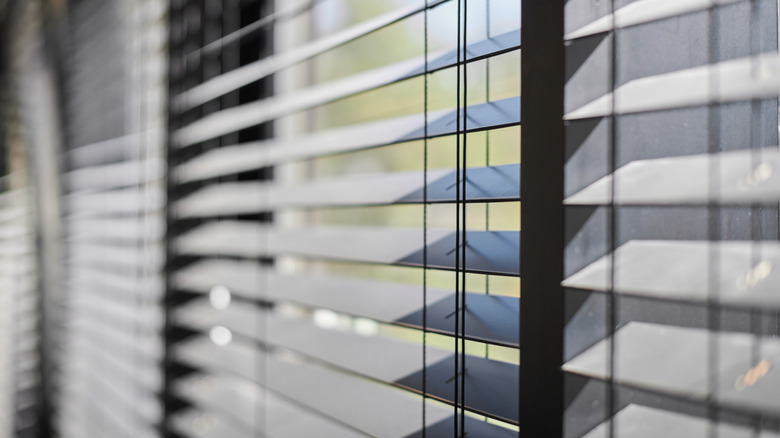 travelarium.ph/Shutterstock
Venetian blinds are one of the more common types of window coverings, and it's easy to see why. They're typically made of aluminum, plastic, or wood slats in a horizontal position. They're easy to adjust with pull-cords for different light and privacy levels and can be tilted in either direction. They come in various finishes to match nearly any decor, and they are versatile and affordable. They're also durable and easy to clean.
Venetian blinds come in many different colors as well, making them perfect for bringing out an accent color in your home or room. Additionally, ones made of wood have a wonderful rustic charm. They look good in home offices, studies or dens, bathrooms, and bedrooms in particular. Keep in mind that they work with a corded system, which can be dangerous for children and pets. Motorization is one option, which eliminates the pull cord and enables you to operate them by pushing a button. You can also add one of the many less expensive safety mechanisms designed for child-proofing blind cords.
Roller shades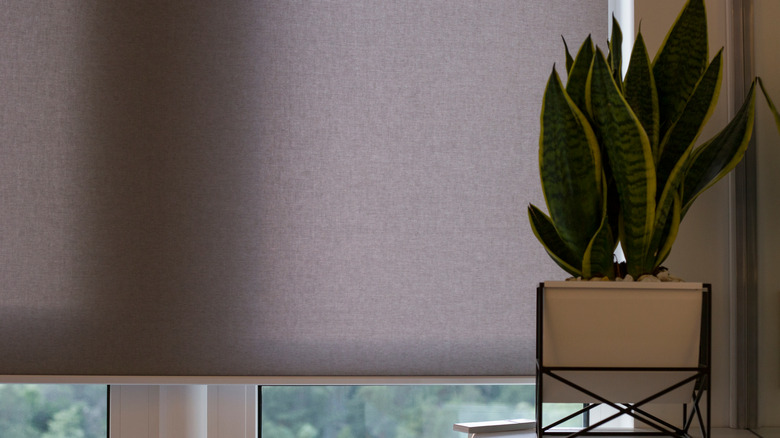 Astibuk/Shutterstock
Next up are roller shades, made of fabric in various patterns, colors, and textures that complement any style of decor. They roll up nicely at the top of the window when opened. They are versatile and stylish, affordable, and easy to keep clean. Many people prefer roller blinds over Venetian blinds because they give more complete light-blocking coverage and privacy and they can be custom-made to fit your windows perfectly. Roller blinds also have several available upgrades including motorization you might want to consider.
These window treatments can be a top choice for bedrooms, entertainment rooms, living rooms, and nurseries. They're modern and work especially well in mid-century contemporary-style homes and in rooms with traditional or minimalistic design schemes. One great feature is the ability to mount them either inside the window frame or outside. They can be attached to the wall or ceiling above the window for full coverage. 
Roman shades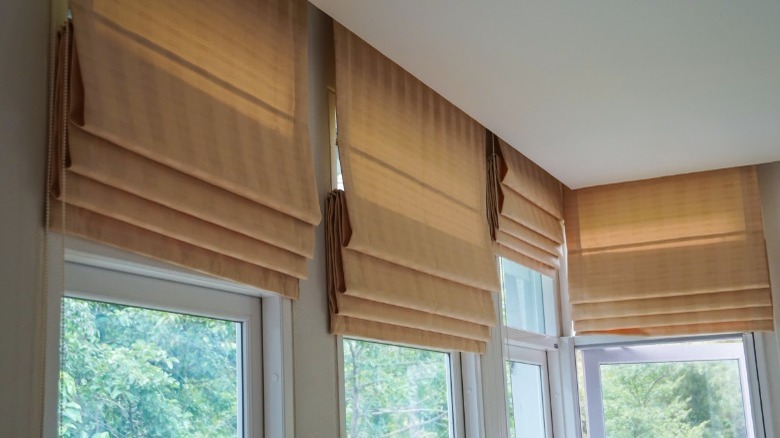 TarnPisessith/Shutterstock
Roman shades are a classic design similar to roller blinds, but when opened they fold up in even sections. When closed, they cover the full height of the window. Customized to your specific window size, Roman shades help with insulation and offer a maximum level of privacy. Although there are many different modern versions, there are four main types: hobble fold, flat fold, batten front, and batten back. These also have inside or outside mounts available. Materials available are polyester, woven woods, cotton blends, or silk and you can add blackout liners if needed.
These shades have a timeless look and can be used in designs from traditional to vintage or more formal styles. Roman shades are especially good for bedrooms and living rooms. They look great on large, bay windows and on French doors that can be more difficult to find coverings for. Since most traditional Roman shades stack as they're drawn upwards, there's a good-sized section of fabric that always remains at the top of the window. However, there are now more modern options available that allow for the shades to be drawn up with only a few inches of fabric left at the top.
Café curtains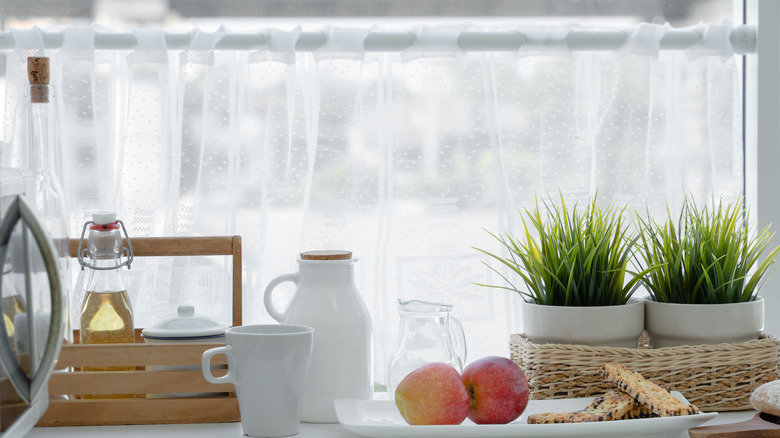 mae_chaba/Shutterstock
Café curtains, also called tier curtains, have made a huge comeback lately with homeowners leaning towards the trend of more open windows. Café curtains are designed to cover only the bottom portion of a window. They typically consist of having two panels on a curtain rod that may or may not have a valence for covering the top portion of the window. Although they're often part of a tiered or layered curtain system, displaying café curtains alone to allow maximum light exposure into the room.
The main drawback is they don't offer much privacy by themselves. On the other hand, café curtains are versatile, affordable, easy to clean, and come in an endless variety of styles and fabrics that can match nearly any decor. They are a perfect choice for farmhouse, traditional, rustic, or even bohemian decor styles. By themselves, they are common in kitchens and sometimes bathrooms to let in light while creating some privacy.
Austrian shades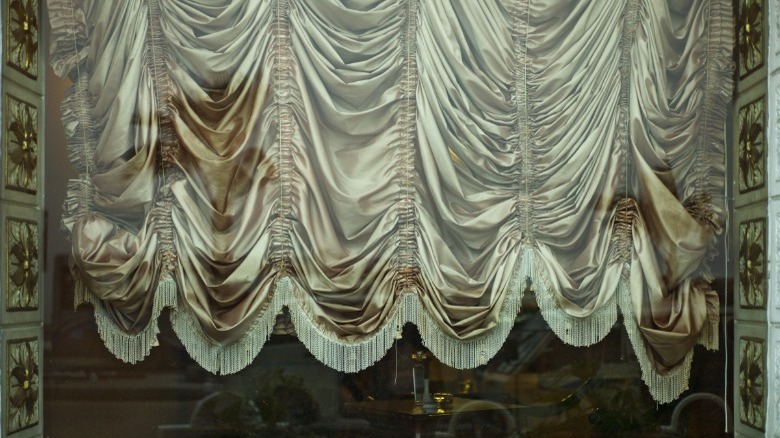 Derek Hudson/Getty
Austrian shades are fancy-looking scallops of fabric that look like they belong in a castle. They typically raise by pulling a chain attached to a lifting mechanism that is placed along the bottom of the fabric. This type of window covering is not only beautiful but sophisticated and royal-looking. The fabric is made to fall in a vertically cascading manner by a design called shirring. If you love the Victorian era and romance in your decor, Austrian shades are for you! Traditionally, these shades are made out of organza, tulle, satin, or silk, but more contemporary versions can be made from light linen or cotton blends. They can also offer privacy and room-darkening capabilities.
Austrian shades are perfect in living rooms, family rooms or dens, and bedrooms in particular. If you're looking for something to complement your antique decor or add a touch of elegance, this window treatment is definitely one to consider. These aren't as common and they're usually customized, making them not as affordable as some other types. These shades can make any space look luxurious and regal with an opulent touch. 
Wood blinds - faux and genuine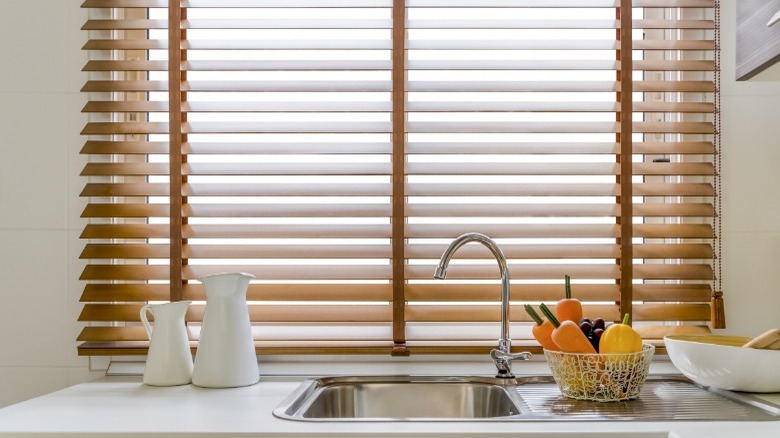 TORSupachai/Shutterstock
Wood blinds are typically made of genuine wood slats like bamboo, cherry, or oak, and are available in a variety of stains and finishes to match any decor. They are durable and versatile, and there's just something classy and timeless about using genuine wood in home design. Since wood naturally has insulating qualities, they're energy-efficient and can help with lowering utility bills. Wood blinds are ideal for bedrooms and living rooms in particular and work well with modern and contemporary designs as well as rustic or farmhouse-style homes. The main drawback of wood blinds is their vulnerability to moisture, therefore they're not recommended for bathrooms, kitchens, and laundry rooms.
If you live in an area with high humidity, you may want to check out faux wood blinds instead since they won't fade or warp over time as real wood can. They are also less likely to chip or peel over time and are very durable. They're made from polymer materials that have an authentic wood appearance but can be put into rooms that real wood is not recommended for. They come in a large variety of styles, colors, and textured wood-grain finishes for an authentic look.
Vertical blinds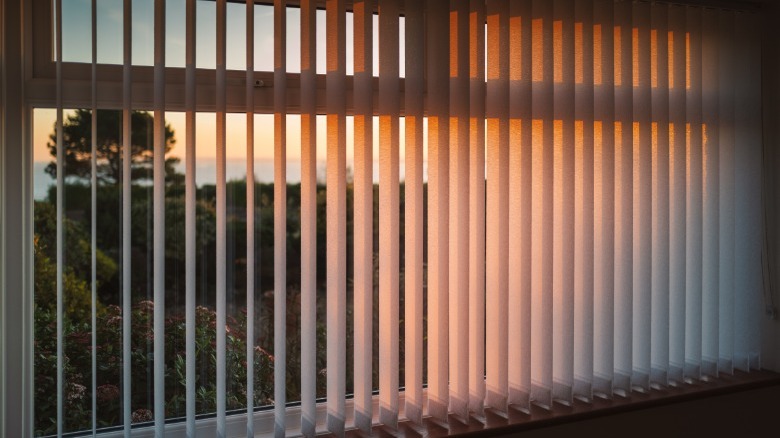 Christine Bird/Shutterstock
Vertical blinds are vertical slats that clip to a sliding track at the top. The slats themselves can be made from a myriad of materials including vinyl, aluminum, wood, and faux wood. There are also cloth vertical blinds that come in fabrics that provide UV and light protection. They usually operate with a pull chain for tilting the slats back and forth, and a plastic wand gives you the option of sliding all of the slats aside. They are great for sliding glass doors, but they can also be used on windows. Vertical blinds are an ideal solution for large bay windows and French doors, too. They're perfect if privacy is an issue, and it's easy to control the level of light effectively. They're easy to clean and maintain, and if one of the slats becomes damaged, you can typically remove and replace it.
Unlike horizontal blinds, vertical blinds can create the illusion of space and height in a room. They're versatile in design and can be put in practically any type of home. With their sleek stylish design, they're appropriate for both traditional and modern-minimalistic styles.
Woven wood [bamboo] shades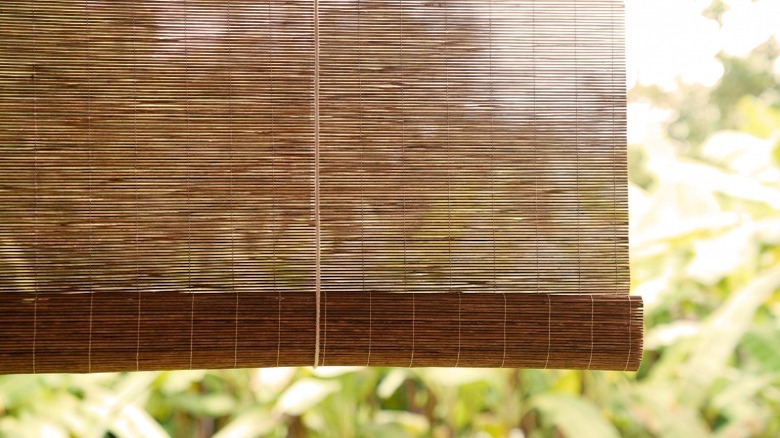 Taphat Wangsereekul/Shutterstock
Woven wood shades are typically made from bamboo, jute, rattan, or natural grasses that are woven into a material that provides a terrific window shade. The materials are sustainable and eco-friendly which is important to many homeowners today. Bamboo shades or other woven wood shades are also affordable, and they are easy to both install and maintain. Additionally, they can be ordered in traditional roll-up style or as Roman shades with a stackable style. You can also get these shades with liners, including a blackout liner, in order to allow different levels of light through.
Woven wood or bamboo shades can be used inside or outside your windows. They come in light, medium, and dark shades that can enhance any decor and if you like bohemian or earthy decor, they'll fit right in. They also work great with farmhouse, rustic, Mediterranean, island-inspired, and traditional styles. Though you can choose this window treatment for all rooms in the house if you like, they're especially good in living rooms, bedrooms, patios, and dining rooms.
Panel glide blinds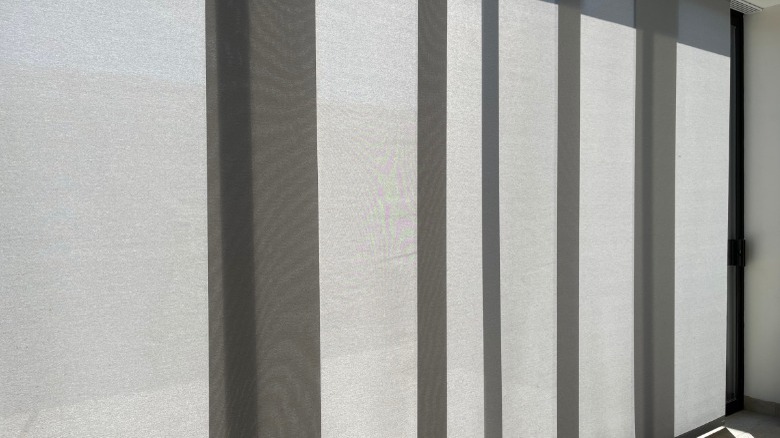 MarcoARiv/Shutterstock
Panel glide blinds are similar to vertical blinds in that they're perfect for large bay windows and sliding glass doors. But these are made from solid fabric panels that overlap when opened. The fabric can be matched to existing decor which makes them extremely versatile. One key benefit is their flexible layout. They can open and stack to the left, to the right, or from the middle. Panel glide blinds can add a custom and elegant touch to your home.
They come in many different fabrics and other materials including wood. Additionally, these blinds can be motorized and operated with a remote control or button. These can be a sophisticated choice for modern homes and styles. They are also often used as fashionable room dividers and come in multiple sizes. The panels can all be the same color or you can choose to mix and match shades and patterns for a statement-making look. 
Plantation shutters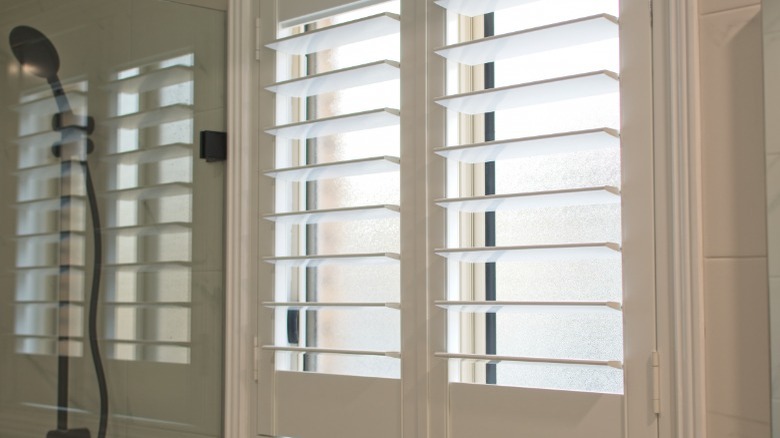 A.Flassig/Shutterstock
Plantation shutters have been around for generations, but they maintain their relevance due to more modern materials and designs. They are made of wood slats inside their own frame that is nailed or drilled to the inside of the window frame. The amount of light coming in can be adjusted by tilting the slats. Unlike the other choices of window treatments, plantation shutters open outward like a small door in a frame. They are popular for their insulating qualities and charming and custom aesthetic appeal.
Plantation shutters are ideal for Southern, farmhouse, and coastal-style spaces. They're also ideal for the modern-vintage look that's popular in many households. They're very durable, and you can paint them whenever you want to update your space. They're also easy to clean and can be thoroughly dusted. Plantation shutters are more permanent and create an elevated feel that can add value to your home. 
Blackout shades or curtains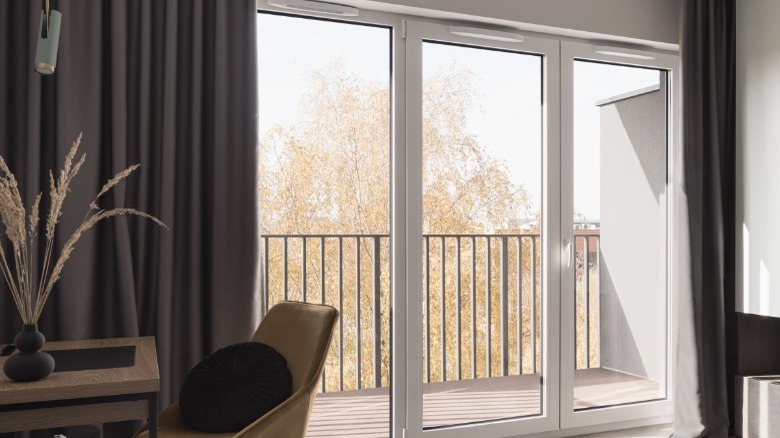 Dariusz Jarzabek/Shutterstock
Blackout shades or curtains are made to keep as much natural light as possible from coming through the windows. Curtains are made with dark, heavy-duty fabrics, often polyester. If your top priority is blocking as much outside light as possible, consider a layered system of more than one type of window covering. For example, roller shades and heavy blackout curtains would be extremely effective. Another great combination is Venetian blinds with blackout curtains over the top. Additionally, look for wraparound curtain rods to keep light from shining through gaps on the sides.
Blocking out as much light as possible in certain areas can also help keep the rooms cooler in the summertime. Often, people choose to have a blackout option in just a few spaces of the house like bedrooms, living rooms, and movie rooms. There are many different style choices of blackout curtains that can be easily matched with any type of design or decor. When shopping, look for quality materials for the best blackout coverage.
Solar shades or blinds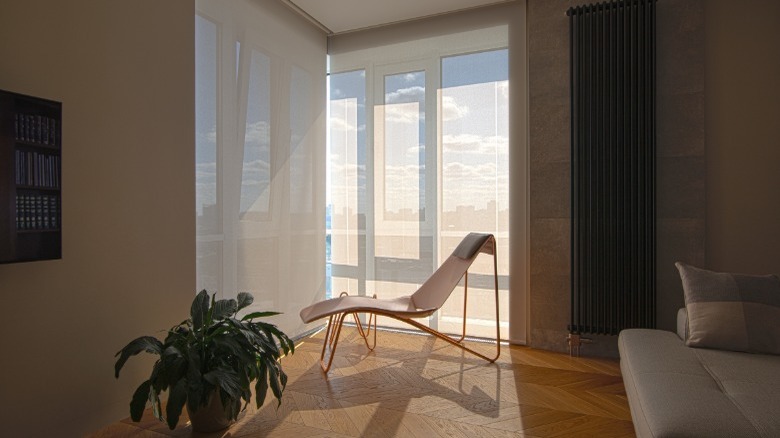 Astibuk/Shutterstock
Solar shades are like roller shades but they have a special woven material for blocking harmful UV rays and protecting fabrics and furniture from fading. The material is made from vinyl or PVC-coated polyester, and they can be placed on your windows alone or along with another window treatment. They can make an effective energy-efficient alternative to many other window treatments. Just as impressive, solar shades can reduce the level of heat the sun brings into each room making it much easier to regulate the temperature inside when it's hot outside.
You can see out of solar shades in the daytime, but people can't see inside. However, if you have the lights on in the house at night, those outside will be able to see in. That's why they're often used in conjunction with other window treatments. You can also choose the level of openness of the pattern, which determines the amount of light able to filter through. Solar shades are ideal for the rooms in the home that get a lot of natural sunlight, like kitchens, dining rooms, and family rooms. They're also a great choice for enclosed patios. 
Smart blinds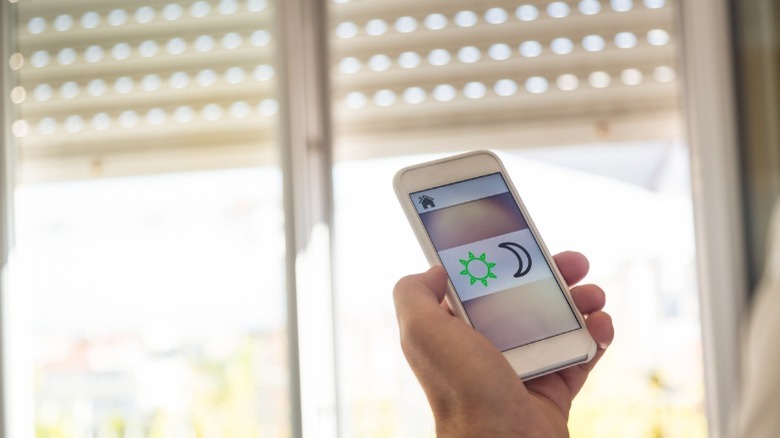 nullplus/Shutterstock
Smart blinds are motorized window coverings that can be programmed to be on a schedule or operated by an app on your smartphone. Some other window treatments have the option for motorization, and with this typically comes the option to be operated by smart control. Energy efficiency is one of the big benefits, as well as ease of control. When shopping for smart blinds, be sure to check for compatibility. You can typically choose from being able to use them with an app or with a smart home system, often powered through Google Assistant or Alexa.
They come in a variety of design types like slat, honeycomb, or roller, as well as a blackout option. You can find them in multiple styles and colors as well as blinds or shades to match any decor. These are ideal for the bedroom as you can set them to open at a certain time each morning to start your day. Plus, the functionality of smart window treatments allows you to control your home's privacy levels from nearly anywhere.