How To Recreate The Look Of Ashley Tisdale's Relaxing Patio In Your Own Backyard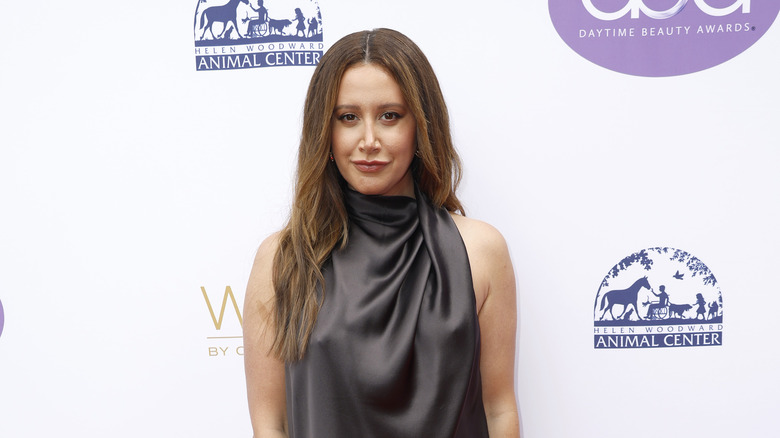 Frazer Harrison/Getty Images
We may receive a commission on purchases made from links.
Actress, entrepreneur, and interior designer Ashley Tisdale's busy life demands rich and beautiful spaces that are an oasis from the everyday. This includes Tisdale's backyard patio, recently profiled in Architectural Digest, which is filled with antiques and carefully chosen greenery that melds the home seamlessly into the surrounding Los Angeles hills. A perfect spot for both recharging and entertaining, the circular brick patio is a stunner that feels both laid back and elegant at the same time.
You can get the look of Tisdale's stylish outdoor space by incorporating some of the approaches and materials of the patio, including its unusual, yet classically inspired, round shape, the profusion of greenery and plantings, as well as its abundance of rustic and antique furniture, all of which combine to create a stunning place for both relaxing and entertaining. All of these elements create a space that Tisdale loves to spend time in, whether alone or with others.
Ashley Tisdale's secret oasis
Ashley Tisdale's brick patio, which is carved into the hillside, is wide and spacious, with a huge antique California redwood table at its center featuring a convenient lazy susan. Rustic antique French spring chairs with curved accents offer a comfortable seat while large statuary of cranes and other wildlife look on. The brick retaining wall set into the hillside, once a blank and unused spot, sports a concrete bench by Swiss furniture designer Willy Guhl surrounded by potted plants and flowers, making a perfect spot for relaxing.
 Flanked by bamboo and other lush tropical plants that reflect the natural landscape of Southern California, the patio is covered by orange and other citrus trees that provide shade over the large expanse of brick. The larger plants and trees make the patio feel enclosed, discrete, and peaceful, according to landscape designer Jana Feifer of Inner Gardens, whom Tisdale enlisted to help with the design. 
Creating a cozy retreat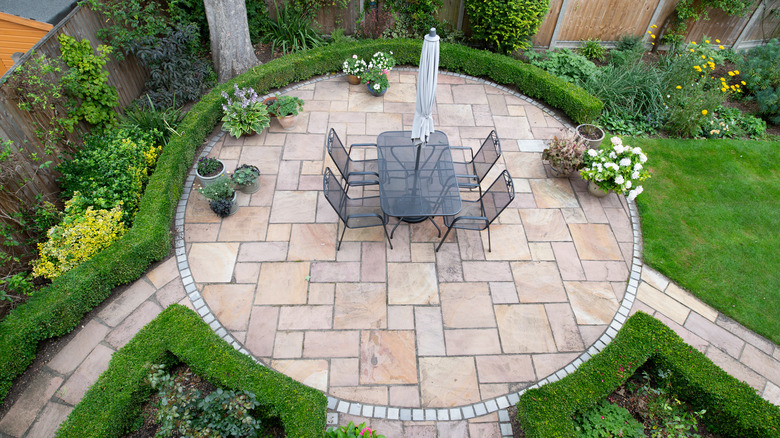 Cmspic/Shutterstock
The round and organic shape of the patio is a great alternative to more right-angled outdoor spaces that prevail. You can create a round patio from bricks or paving stones of any size anywhere in your yard, including other unexpected areas of the yard, rather than right up against the home. Try adding a small round patio under a grouping of trees or in a wooded area of your property. Use a round table or bistro table at the center with chairs, or add another outdoor element like a firepit or water feature.
By using plants and trees that pepper the natural landscape, as Ashley Tisdale does, the entire space becomes an extension of the surrounding landscape in an integrated way, making its upkeep and maintenance much easier. Go for low-maintenance plants like wildflowers, natural grasses, and native trees to make your patio seamlessly blend into the surrounding flora.
Getting the look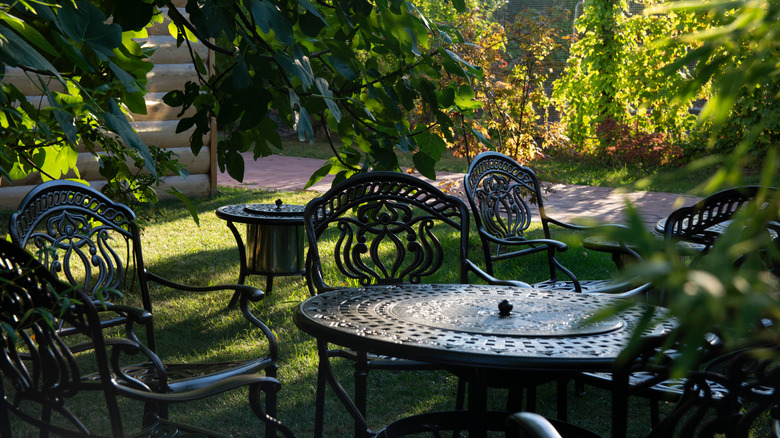 Aleksandra Proshina/Shutterstock
To get a similar look for your own outdoor space, think of ways you create a sense of retreat and enclosure. Part of the cozy oasis-like feel of Ashley Tisdale's patio is the sense that you have inadvertently stumbled on an exclusive and private space in nature. Think of ways that you can make your outdoor space feel the same way, be that through plantings or other means. Large plants or grasses like pampas, bamboo, and other kinds of shrubbery are great for creating a feeling of coziness and exclusivity. You can also create a sense of privacy through arbors, fences, and screens like this privacy screen from Walmart with attached planter boxes or this large metal planter and trellis from Amazon.
The stylish laid-back vibe of Tisdale's patio is also achieved by the patio's feeling of no-fuss luxury using antique metal chairs and durable materials like the cement of the bench, all of which are both beautiful and elegant but withstand the outdoors and elements with style. Most, like the rusted chairs, are only made more beautiful by time. Using antiques in an outdoor space is always a great idea, but you can get a similar look even with new items like these iron bistro chairs from Walmart or this sleek modern concrete bench from Wayfair.