How To Upgrade An IKEA Sectional Or Sofa With A Custom Look On A Budget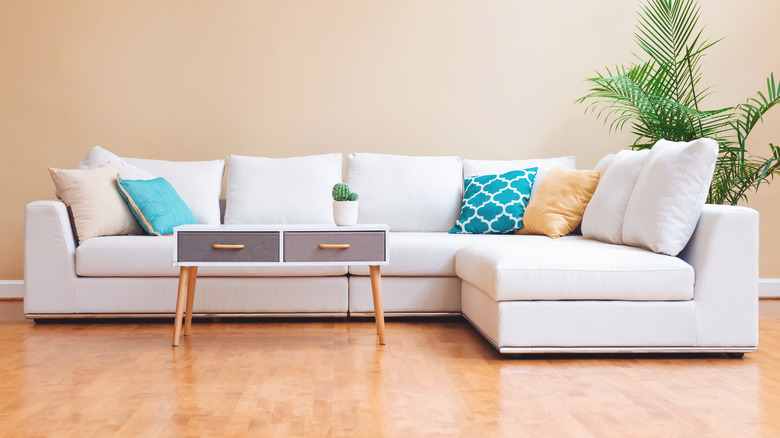 TierneyMJ/Shutterstock
Re-designing a room can be an exciting journey, but not so much when you don't want to replace all your furniture. After all, it can become rather pricey. Thankfully, there's one quick solution if you have an IKEA sofa, thanks to one nifty TikTok hack by @anastasia_riabova.
Instead of having to fork out a hefty sum of cash on a new piece of furniture to update your living room, you can instead utilize an Etsy couch cover to transform the color of your sofa. And these covers aren't just designed for sofas — Etsy is overflowing with slipcovers for IKEA sectional couches, too.
There are plenty of options right at your fingertips. In fact, you can even use slipcovers for your throw pillows, so you don't have to worry about matching everything up. All you have to do is search on Etsy for the type of IKEA couch you have, select the color of your choice, and voilà!
What to know about Etsy couch covers
There's a lot to love about Etsy sofa covers, and using them is relatively straightforward. The prices range from $40 to over $500 depending on the seller and other factors, like the material or sofa type. The type and material you select will all come down to your own personal budget and how much you want to spend. If you're unsure about the quality or color — and are looking to create a cohesive color palette for your home — several Etsy users sell samples of the fabric so you can see which type and color matches your space best.
This hack works so well because the products' design typically has a tight fit, giving the illusion that it's the actual fabric that your sofa was made with. However, thicker fabrics may not be as form-fitting compared to thinner or stretchier ones, so take into consideration what type of look you want to go for; you could always experiment with a few if you want to swap your look regularly. Nevertheless, after securing the couch cover, you should be left with what looks like a brand-new sofa that will blend seamlessly into your new style — and nobody can tell!