Make Beautiful & Fragrant Fall Pumpkins With Just Some Twine And Cinnamon Sticks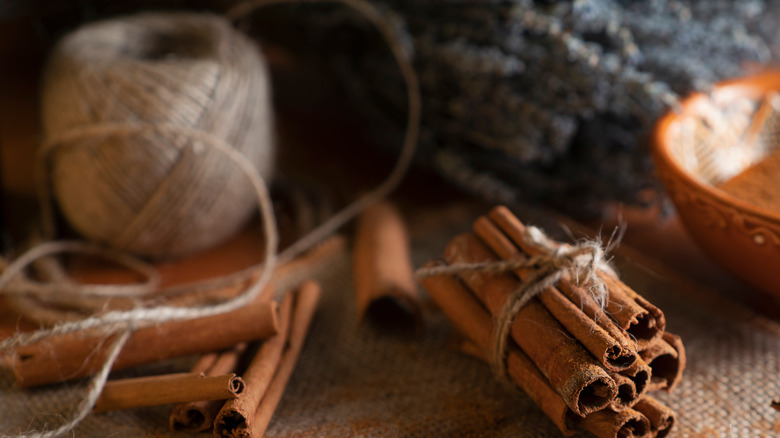 Alican Akcol/Shutterstock
While autumn often provides ample materials and styles for fall and Halloween decor, nothing represents the season quite like pumpkins, no matter the color or size. TikToker @beyondgate38 demonstrated an amazing way to create inexpensive pumpkins that uses cinnamon sticks for a stem and twine for the rest of the piece. This is a fun DIY project that anyone can do, and each one could cost less than a dollar to make. The end result is a yield of rustic and natural pieces that smell delightful.
You will need rope twine, a glue gun, scissors, whole cinnamon sticks, and wire garbage ties. Since these are so easy to make, DIY as many as you'd like and use them for deliciously-scented fall table centerpieces or mantel decorations. They are perfect if your seasonal decor leans toward a cottage, boho, or farmhouse style, providing a great alternative to real pumpkins or store-bought foam or plastic ones. Further, because twine is a natural tan color and cinnamon sticks are brown, these are ideal for those who love decorating with cozy, neutral tones in the fall instead of bright orange shades. They are also a far cheaper alternative to the basket weave or reed pumpkins that are available in home decor stores, making them great fall decor items on a budget.
Making cinnamon-scented pumpkins
To create your pumpkins, take a length of rope twine and loop it around your four fingers about 20 times. The length of your loop will determine the height of your pumpkin. Use a garbage tie to secure one side of the loop together, leaving the other loose. TikToker @beyondgate38 recommends making seven twine loops for a full pumpkin. The more twine you use on each piece, the denser the sides of the pumpkin will ultimately be.
Glue two to three cinnamon sticks together to form the stem, making sure that it is thick enough to accommodate all of the loops of twine. When dry, add hot glue to the garbage ties and attach your twine bundles to the cinnamon sticks. Continue to work around the center of the pumpkin, gluing each of the seven pieces to the stem until the decoration is complete. You can use more or less loops depending on how full and dense you'd like the pumpkin to be. If you want to customize your piece, change the color by using colored twine or swap it out for a thickly-woven yarn. Further, if you find that the cinnamon sticks lose their fragrance over time, add cinnamon oil drops to bring back that cozy scent.