Add Extra Storage To Your Small Kitchen With This Incredible IKEA Cabinet Hack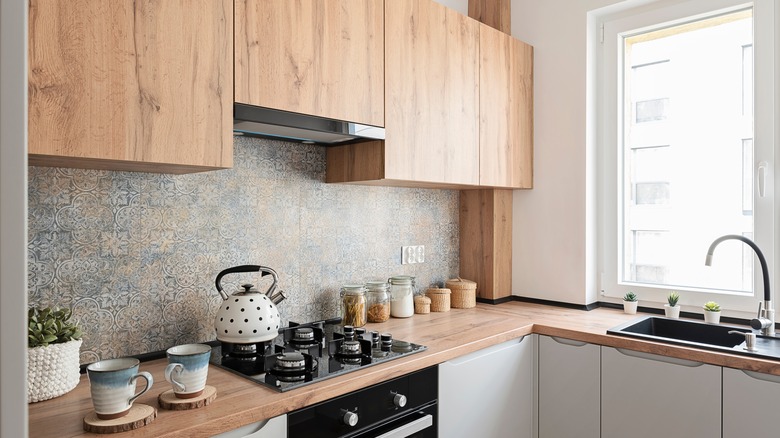 liloon/Shutterstock
If there's any room of the home where size matters, it's the kitchen. Sure, everyone wants a roomy bedroom, but it's not really necessary. However, because you prepare food, cook meals, clean dishes, and eat snacks in the kitchen, one that's cramped doesn't sound that pleasant. If your cooking area is tiny, storage is most likely an issue, since you probably have fewer cabinets. Thankfully, we've discovered the perfect way to make your small kitchen seem bigger, and it begins with ENHET IKEA medicine cabinets. By installing these on an empty wall, you'll add more storage to your room without taking up lots of square footage.
Thanks to the concealed built-in shelving these cabinets offer, you'll be able to add extra storage that looks like regular cabinetry. To make this hack even better, you can add any IKEA ENHET doors that are the same size to the cabinets to really make them your own. Did we mention that they're also affordable and come in two sizes? Get ready to meet your kitchen's newest friend to house your belongings and say goodbye to overstocked cabinets.
How to use these cabinets in your kitchen
Once you select the size you desire, it's time to assemble your medicine cabinets. Assembly isn't strenuous and can be completed in a matter of minutes. Next, you'll need to install them on your wall with the help of a power drill. We love how these cabinets are the ultimate versatile small kitchen design idea that doesn't come with a hefty renovation cost. Adding in entirely new cabinets can cost you thousands of dollars. Since these cost about $55 to $62 each, they're affordable for any budget, though you'll also need to factor in the price of the doors you choose.
One caveat to keep in mind is placement and possible intrusion. The TikToker installed their cabinets along an empty wall at the end of their hallway that extended into the kitchen. Unless you're able to cut a hole into your wall for the cabinets to fit flush in the opening, these pieces are going to protrude off of your walls. Because of this, make sure there's still enough room for people to comfortably walk past without bumping into them. Because the shelves are narrow, they could house items like oil bottles, seasonings and spices, or small foods that typically go in the pantry.