The Perfect DIY Garden Path That Will Fit In Any Yard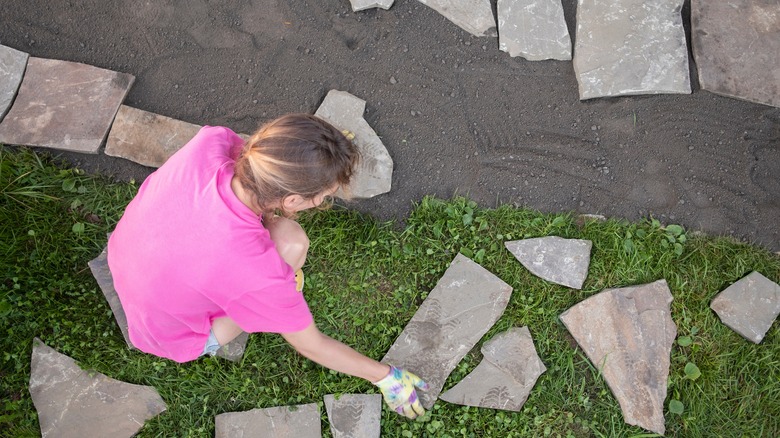 Vovantarakan/Shutterstock
Certain spots in many yards can be especially challenging in terms of both functional use and beauty. Sometimes, it's about lack of sun or too much of it. Sometimes, it's drainage or soil. Sometimes, it's just aesthetics or awkward layouts. TikTokker Georgianne Parker (@heygeorgianne) recently showed off their solution to an unwieldy plot of soil that went from dead space to a well-wrought stone pathway with a budget-friendly, easy DIY approach. All you need is a selection of paver stones, gravel or pebbles, a liner, some sand, and edging material to keep things in place.
By using paver stones and smaller gravel instead of plants, Parker was able to create a perfect garden path to occupy an unwieldy space near the house, turning a patch of dirt into a stunning path that instantly elevated the look of the yard. This technique also allows you to fully customize the shape of the path to your needs. Because it uses only a few larger paving stones, it's a budget-friendly alternative to paths that use more stone.
Creating your path
Begin by digging out the desired shape of your path, leveling it out fully, and removing any debris. Use a flower bed liner, landscape fabric, or tarp to prevent weeds and help retain your smaller pebbles. Layout the desired configuration of paver stones to create the shape you want before adding sand to help keep them firmly in place. Fill in the rest of the path with pebbles or smaller gravel, adding edging along the perimeter of the path to keep everything contained. The liner and the edging will keep your smaller rocks from going rogue, while the sand will provide a firmness that should prevent the larger pieces of rock from shifting in the ground, even in high-traffic areas or moist soil underneath. 
Add some solar lights to the edge of your path as a finishing touch. You can also use the surface of your path for other yard decor or furnishings, like a small bistro table or bench. It's also a great place to add planters with flowers or greenery for a container or planter box garden.