20 Whimsical Garden Stepping Stone Ideas That Will Transform Your Garden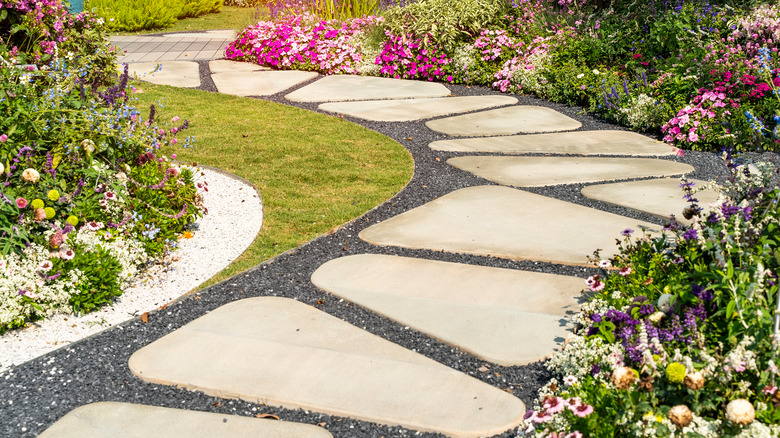 asharkyu/Shutterstock
There are a number of ways to elevate your garden space. You could add a fun water feature, spice up your landscaping, or draw in birds with feeders and baths. Another whimsical garden addition is a stepping stone path. While these trails look beautiful, they also serve a number of practical benefits. According to Outdoor & General, stone lanes provide a designated space to walk around the garden. They create a safe walkway for muddy or dirty areas. And the rocks will help stabilize plants in the soil. They can also help reduce erosion in sloped gardens.
Another benefit of stepping stones is that they can create a variety of different looks. There are a number of colors, shapes, and styles to choose from, and the larger stones can be bordered by pebbles, plants, grass, or mulch. To add extra interest to your garden, you could add a stepping stone path. Below are 20 different looks you could choose.
1. Illuminate the path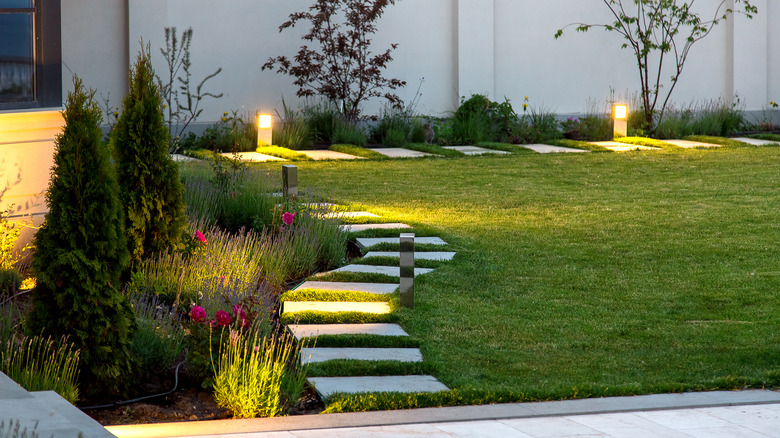 Bespaliy/Shutterstock
Adding solar lights around your stepping stone footpath can make it functional both in the daylight and at night. This rock trail is embedded right into the yard's grassy surface. 
2. Building on a slope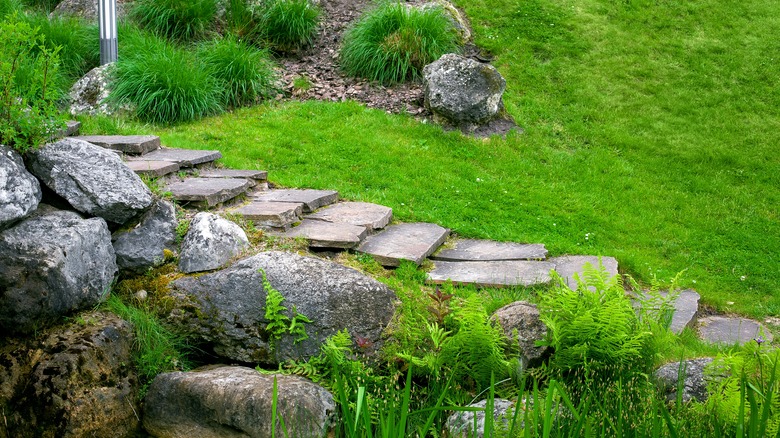 Bespaliy/Shutterstock
When creating a stone lane on a sloped backyard, add stairs. These stairs are made from large slabs of organically shaped stone. 
3. Surrounded in colorful pebbles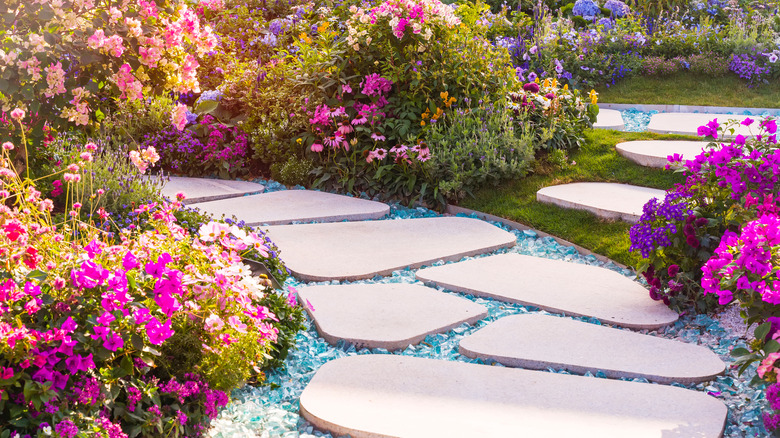 asharkyu/Shutterstock
Surrounding your larger stones in something unique, like turquoise pebbles, will make your garden path stand out and add more color. 
4. Uniform but also unique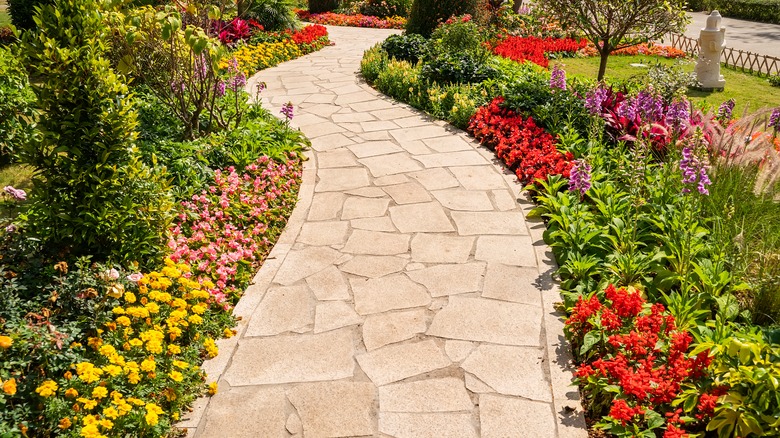 asharkyu/Shutterstock
Creating a stone walkway with a clear-cut edge will make it look uniform and orderly. However, to also make your garden unique, fill the path's surface with stones that are cut into organic shapes. 
5. A narrow trail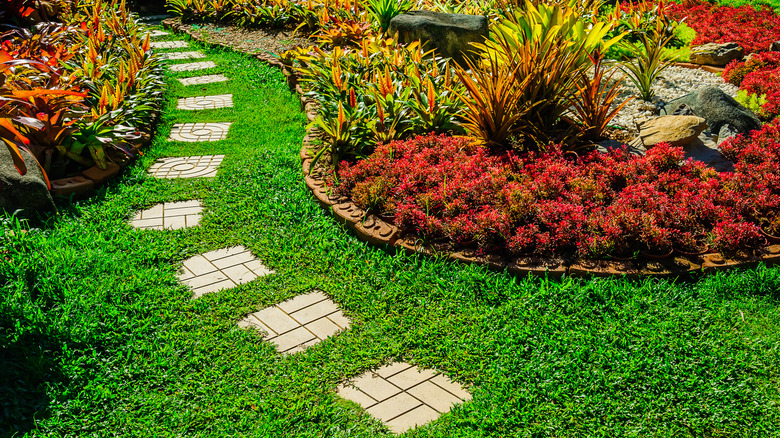 SingjaiStocker/Shutterstock
Lining up stones in a skinny, winding path will add an extra whimsical feel to your garden. 
6. Utilize round stones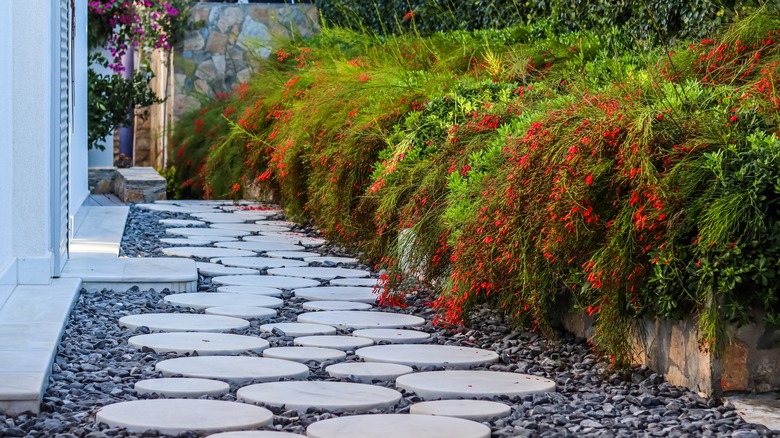 OLAYOLA/Shutterstock
To mix order with fun, line your trail with round stones. While the stones will all look the same, the way they are arranged is totally up to you. 
7. A perfect pebble border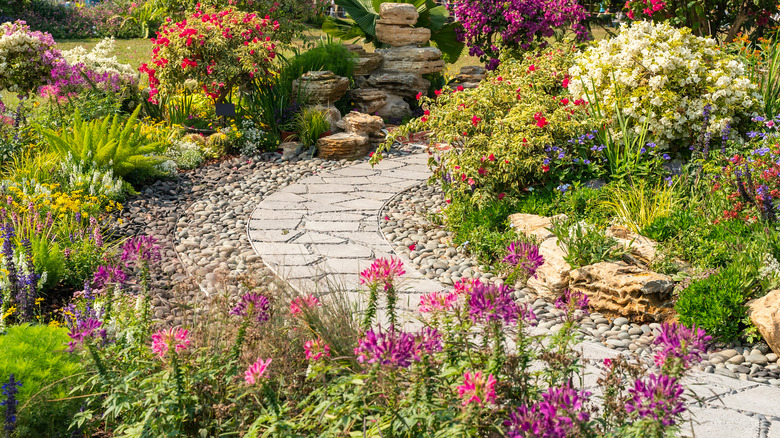 asharkyu/Shutterstock
Surrounding your trail with small pebbles can create extra interest in your garden. This path is also near multiple unique rock statues. 
8. Stones of different shapes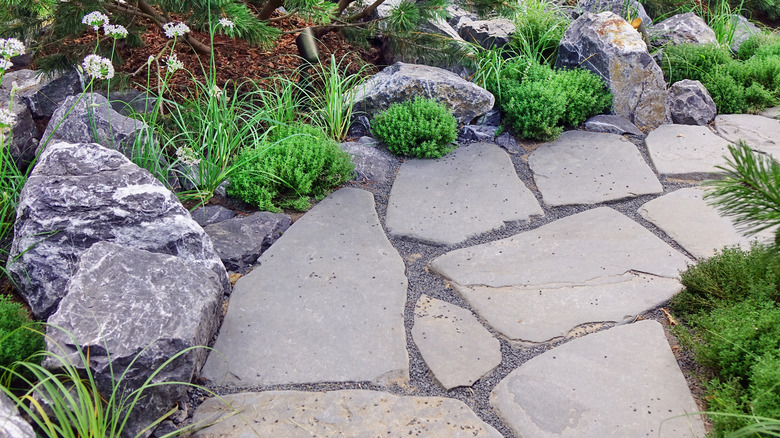 AVN Photo Lab/Shutterstock
The above lane has all different-sized flat stones, which gives it an organic appearance. It is also surrounded with larger gray and white boulders to add to the landscaping. 
9. Extra orderly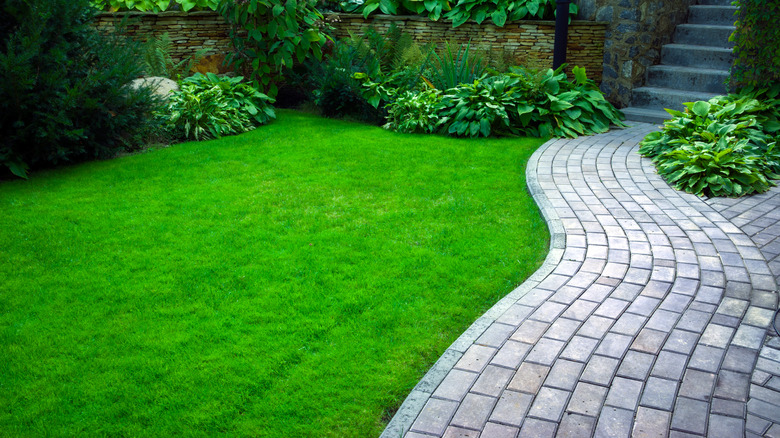 Andrey tiyk/Shutterstock
To create the most orderly-looking trail, use all stones of the same size and create a sharp-edged border. To add more fun, make the path slightly winding instead of pin-straight. 
10. Warm colored stones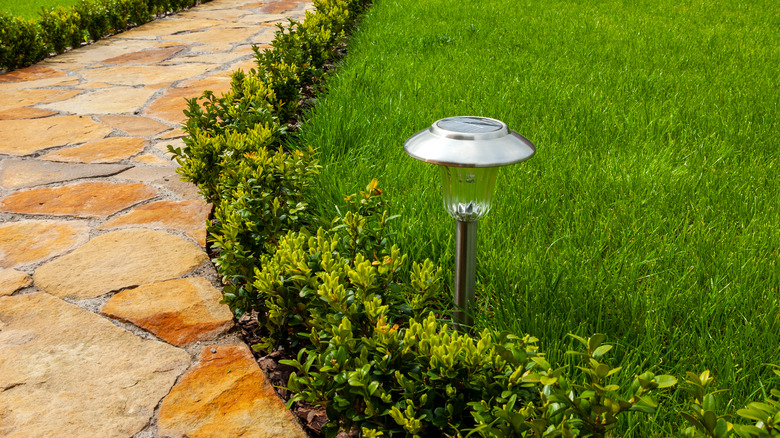 Andrey tiyk/Shutterstock
For a warmer look, use warm-toned stones in your path. Using rocks of slightly different colors will also create more interest. 
11. Long rectangular stones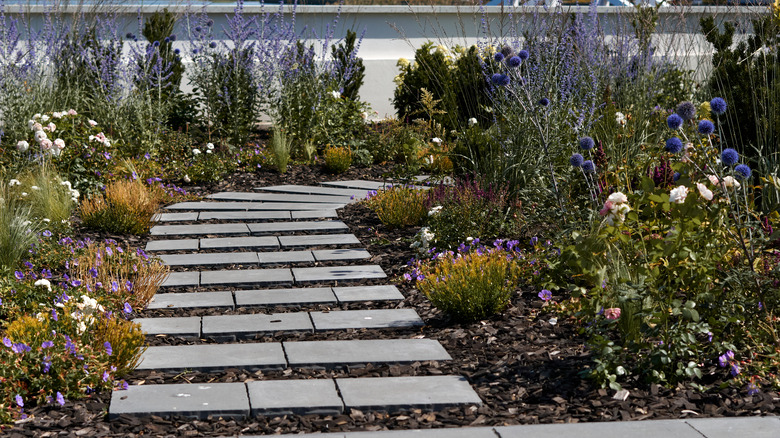 nadia_if/Shutterstock
The above path uses long rectangular stones that also allow the dark mulch to peek through. This creates an orderly but still earthy and rustic appearance. 
12. Two winding paths
Placing two winding stone trails next to each other can also create an interesting look. Surrounding them with smaller rocks will help designate the space as a walking trail. 
13. Allow greenery to grow between
While many stone paths create a border with pebbles or mulch, this trail allows greenery to grow between the large rectangular stones. 
14. Encompassed in pebbles
Using large organic stones and surrounding them in pebbles will create a beautiful pathway. This path has a clear border and is surrounded by lots of colorful flowers. 
15. Monochromatic look
Choosing larger stepping stones that match the surrounding smaller border stones will create a monochromatic look that utilizes different textures. 
16. Wide walkway
This wide walkway has lots of different rocks of various colors and shapes to create lots of interest and personality. 
17. Creating contrast
To create a bold trail, set darker stepping stones in lighter pebbles. Or another option is to set light stones in a dark mulch. 
18. Elevated stones
Instead of embedding the stones in the border, you could place the rocks on top of the existing landscape to give them an elevated look. These stones are placed on top of the surrounding brown mulch. 
19. Large stones
If functionality is key, create a stone lane with large, flat stones. Designate the space with larger boulders in the landscaping. 
20. Small stone pieces
This winding footpath has many different small pieces of flat rock that, when placed together, create an orderly and uniform appearance.