How To Use Potted Hydrangeas To Brighten Up Your Front Door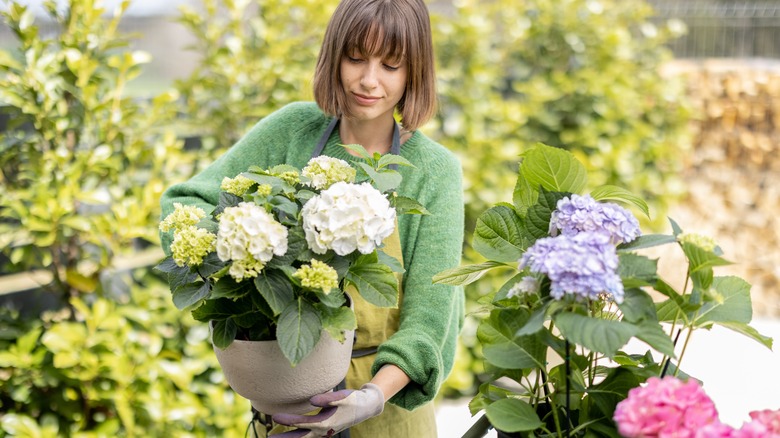 RossHelen/Shutterstock
Hydrangea bushes, with their lush profusion of blooms, are always a showstopper in any garden or yard, coming in a variety of colors ranging from more neutral whites and creams to shocking purples and periwinkles. These flowers will easily take over a large swathe of the yard if you let them, returning bigger and brighter each spring and summer. But you may not know that these blooms also grow extremely well in containers, which makes them a perfectly gorgeous addition to container gardens, paths, and front porches.
To enhance curb appeal, try planting a hydrangea bush in a large planter or box near your door for a burst of color to welcome guests. They look especially attractive when planted with other plants that share their partial shade demands like English ivy and some varieties of fern. The additional plants help provide a beautifully green backdrop for the hydrangeas and help enrich the soil with additional moisture and organic matter in the container. 
Planting potted hydrangeas
For a polished and elevated look, combine your hydrangeas and other plants in a large neutral vessel in materials like stone, ceramic, or terracotta. Placement on a porch or front stoop is ideal, particularly one that allows morning sun and afternoon shade. As their watery name suggests, water the hydrangeas regularly, or place your container, if it has drainage holes, on dirt or pea gravel, where the roots will eventually work their way down and through the bottom of the pot to get extra moisture. 
For best results, cut back your hydrangeas after they finish blooming in the fall and winter to ensure a lot of new growth in the spring. As perennials, your potted hydrangeas will return each year bigger and more luscious than last season with the proper care. They also make great fall flowers that dry out and brown as the weather turns colder. In summer, hydrangeas work beautifully as a pop of color on an otherwise neutral porch in shades of pink, lavender, or blue. For a more neutral look overall, choose cream, white, or pale green hydrangeas.