We Reviewed Joanna Gaines' Holiday Candles At The 2023 Silobration & The Winners Are Clear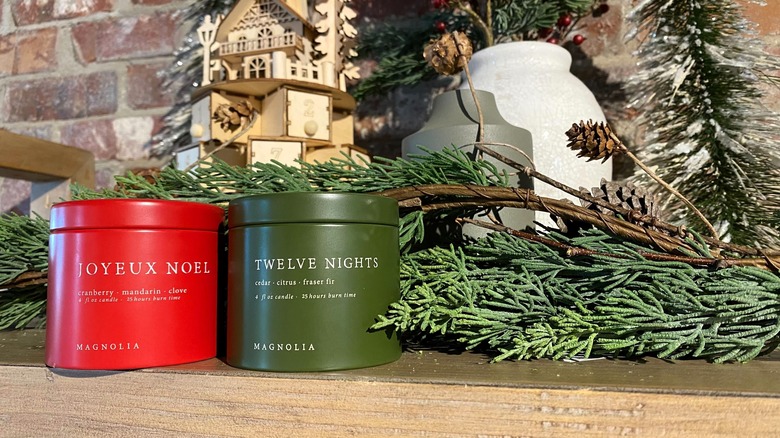 Brooke Younger/House Digest
Joanna Gaines' Magnolia candle collection has won plenty of praise over the years and routinely features seasonal showstoppers perfect for setting the tone during a refined gathering or quiet evening catching up on holiday movies. Being lovers of holidays, candles, and all things Joanna Gaines, perhaps it's not surprising that our noses led us directly to Gaines' signature candle collection while wandering around at Magnolia's annual Silobration. Suffice it to say, we did not leave disappointed.
The collection includes both fall and holiday offerings that provide much in terms of range and allure. Mulled Cider, Amber (our personal favorite), and Gathered round out the fall scents, while Twelve Nights and Joyeux Noel add a dose of holiday joy to the ensemble. While each candle undoubtedly has something to offer, we're not above playing favorites when a particular candle sets fire to our senses – or overpowers them completely.
However, when looking for the best scented candle to place in your living room this holiday season, it's never just about the scent. Size and pricepoint are important, so let's get down to brass tacks. Gaines' line runs from $30 to $58 and comes in 9-ounce and 26-ounce offerings. This accounts for approximately 55 to 110 hours of burn time, respectively, although the Magnolia website advises against burning them for more than 2 to 3 hours at a time.
Our favorite fall scent is nearly indescribable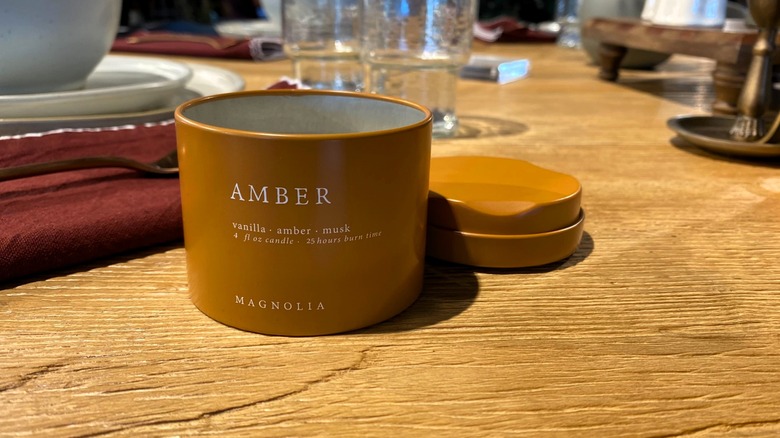 Brooke Younger/House Digest
Our top pick, Amber, is a candle that features heavy notes of vanilla with heavenly undertones of amber and musk, and it's practically indescribable. We'd say it's almost like a perfume – insofar as we'd be delighted wearing it while out and about for some holiday shopping. However, its warm, sensual aroma is even better suited for nights spent inside with those you cherish. If your nose has a sweet tooth and is predisposed toward the sentimental and sublime, this is probably the candle for you.
Gaines' other fall scents seemed to have a number of fans at the Silobration. Gathered, which features notes of coffee, pumpkin, and nutmeg, offered one of the more unique aromas on display and had quite a few people talking. It smelled similar to a cinnamon tortilla; it was not our first choice, but it's definitely a scent to inspire the imagination. Mulled Cider hit some of the right notes with a strong natural cinnamon aroma, but left us wanting more of the apple in its scent profile.
Our top holiday scent is a new classic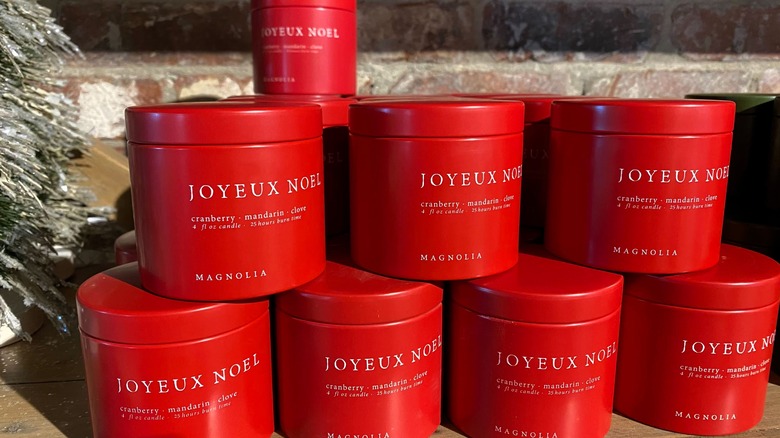 Brooke Younger/House Digest
If you're always looking for a simmer pot recipe to refresh your house, our top holiday scent will surely appeal to you. Joyeaux Noel, a candle that features prominent notes of cranberry, mandarin, and clove, conjures the feeling of a tin bowl gently boiling on a wood-burning stove, far removed from the vexations of modernity. While this isn't the most commanding scent of the bunch, its subtle and natural allure isn't likely to go unnoticed. Even better, unrefined nostrils will probably be able to pick out its constituent aromas, owning to it a degree of complexity that can't be found in any old candle at TJ Maxx.
Twelve Nights, an archetypal "woodland forest" scent, offers healthy doses of cedar, citrus, and Fraser fir. While this scent was a little strong by our estimation, its utility is obvious and desirable. If you opt for an artificial Christmas tree and are looking for a candle that will make your living room smell like it's covered in coniferous needles, this is definitely one to check out.