TikTok's Outdated Kitchen Cabinet Renovation Is Truly Inspiring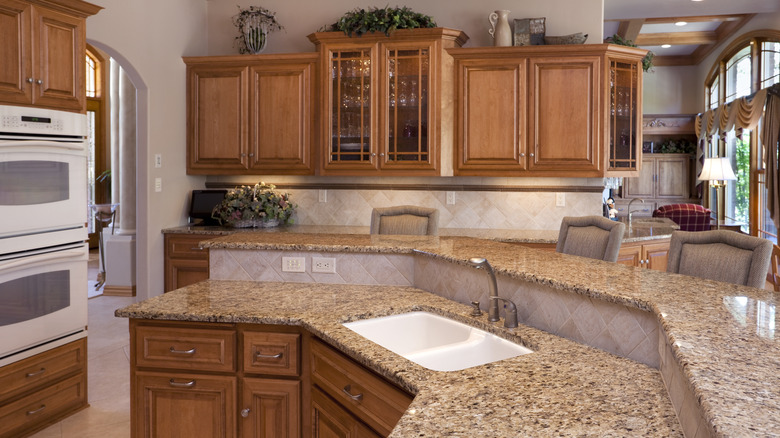 Jamesbrey/Getty Images
The most popular kitchen cabinet colors change often. Various shades of blues and greens, the ever-timeless white, and the newcomer greige have been ruling supreme the last couple of years. While it seems like everyone has their own cabinet color they gravitate towards depending on their interior design style, there's one cabinet finish that most people agree is outdated. Original oak cabinets, particularly ones with raised panels on the doors, scream antiquated. But a TikTok video from @bracehomes shows that original oak cabinets can be stunningly modernized with the right contemporary features like sleek white countertops and a textured white backsplash.
"Don't rule out those homes with 'outdated' cabinets," the caption of the video reads. "Solid wood cabinets can be revived with a fresh modern look by adding new hardware, counters, backsplash, [and] accessories!" The before view of the kitchen looks dark and dated, while the after image is bright and stylish. Some of the upper cabinets above the stove were replaced with open shelves that make the room feel larger. White backsplash tile runs from the countertops up to the ceiling. This combination opens up the kitchen and makes it brighter, while the addition of modern black hardware also helps modernize the room. Keeping the original oak cabinets adds unique charm to the kitchen, infusing a natural element that also grounds the space. Altogether, the room feels both antique and contemporary, a mixture that many people are looking for.
Modernizing original oak cabinets
If you have a kitchen with original oak cabinets, there is no reason to rip them all out or paint over them if they're in good condition. Instead, you can modernize them to create a charming and contemporary style. One of the major reasons why kitchens look dated is because of the cabinet doors. Raised panels evoke an antique feeling, so if that's a detail that doesn't resonate with you, opt to replace just the cabinet doors rather than the entire cabinets. Consider modern flat-faced or transitional shaker-style cabinet doors. Or, simply replace old hardware handles, knobs, and pulls with more updated versions, as done in the TikTok video.
Oak cabinets can look heavy, but pairing them with lighter shades throughout the room can add an airy feel. Make the floors, walls, countertops, and backsplash lighter colors to help brighten the room. Surfaces that are reflective like glass can also help add more light to the space. However, at the same time, while lacquered and shiny finishes on oak cabinets may reflect more light, they can also look antiquated. Opting for a more matte or natural finish will create an updated look. You can refinish cabinet faces and choose something less shiny to make these wood cabinets feel more modern.
Why oak reigns supreme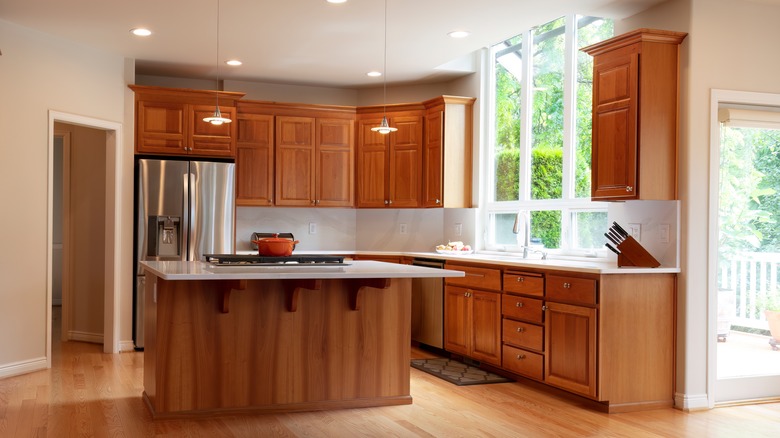 tab62/Shutterstock
Modern kitchen cabinets tend to be made with a combination of wood and laminate, while traditional cabinets are solid wood. Though those solid wood cabinets may be more expensive, there are plenty of benefits that come with using them in your kitchen, especially when they're made out of oak. Oak is incredibly sturdy and durable enough to stand up to everyday use. Cabinets in this material are particularly great for those who use their kitchens regularly and households with families or pets. If they become dented or chipped, you can sand them down to smooth out the surface. To clean them, all you have to do is wipe the surface with mild soap and water using a microfiber cloth, wiping in the same direction as the grain. Another benefit is that oak is water-resistant, meaning that it will stand up to splatters and humidity.
Oak cabinets are also a great choice if you're renovating your dream house. Their durability and strength make them long-lasting, which is why you often find them original and still in fairly-good condition in many older homes. If the material is in good condition, the cabinets are likely to last for years to come. Further, it's a good idea to refrain from painting over them, as keeping the original oak will become a unique feature in a contemporary kitchen. It will also add lots of warmth to an otherwise cold or sterile modern space.