Create A Sweet Candy Nook With TikTok's Viral Cabinet Drawer Hack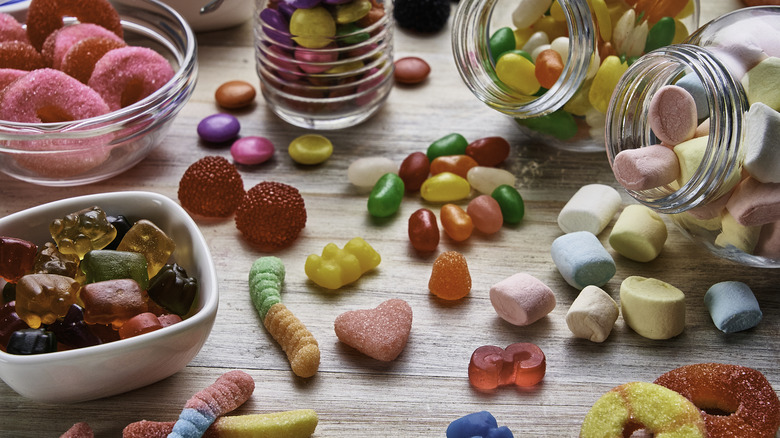 Apomares/Getty Images
Whether you are a movie candy aficionado or a family with a sweet tooth, a candy or snack door can be a great way to create space in your kitchen or pantry for those snack attacks morning, noon, or night. TikTok user @designerhometours revealed an ingenious way to make your candy or snack storage not only very functional but also stylish. The solution is building your snack-dedicated cabinet with a narrow, transparent front compartment that holds a visible sampling of the drawer's contents. This not only creates an attractive display but also offers an easy way to see what is in the drawer without opening it.
This solution is perfect for a pantry or corner cabinet in the kitchen. It's particularly handy for kids to just grab and go when they need a snack without opening every single drawer and cabinet in the kitchen to find it. This drawer solution also looks super cute and polished, since the cabinet looks full even when the supply is dwindling and needs to be restocked. It definitely gives a candy shop vibe that will delight adults and kids alike.
Showcasing a sweet display
Use deep storage drawers to provide ample storage behind visible display compartments in this cabinet drawer hack, allowing plenty of space for both large and small snacks. Since bags of candy and other single-serve snacks often are small, this eliminates the need to keep messy boxes in a cabinet or on a shelf. Use it for any-sized packaging of your favorite go-to snacks — whether salty or sweet. Part of the allure of sweet treats is their vibrant and colorful packaging, which this cabinet hack shows off to its best advantage.
While it makes a great approach for housing a collection of candy in a well-organized pantry or kitchen, think of more ways you can incorporate transparent drawer fronts in other rooms like home offices and bathrooms. They might display a visible collection of office supplies or attractive toiletries like cutely packaged face masks or bath bombs. This hack is also great for creating a cute display counter in your home theater that rivals a movie theater's concession stand.