The DIY Way To Fix Your Kitchen Cabinets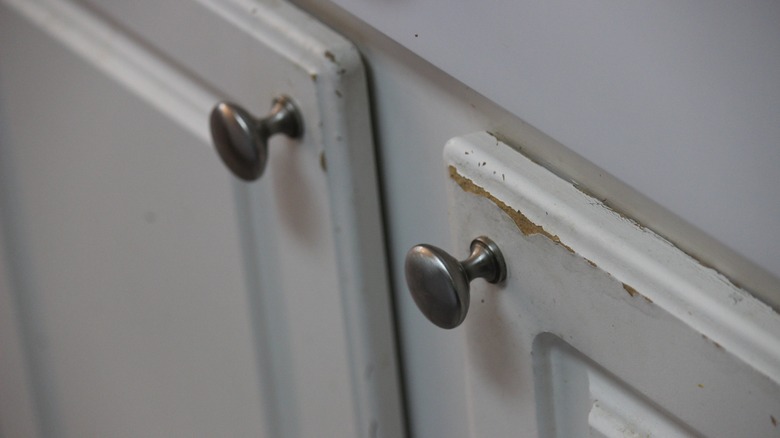 Jasmine Sahin/Shutterstock
Although sturdy when first installed, over time kitchen cabinets can start to show signs of wear and tear — things like cracked or faded panels, peeled edging, or dents and scratches are commonplace. In such cases, small, smart updates could be all you need to make them look new again. Fixing old kitchen cabinets with wallpaper can be a low-effort way to give them the fresh look they need. It's a simple DIY project that requires only peel-and-stick wallpaper, a smoothing tool, and a utility knife or scissors.
While painting them over is one common DIY fix, wallpaper gives you a chance to bring in a nice, fun pattern and do something different in the space. You can choose a wallpaper with a wood grain finish to match your existing cabinets or use a wallpaper with a random pattern so you don't have to make it match all over. This is especially useful with completely flat slab cabinets because you have a lot of area to cover. If you have the traditional cabinet style with recessed panels, you can just fill in the insides.
How to wallpaper your kitchen cabinets
First, remove any door knobs if you need to, and prep the cabinet exterior by cleaning any dust or grease from the surface so the wallpaper can stick properly. For recessed panels, trace out the area and cut out the wallpaper to fit into the insides. If you're dealing with a flat surface, you can get away with not measuring the cabinets and can just stick the edge of the wallpaper to the top of the cabinet, pull it down to the end, and then cut it off from the roll, as shown in the TikTok post above.
Apply the wallpaper carefully to the cabinet surface and smooth out any air bubbles or wrinkles as you go with the smoothing tool. Trim the edges neatly when you're done and make holes to reinstall the knobs. If a door has broken off or is too worn to revive by wallpapering over it, you can use this as an opportunity to try something different by taking off all the doors and trying open shelving. To make more of a statement you can apply the wallpaper to the inside of the cabinets, too.