Make The Most Of Your Closet Space With These Lyndsay Lamb-Inspired Shoe Storage Systems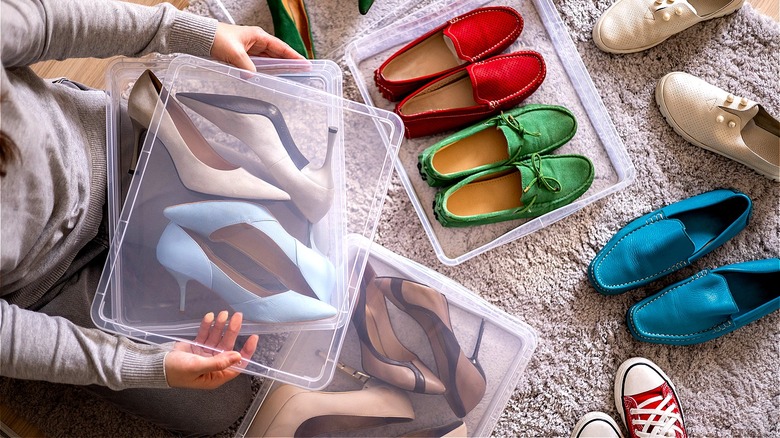 Kostikova Natalia/Shutterstock
We may receive a commission on purchases made from links.
Making a closet or wardrobe functional and neat can often be a challenge, particularly when it comes to items like shoes and accessories that don't always have a dedicated space. This is particularly true in smaller closets without custom shelving, where shoes are often relegated to the floor. Lyndsay Lamb from "Unsellable Houses" recently showed off her country cottage on HGTV (via YouTube), including how she deals with storing shoes in her walk-in closet. Lamb's solution is a rotating corner shoe cabinet that extends to the top of the closet. The cubbies of the cabinet provide a berth for many pairs of shoes that can be easily accessed just by spinning the storage unit.
Lamb's spinning shoe storage is tucked amid a room designed specifically for her clothes. It fits neatly in a corner that may otherwise have been unused. The corner rack can fit far more shoes in a smaller footprint than traditional horizontal shoe storage. Each pair is also much easier to find and access, leading to better care for the shoes than on shelves or the floor. It also offers much more storage capacity than other options like, say, a stylish shoe bench.
The benefits of a rotating shoe cabinet
Popular in kitchens, Lazy Susans also have a practical place in closets, as Lyndsay Lamb's closet solution shows. It makes a lot of sense, as a Lazy Susan allows for maximum vertical storage, perfect for smaller items like shoes. The round design also makes it a good fit for corners, whether in a closet or an empty spot in a room.
While Lamb's unit is custom-built for her wardrobe, you can also purchase similar units in a variety of sizes, like this Weinstein Storage 7-tier rack measuring over 5 feet tall, available at Amazon, or this shorter stackable one by Latitude Run, sold at Wayfair, that comes in at just over 2 1/2 feet. If you want a multifunctional piece, the ClosetMaid Store at Amazon offers a storage unit/ottoman design that provides a place to sit and put on your shoes. And, while many spinning shoe storage units are open, you can also find closed ones, like this one by AVIMYA, available at Amazon for about $750.