The Designer Secret That Might Save You Money On New Countertops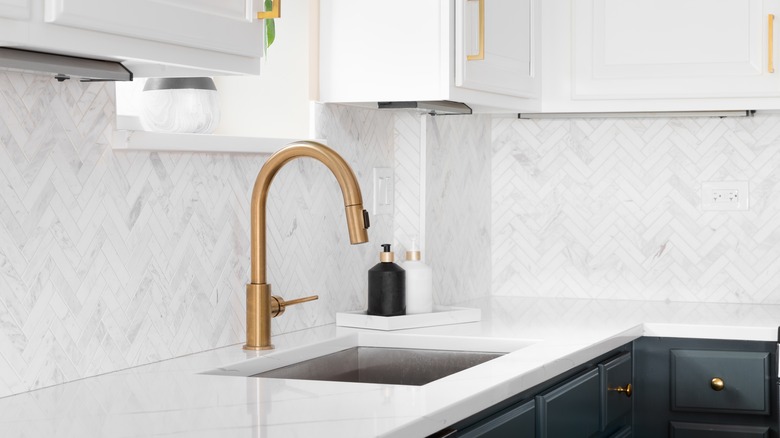 Joseph Hendrickson/Shutterstock
Full kitchen remodels cost a lot of money, and one of the most expensive factors tends to be the countertops. That's especially true if you want to install something high-end and trendy, like marble countertops. The average cost can range anywhere from $60 to $100 per square foot, depending on the type you choose. Most average kitchens usually have around 30 square feet of countertop space, which means you're looking at spending between $1,800 to $3,000. However, if you're looking to cut that cost down a little and save on your remodel, then there is a designer trick that just might help — you can try buying remnant slabs instead. 
If you go directly to a marble or granite shop, you will be able to peruse all of their different slab options. However, slabs that were already partially cut are called remnant slabs. These are the scraps of the fabrication world, and are very difficult to sell because you can't match up the marbling or coloring with other similar slabs. Because of this, they're often sold at a steep discount, which you can use this to your advantage, especially if you want to cover a small countertop or island (or even a bathroom vanity). Here's what you need to know about remnant slabs.
What to know about remnant slabs
First, let's talk about the price. The unsatisfying answer is that there are a lot of factors that influence the price of a remnant slab, but you could get up to 80% off when compared to buying an full slab. It really depends on where you buy the stone. For example, some fabrication shops will charge more for luxury quartz options or trendy Carrara marble, while others price all their remnants the same per square foot, so you can find a real steal. Because of this, it pays to create a list of a few fabrication shops near you, and call them to ask how they price their remnant slabs. You'll definitely get more bang for your buck if they have a blanket price per square foot, especially if you're able to find an exotic marble or luxury quartzite.
You also want to double-check if the price listed includes cutting and polishing the stone. Some stores include it, while others add it as an extra cost. It also pays to ask if cutting not only includes cutting the slab but also carving out the sink and faucet holes, or if that is also an additional charge. This will help you decide which store will give you the best bang for your buck.