Give Unsightly Paper Towels A Home In This Genius DIY Drawer Design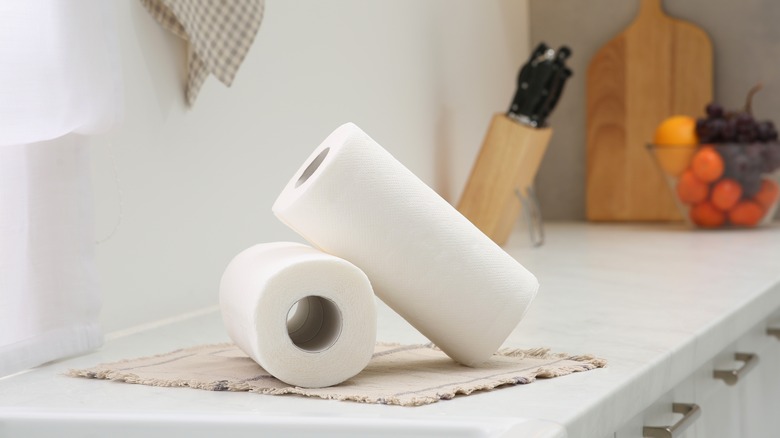 New Africa/Shutterstock
If you've ever redecorated or remodeled a kitchen, you know the unfortunate truth about paper towel holders. No matter how nice the holder is, you're mostly going to end up looking at a roll of paper towels. The solution is usually to stick them in a cabinet. But when he was building a stylish home bar under the stairs, YouTube DIYer @SatisfyDIY built a drawer with no panel in the drawer front, leaving a perfect spot to house a roll of paper towels.
Of course, the paper towels aren't entirely hidden with this solution, but they are less obtrusive and below counter-level. A partition separates the paper towel compartment from the back of the drawer, ensuring the roll is always fairly near the opening and preserving the space in the back for storing extra paper towel rolls or other supplies. Ultimately, this is a great compromise between having paper towels fully visible and hiding them away entirely, which can be especially inconvenient for guests.
There's a pretty good chance you can create a paper towel drawer for yourself, assuming you have a drawer of a suitable depth and width, and a five-part paneled drawer face rather than a one-piece slab front. The custom-built cabinets let @SatisfyDIY address sizing issues very precisely. To retrofit your drawer for this idea, you'll have to measure everything twice to be sure the solution is going to work for you.
How to try this in your own kitchen or wet bar
The simplest approach to making a paper towel drawer is pretty simple, though it might require some woodworking chops. In the best case, all you really have to do is remove the panel in the middle of the drawer front. (You might also want to add a dowel or some other mechanism for holding the paper towels in place.) Removing the panel works best with certain styles of kitchen cabinetry, especially the thin, flat panels you see in Shaker and other cabinets. Raised panels in traditional drawer fronts can be more difficult to remove, requiring a more aggressive (and destructive) approach. This DIY project might get tricky with slab drawer fronts since you're basically cutting a new hole for the paper towels. Regardless of which cabinet design you have, it's probably a good first step to find out if you can purchase a spare drawer front from your cabinet's manufacturer.
@SatisfyDIY was not the first to dream up this kind of paper towel storage, and there are a few other approaches around. One idea is to remove the drawer altogether, leaving a cavity you'd need to close in. This gets rid of the complexity of the drawer and the drawer front. Another approach is to remove both the panel and the top rail from the drawer, which is a good solution when removing the panel doesn't give you quite enough room to get to the paper towels.