Give Your Worn Kitchen Cabinets New Life With This Renter-Friendly Hack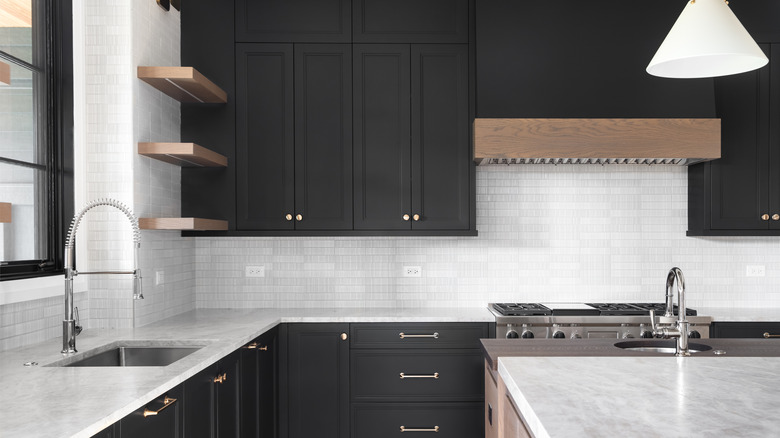 Joe Hendrickson/Getty Images
Making adjustments to any space can be costly, particularly in kitchens, where outdated cabinetry, counters, and appliances can sometimes prove to be an unfixable eyesore. This is particularly true in rental spaces, where modifications are usually not possible, leaving you to grin and bear it until you move. TikTok user @paige_sechrist recently revealed an unexpected way to liven up and cover ugly kitchen cabinetry that is both rental and budget-friendly using vinyl wrap. Even better, the entire transformation cost under $100.
Usually used to cover automobiles, this sturdy vinyl wrap is also great for use in the home. While contact paper and peel-and-stick wallpaper have often been a lifesaver for easy DIY modifications in the kitchen, this vinyl is particularly well suited to the sort of wear, tear, and dirt that can afflict kitchen cabinetry, making it very easy to maintain and clean. Even if you are not a renter, they are a great way for a quick and inexpensive transformation instead of using paint.
Using removeable vinyl on cabinets
The Tiktok DIYer begins by unscrewing their cabinets' hardware and removing the cupboard doors from their hinges. You'll want to measure your cabinets, then cut strips of the vinyl to cover the cabinets on the wall and the front and back of the doors. Before you begin the application, wash cabinets and doors thoroughly with soap and water, making sure your surface is free of any debris to prevent imperfections. Apply the vinyl with a heat gun, peeling away the backing and following as you go with a smoothing tool like a squeegee or spatula to remove bubbles and create a flat surface.
When the application is complete, reattach the doors back in place and replace the hardware. To remove the vinyl when you move out, simply reheat it with a heat gun or blow dryer to loosen the adhesive, then peel it away. Because it is very durable and meant for automotive uses, the vinyl will last several years without wearing or ripping if applied securely. You can also use it to cover unsightly appliances like refrigerators or dishwashers.