Save Tons When Updating Your Cabinets With TikTok's Genius DIY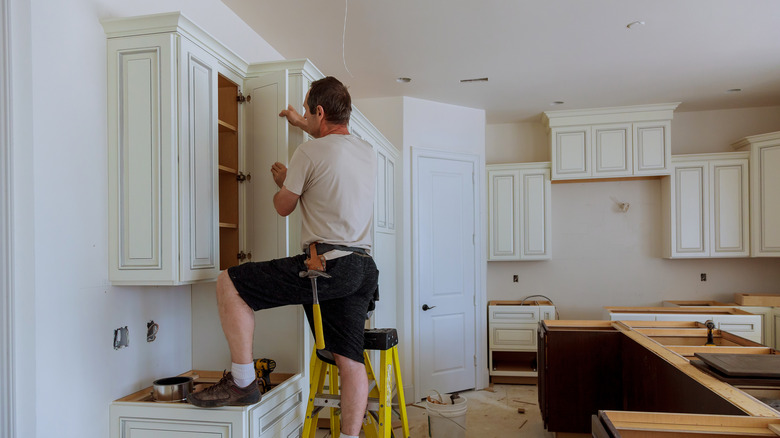 ungvar/Shutterstock
When looking for new kitchen cabinets on a budget, you need to think creatively to keep costs low without sacrificing quality. One major tip is to find cheap cabinets like ready-to-assemble sets or second-hand cabinets and do the installation yourself. To save even more, try the TikTok trick of salvaging your old cabinets by flipping the doors over to the other side. New hardware, paint, and a little prep will be all you need to put them back into action.
If you're redecorating or renovating your kitchen and want a different look, changing the direction of the doors is a low-effort way to achieve a new style. If the front side of the door is damaged or worn out, reversing it can also hide the imperfections and give your cabinets a fresh appearance. One TikToker saved a lot of money and gets a new, sleek design with his classic solid wood cabinets by using this smart hack (via TikTok).
How to reverse your kitchen cabinet doors
First, make sure your doors are reversible. If they have trim or router inlays that might interfere with reversing the door, this hack might not work without a lot of extra effort. Full-overlay doors or doors on European-style hinges need to be removed from the cabinet frame while partial overlay doors can be reattached like in the TikTok. Take the doors off the hinges carefully to minimize any damage to the surface then prep them by filling the holes where the previous handles and screws used to be, doing some scuff sanding, and then priming the surfaces to get them ready for a new coat of paint.
Alternatively, you can skip the paint and maintain the natural wood look for your cabinets by simply refinishing them with a sealer and the stain of your choice. After the paint or stain dries completely, drill new holes for the new hinges and hardware. Install the door pulls or handles, mount the door carefully, and ensure it works smoothly. The new color and hardware you choose for your "new" cabinets are very important for tying the look together, so go for shades, materials, and finishes that look and feel high-quality.