The Best Color Countertops To Use With Black Cabinets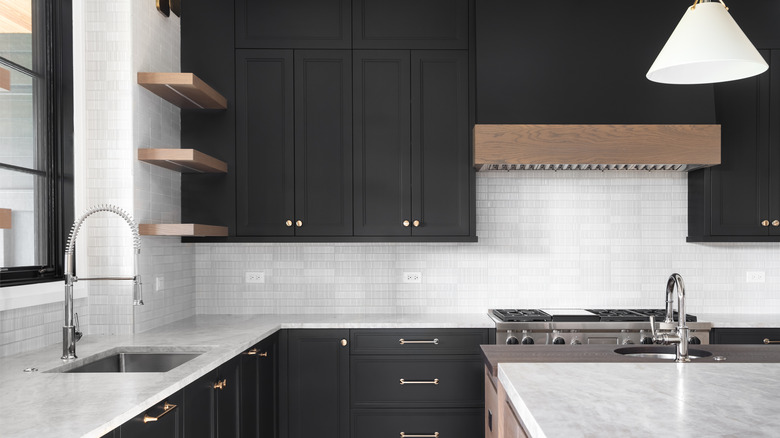 Joseph Hendrickson/Shutterstock
All-black or partially black cabinetry is having a moment, cropping up in equal measure in both rustic farmhouse-inspired and sleekly modern design aesthetics. In vintage and rural style-driven kitchens, black can be a great neutral that minimizes the impact of the cabinets, serving as an alternative to the tried and true classic all-white kitchens. In contemporary and minimalistic kitchens, it's a perfect way to make the cabinets almost disappear. Black can feel both dramatic and subtle. Old and new. But you may be wondering which countertop colors and materials go best with these dark cabinets. The answer depends on the overall aesthetic of your kitchen.
Certain counters, be they marble, granite, or wood, can sway your cabinetry in a given style direction. The countertop's level of contrast with the cabinets above and below can also help expand or diminish the amount of reflected light, making a kitchen feel cozier and more intimate, or larger and light-filled. These factors together will help you determine which color of countertops will work best in your space.
High contrast counters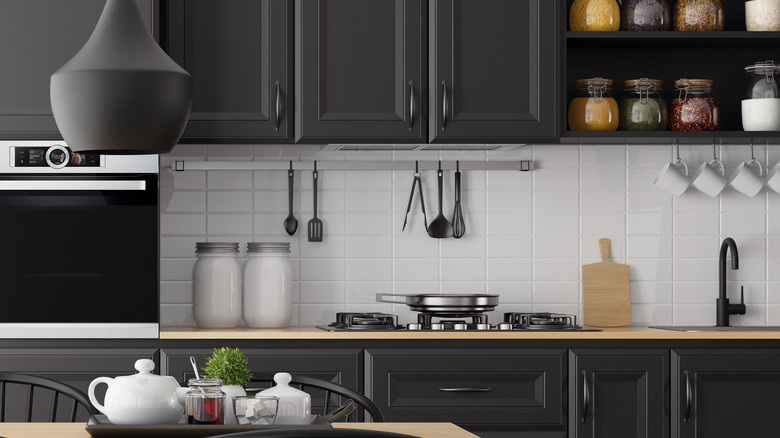 Tulcarion/Getty Images
One of the most popular choices of countertops to accompany black cabinets is to go with the complete opposite end of the color spectrum  White Carrara Marble or white quartz varieties like Calacatta Classique Quartz and Carrara Grigio Quartz provide a striking juxtaposition with the darkness of the cabinetry. White counters with more subtle veining can make a room seem larger and reflect more light, often necessary when going with a lot of black elsewhere. For a more dramatic look, black and white statement marble with a lot of veining still retains a similar brightness but echos the darker notes of black, resulting in a pulled-together, cohesive combo.
Natural-finish wooden countertops are another great choice that contrasts distinctly with the black cabinetry. Wood looks particularly stunning in more farmhouse or rustic style kitchens, where the cabinets take a backseat that allows the counters, be they maple, cherry, or oak, to shine and become one of the dominant elements in the room. The lighter the wood, the stronger the contrast. Bamboo is a great lighter material that flatters more modern and contemporary feel spaces when combined with black. You can also go for richer and darker woods, like walnut, for a cozier old-world feel.
Low contrast counters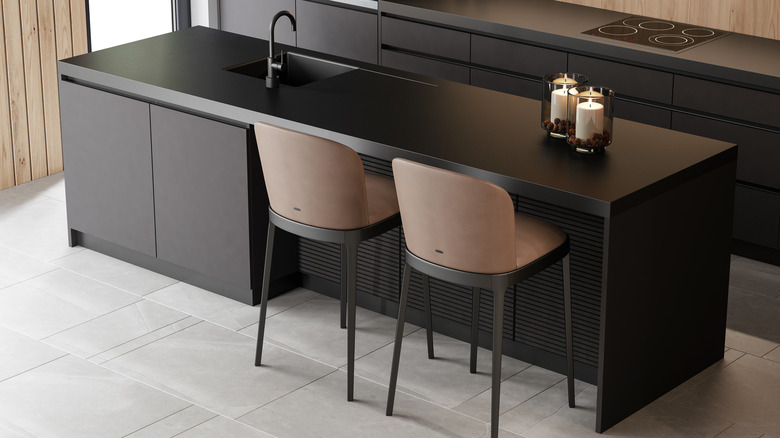 Tulcarion/Getty Images
In more contemporary-style kitchens, you can achieve a monochromatic look with a shiny black marble or granite that will match the cabinets.  This approach does a great job of streamlining and pulling the space together sleekly and seamlessly. There is no contrast to draw the eye, resulting in the entire kitchen feeling modern and minimalistic, particularly if it's combined with black appliances. This look is often combined with lighter colors elsewhere in the room like wall paint and flooring. In darker kitchens, visual interest comes from the materials and texture variations rather than color, with matte cabinetry often accompanied by shiny high gloss marble cabinetry with or without white veining. 
If a lower contrast look appeals and you are looking for a more rustic or industrial-inspired style, a rich gray marble is also a great option. The difference between the shades will still allow variation in shade and texture but does not call attention to itself as much as lighter materials. For a warmer look, go for gray with flecks of brown.