6 Reasons Hardwood Floors Will Always Be The Right Choice For A Home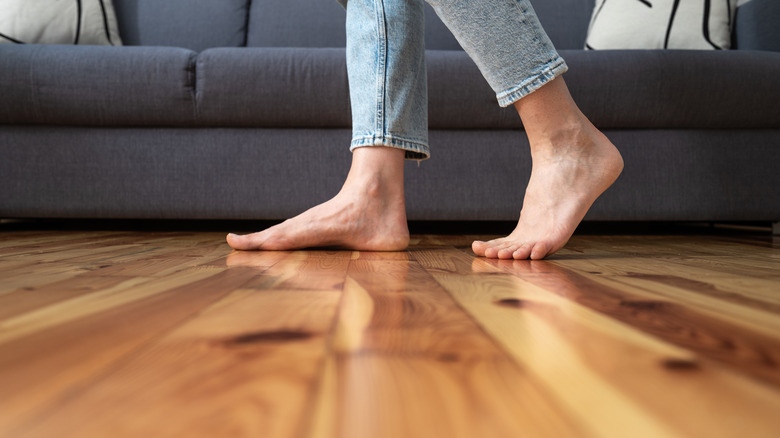 Brizmaker/Getty Images
Since it's such a large surface, your flooring can make or break the style and comfort of your home. The right material is key to putting some pep in your step. Whether you're choosing flooring in a brand new home or want to update an existing space, there is a myriad of materials to choose from. So, it's easy to feel overwhelmed by all of the possibilities. But if you're willing to pay more upfront to enjoy years of longevity and beauty, there's only one material you should consider. Hardwood flooring is a versatile option that can be durable and give you long-term flexibility and warmth.
Plus, the good news is that there are so many stain colors, finishes, and installation patterns available. And, there are options out there to fit nearly every flooring budget and current design aesthetic.  Read on to find out what sets hardwood flooring apart and why it can be the right choice for any home.
Give your home a timeless appearance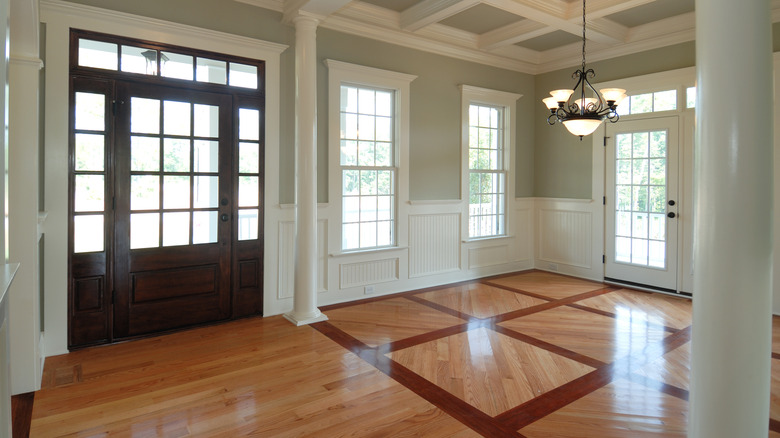 Ericvega/Getty Images
Coco Chanel famously said, "Fashion comes and goes but style lasts forever." This mantra aptly applies to hardwood flooring, and there's a reason it's been a material of choice in homes for hundreds of years. The classic, elegant appearance gives your home a sense of timelessness, regardless of its actual age. Thanks to the natural wood grain texture and the warmth that exists in its patina, coziness and comfort go hand-in-hand with hardwood flooring. 
Because of this, you can rest assured that hardwoods will complement any decor style and blend effortlessly into your home's color palette. For contemporary interiors, choose a species like White Oak and finish it with a dark stain and high-gloss sheen. Minimalist or Scandinavian-style interiors are perfectly suited for European Oak, with its bright finish and subtle grain texture. If your style leans on the traditional side, choose a classic wood, like Maple, with a warm stain and mid-range gloss. Eclectic or boho styles can still pick a conventional wood like Oak or Maple, but add some flare by laying it in a herringbone or parquet pattern. 
Best return on investment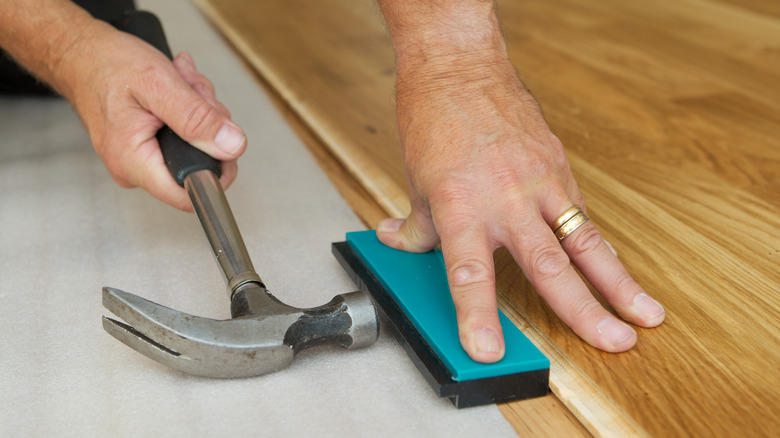 Aefoto/Getty Images
Not all home improvement projects are created equal. Some, like adding a new bedroom suite, cost big time in labor and materials but only offer a 56% return when the time comes to sell your house. If you want to get the most bang for your buck, hardwood floors are a smart way to go. According to the 2022 Remodeling Impact Report from the National Assoc of Realtors, refinishing hardwood floors and installing new hardwood floors are the top two projects for the greatest cost recovery.
The report found that refinishing hardwood floors brought a whopping 147% cost recovery while installing new hardwood came to an impressive 118%. And, some new, prefinished hardwood floors offer a 50-year warranty. So while you may pay $10,000 for installation, you can recoup that cost over the years. Plus, hardwoods are often considered a premium feature and many home buyers love to see them. Those heart eyes may translate to more dollars in your pocket when an offer is made on your home. 
A lifetime of durability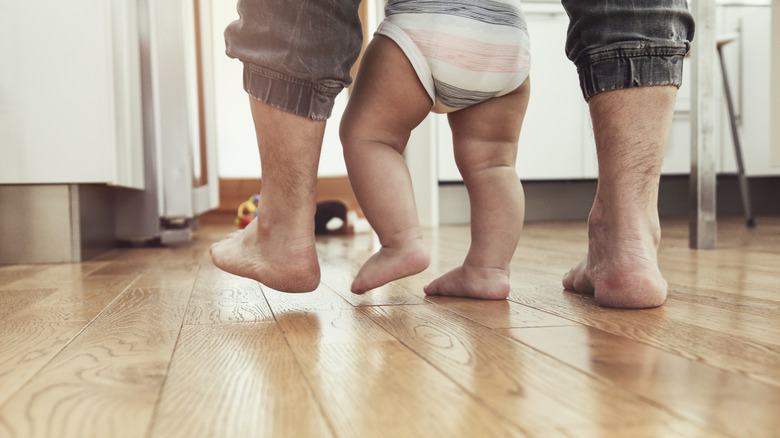 Tomazl/Getty Images
When properly maintained, hardwood floors can look great for decades. Solid wood is resistant to stains and cracks, and it won't wear down like some cheaper flooring materials. But, you'll want to choose the right type of wood to optimize durability. Not all woods are truly 'hard.' A wood's hardness, how well it holds up to general wear and tear, is measured by the Janka Hardness Scale. The scale's range is from zero to 4,000, but no wood ranks at zero. However, the closer a wood is to zero, the softer it is, and therefore not a great choice for handling foot traffic. 
For high-traffic areas, like kitchens, living rooms, and entryways, look to hearty, strong woods like oak or hickory. Their Janka ratings are around 1,300 and 1,800, respectively. However, if you truly desire the look of softer woods, like cherry or pine, reserve them for calmer areas like bedrooms, home offices, or quiet dens. 
Can be refinished to brand new appearance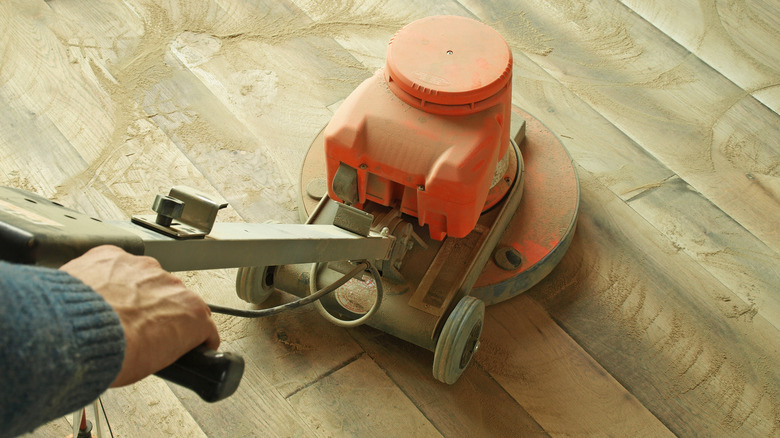 Twin Design/Shutterstock
One of the best features of hardwood flooring is that it can be renewed to its original brilliance. If some scratches in the hardwood become too deep or the finish wears off in certain areas, the surface can be refinished. This is also a great option for new homeowners who want to change the look of their newly acquired hardwood flooring. Maybe you'd like a darker stain or a more natural finish. The refinishing process allows you to fully transform them to better fit your unique style.
Refinishing requires a drum sander for large areas of the floor, a belt sander for the perimeter, a stain, and a topcoat. If you're DIY-inclined, you can rent the necessary tools from most home improvement stores to tackle the project independently. However, be forewarned that it's time-consuming, messy, and challenging, so it isn't ideal for a DIY novice.
You can also hire a pro which is still a great cost-saving option. According to Forbes, the national average refinishing cost is $1,850, or about $3 to $5 a square foot. However, for new hardwood floor installation, you can expect to pay about double that — between $6 and $12 per square foot (via Forbes).
Easy cleaning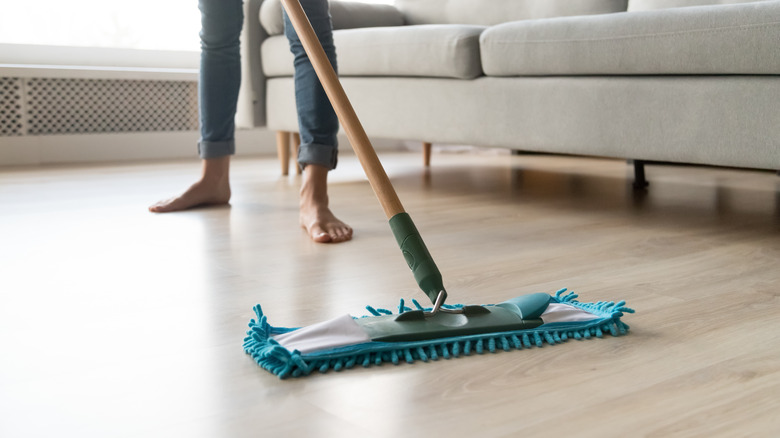 fizkes/Shutterstock
While the benefits just go on and on, one of the most desirable aspects of hardwood flooring is its easy cleanability. Daily maintenance is a cinch thanks to the durable nature of wood paired with today's top-notch sealants. Hardwoods that are properly sealed won't trap dirt, which means you don't have to worry about lengthy scrubbing sessions on your hands and knees.
However, dirt sitting on the surface can scratch your hardwoods over time, so sweep it up regularly to prevent any long-term issues. You can eliminate daily debris with a broom or vacuum designed for hard flooring. If you use a vacuum, make sure to turn off the rotating brush to avoid any damage.
To remove built-up grime, damp mop with a gentle cleaner that's specifically designed for hardwoods. Make sure the mop is damp, not dripping, because you never want to leave standing water as it can warp the floor. For pet or kid messes, spot clean (using a hardwood-specific spray) immediately to combat any odors and prevent staining. Always read the label carefully and spot-check in a small area first.
Healthier air quality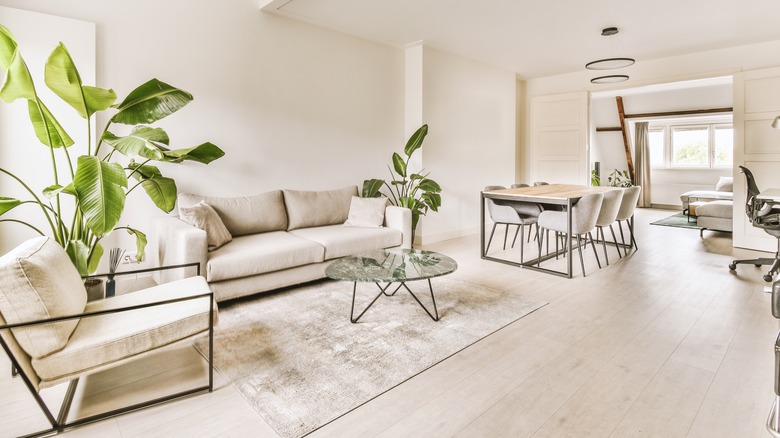 Procreators/Shutterstock
We already know that hardwood floors are a breeze to clean. What's even better? They're not giant magnets for mysterious (and gross!) stains and odors like carpet is. Per Reader's Digest, each square inch of carpet is home to 200,000 bacteria. If that statistic makes you squeamish, you're certainly not alone. Plus, irritating allergens can linger on the carpet for months. Because of this, anyone who suffers from allergies or has respiratory issues will want to avoid it being the main flooring in their home.  
You can't control the type of flooring in your workplace or school. But, you'll breathe easier, both literally and figuratively, with hardwood floors in your home. Dust, pet dander, and other allergens don't get trapped inside the surface and they can all be easily swept or vacuumed away. As a result, the air quality in your home can significantly improve by replacing carpet with hardwood.