Breathe New Life Into Your Living Room With Jasmine Roth's Simple Refresh Tip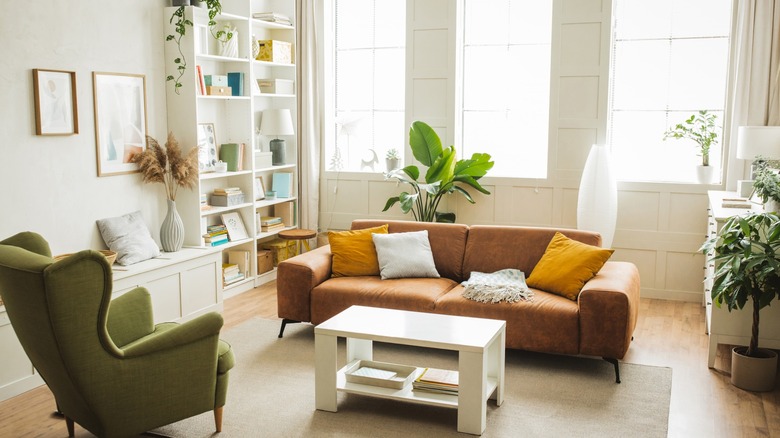 Svetikd/Getty
We may receive a commission on purchases made from links.
Designer Jasmine Roth, best known for her hosting roles on the HGTV shows "Hidden Potential" and "Help! I Wrecked My House," is an expert on finding clever ways to save money while refreshing a space. When it comes to living rooms, she has an ingenious tip for giving your space new life without blowing the budget. It also doesn't require any fancy DIY skills, just a tasteful eye and a little bit of creativity. For a brilliant decoration idea that will revamp your living space, Roth recommends getting new throw pillows for your couch. She shares on her blog, Jasmine Roth, "If buying a new couch isn't within your budget right now, choosing some vibrant new pillows is the most cost-effective way to freshen up your living room."
You might think of throw pillows as the cherry on top of your style vision, but when funds are limited, Roth sees the potential of pillows to serve as the main entree to your living space redesign. The right throw pillows can add pops of color, introduce new textures, and generally redefine the aesthetic energy of a room. This can make the space feel just as refreshed as it would be with new furniture. Whether you opt to sew your own pillow covers, hunt for bargains from online retailers like Amazon or Wayfair, or invest in a few high-end pillows from designer boutiques, you can find all kinds of pillows that will dress up your interiors while staying within your budget.
How to refresh your space with throw pillows
Choosing the best throw pillows for your home decor can completely reframe how you experience a room and express your style. As Jasmine Roth recommends on her blog, "Incorporate new, brighter colors into your home or tie in existing colors with a few new throw pillows. Play around with different color combos and patterns until you find the perfect pairing for your style." Roth shares that she enjoys pairing neutral, textured pillows with striped ones. To get a similar style, try exploring some of Roth's favorite neutral and striped pillows, such as the boho-inspired Hayley Pillow or the classic Riley Pillow.
Per Roth's pillow style guide, the designer is also a fan of throw pillows with warm tones, which can amp up the warmth of a space and add a cheerier mood to the room's color palette. While Roth promotes the yellow Rylan Pillow, you can find similarly warm-toned pillows at a lower price point, such as this woven washed windowpane throw pillow from the Threshold Collection at Target.
Finally, be open to darker throw pillow colors, as well. Roth suggests using a darker throw pillow to create contrast with lighter and neutral-toned pillows — she's particularly fond of dark pillows with geometric textures, like the Marlon Pillow from her shop, which she praises for its "distressed look and subtle texture." With these tips in mind, you can formulate your own throw pillow pairings that evoke Roth's classic style.
Don't forget a throw blanket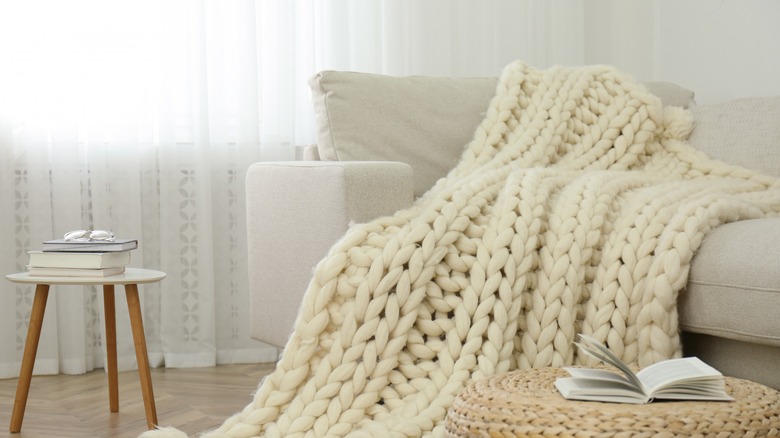 Liudmila Chernetska/Getty
Jasmine Roth also encourages folks to add a throw blanket. In her throw style guide, Roth calls throw blankets "the perfect functional home accessory [she] can't live without." Roth likes throws because they're easy to switch out and serve both a practical and aesthetic purpose. Based on the selection of blankets in Roth's shop, the designer seems to gravitate towards woven textures, soft materials, and delicate fringes. If finding cozy throw blankets is your top priority, you'll appreciate Roth's Merino wool blankets, which are ultra-soft and warm. Roth's La Casita Throw Blanket is made from pure Merino wool and comes in both a neutral and a tangerine tone. 
As with pillows, Roth loves a textured neutral throw, which you can frequently see in her design concepts. For a classic knit aesthetic that has a total Roth vibe, check out the Bayside Seed Stitch Throw Blanket from Pottery Barn, which is made from 100% cotton. If you tend to gravitate towards slightly more colorful palettes than Roth's style, try pulling inspiration from mid-century designs that incorporate vivid hues. For instance, the West Elm Happy Habitat Eco Throw has a fun color-blocked print that can add a lot of fresh dynamism to your space. 
Once your couch is adorned with new pillows and a blanket, you can follow Roth's approach and add a few final touches, like a candle or coffee table book, to complete your budget-friendly living room refresh.