5 Kinds Of Pillows That Will Dress Up Your Interiors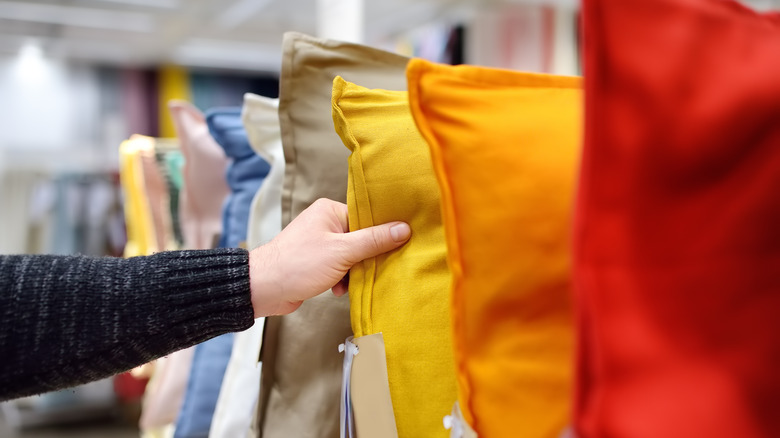 Sbytovamn/Getty Images
Moving, spring cleaning, or decorating with the seasons, we love any excuse to change up our home's interior design, but sometimes our spaces don't turn out exactly how we envision them. According to a survey explored by People, 78% of poll-takers said that creating a sense of coziness was their most important goal in redecorating their homes. Even after pouring a lot of effort into your space, the interior design can still feel "off" if it isn't cozy! 
What accessories are to an outfit, pillows are to a home — you can still look nice without them, but they add a final touch that brings everything together and makes it feel unique and relaxed. Plus, just like accessories, pillows are stackable, mixable, and matchable. If you already have some throw pillows in your home, disjointed design vibes could come from not having enough variety in your pillows. Wondering how to make your home feel more comfortable, cozy, and relaxing? Ready to freshen up your space with some new décor this season? It's time for some pillow talk.
1. Lounge-worthy lumbar pillows
Lumbar pillows have a long and slender, rectangular design that allows them to easily pop in behind your lower back. Lumbar pillows are an essential for comfort on couches and sofas, and they can even help you improve your posture. The lumbar spine includes five vertebrae between your pelvis or tailbone and mid-back. Although these are the thickest of all your vertebrae bones, the lumbar spine is prone to injury and stress. Improper sitting posture can put a strain on your lumbar spine and the muscles around it, so using a supportive pillow is key to long-term comfort. 
In addition to providing good sitting support, the density and shape of lumbar pillows make them ideal for resting your head while taking a nap on the couch. From an aesthetic standpoint, lumbar pillows are one of the best shapes to create a layered effect in front of tall, square pillows. They add just the right amount of appeal and comfort without feeling too stuffy or bulky.
2. Chic bolster pillows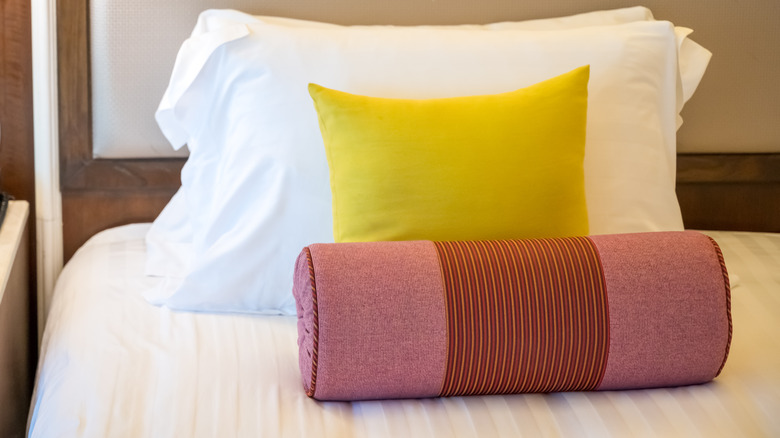 Amvi Jovas/Shutterstock
Bolster pillows have an easily recognizable "Tootsie Roll" shape. They can be short and tidy or span almost the whole length of the bed or sofa. Bolster pillows are mostly decorative, but their flexible shape makes them ideal for supporting the joints and backs of pregnant people or people with arthritis and other conditions. They can also be useful for stretching and yoga exercises or to support the lower back, like a lumbar pillow when sitting.
When it comes to picking out a bolster pillow, look for one with high-quality fabric, sturdy edges, and good density to keep it from going flat in the middle and turning into a saggy hourglass shape. One way to style bolster pillows is to place them at the top of your bed, in front of any other pillows. This creates a chic tapered look, much like you'd see at a luxurious resort. Short bolsters look great laid against the arm of a couch, while longer versions perfectly fill out open spaces on large sectional sofas. 
3. Classic square pillows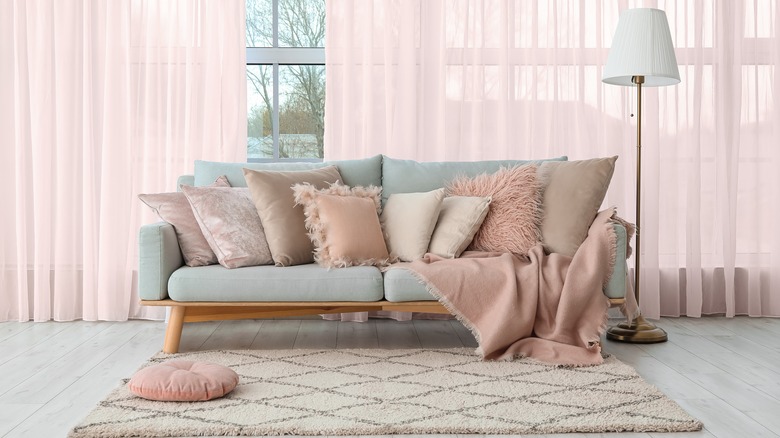 Pixel-Shot/Shutterstock
Square throw pillows are an essential for layering on beds, sofas, and anywhere else that needs a touch of plush comfort. Out of all the kinds of pillows, square throws are the most versatile and easy to find in stores. In addition to the pillows themselves being easy to collect and care for, you can easily swap out pillow covers to keep things fresh and interesting or decorate with the changing seasons. 
Use square throws to break up a boring sofa or create a cozy vibe on your bed. Pillows with a flanged, welted, or corded edge will seem more unique and luxurious than standard square cushions. The trick to styling square pillows is to add some subtle variety to your selection — you want everything to match nicely, but too many identical pillows can look awkward and dull. Instead, mix up your cushion sizes and place larger pillows at the back and edges of your furniture. Mix and match with fun prints and fabric textures like velvet, cotton, leather, and faux fur. 
4. Funky floor cushions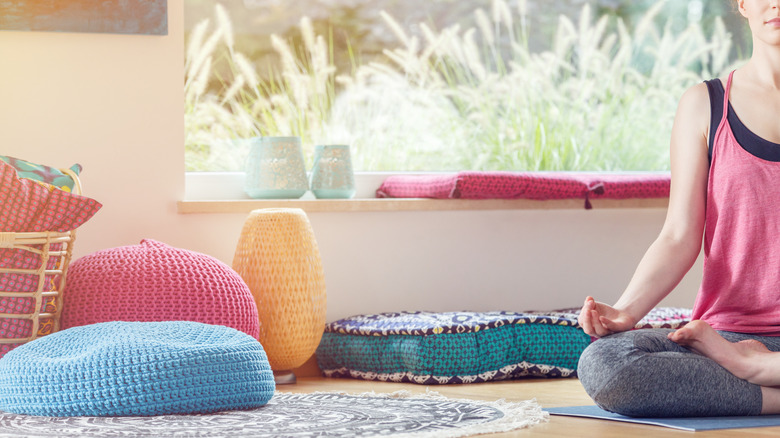 Ground Picture/Shutterstock
When most people think about pillows in interior design, they forget all about the magic of floor cushions. Floor bolsters, box pillows, and poufs can be used like a modern bean bag chair. They're great because they encourage the family and guests to interact with the space and rearrange it to suit their needs. Floor cushions take advantage of spatial levels in your home, allowing you to mix and match cushions and support a variety of lounging positions on the floor. 
Perfect for movie nights with large groups of friends or family, floor cushions are adaptable, unique, and adorable. Use them to create a cozy reading corner by the bookshelf, or prop them up against the couch for extra seating. Round them up in a circle for storytime or party games with friends. Square cushions can even double as handy extra sleeping spaces during kids' sleepovers. If you aren't so into the idea of tossing pillows on the floor, consider using large bolster pillows to make stiff chairs, benches, and bay window seating more comfortable.  
5. Quirky decorative pillows
Sequins, shaggy fur, tiger print, pom-pom trims — anything goes when it comes to quirky decorative pillows! Some pillows are better for giving your interior design some flair than they are for actual lounging support. Decorative pillows are perfect for making your home feel like a reflection of your personality, so toss one or two into the mix with your more classic pillow styles. 
Pick out some pillows that reflect some of your household's unique interests. Love lots of bling and glamour? Try a round sequin throw or a diamond ring-shaped pillow. Obsessed with music? Opt for a colorful guitar print or even a graphic of your favorite music artist's face. These usually aren't the kind of pillows you want to squish and lounge around on, as you won't want to damage their pretty design, but they can certainly be appreciated from an aesthetic standpoint! Even if you prefer a neutral color scheme in your home, bold patterns and funky shapes like knot pillows, round pillows, stars, arches, hearts, and more will lend an unexpected and unique touch.