How To DIY Faux Butcher Block Counters On Budget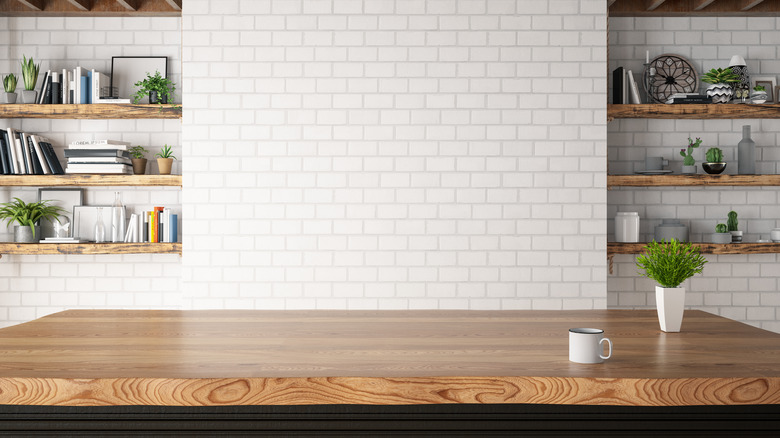 Asbe/Getty Images
Wood and butcher block counters are having a resurgence in homes after years of marble, granite, and other types of natural stone dominating the design world. Rustic and homey, wood counters can often warm up a room and give it a country or vintage feel, whether it is a kitchen, bath, laundry room, or other area of the home. One TikTok user recently shared a garage transformation with followers. In the video, @cedar_hill_builder DIYs some very stylish wooden countertops from inexpensive cuts of wood, latex paint, and a brown glaze, creating the effect of rich wood grain on simple plywood. By creating a fake wood grain effect, you can achieve the look of expensive wood countertops without the expense. 
Even better, @cedar_hill_builder completes the upgrade for well under $100, offering a budget-friendly alternative to real wood countertops. It's a technique that can be applied to any wooden piece or surface, with many DIYers using it for tables, dressers, consoles, and other pieces of furniture in addition to counters. Many homeowners prefer this more consistent finish over applying wood stain, which can sometimes have mixed results, depending on the quality and nature of the underlying wood.
Creating faux wood counters
@cedar_hill_builder

🌟Save for later🌟   "Faux" Butcherblock Countertops How To! These are a great budget friendly idea to give you that high design look, without spending large amounts of money! And since this is a garage workshop, I decided this is the perfect spot to test it out!   Buy the cheapest ¾" plywood, don't worry well be covering it up Cut it to the depth and width you need. My countertops are 12' long so I did 2 sections Use the scrap pieces to glue and screw onto the bottom of your boards. This will make your countertops look 1.5" thick without all that extra wood and weight Now you are going to grab ¼" plywood that is nice and smooth and glue and nail it on top of your cheap plywood. Trust me, this is cheaper and faster than wood filling all that cheap plywood! Using Bondo you will fill in any gaps and cracks along your boards Sand that down after its dried Prime your countertops Use any tan leftover paint. I'm using leftover paint from some other projects but I love this color! Here is the magic part! Grab a glaze or gel stain. I used a glaze! Glob that on. You do have to work kind of fast, as it dries fast. You can lightly spray your surface with water to give yourself extra work time I used a stain deck brush with thick bristles to get the wood "grain" you see. Use one long continuous motion to give the gain Let that dry! DRY DRY DRY! I'd recommend spraying with polyacrylic instead of rolling. If you do have to roll, then I'd let it dry for a few days before attempting to seal with poly. Now sit back and admire your hard work on a budget! diyproject homeimprovementprojects diyhomedecor countertopmakeover paintedcountertops cheaptok howto diyprojects diyhomeprojects ididit beforeandafter garageinspiration garageworkshop

♬ original sound - Cedar_Hill_Builder
This hack uses cheap 3/4-inch plywood cut to the size of the cabinetry, using enough pieces to build up the counters to the desired thickness. Once they are in place, @cedar_hill_builder attached sheets of 1/4-inch plywood with wood glue to create the final surface that will be painted. A slim piece of MDF is then attached to the front for a finished look. Use a wood filler to cover any seams, which creates a finish that won't bubble or crack under the paint. 
To create the faux wood finish, begin by priming the wood, then add a layer of tan latex paint over the entire surface. Then, using a deck brush, apply a darker brown wooden glaze to create the grain effect, brushing the entire length of the counter in one smooth stroke. Different combinations of paint and glaze will create lighter or darker effects, which you can completely customize to fit your decor. You can also get interesting shading and depth by mixing colors when creating your glaze, by adding shades like burnt sienna and ultramarine blue in addition to browner shades. You can also experiment with different brushes to get different effects for the faux wood grain. After it has dried thoroughly, @cedar_hill_builder suggests adding a polyurethane coat over it with a sprayer to protect it from damage.