You've Been Missing Out On The Best Shower Caddy Feature For Secured Bathroom Storage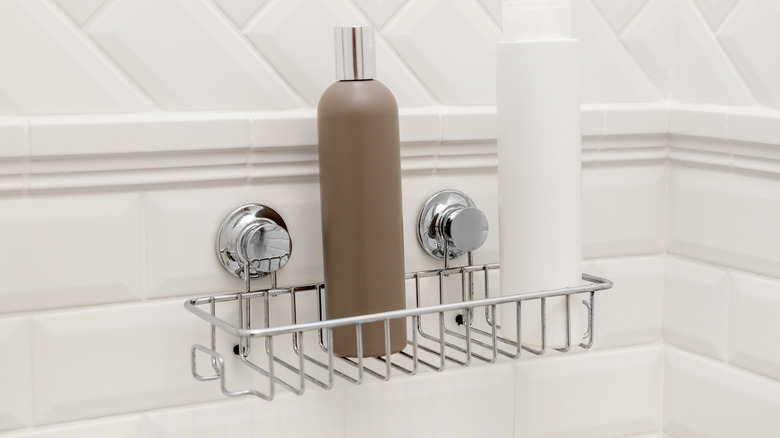 Vladeep/Shutterstock
We may receive a commission on purchases made from links.
Wire shower organizers can often be a lifesaver when it comes to bathroom storage. A well-appointed caddy can be a perfect place to keep all manner of necessities within easy reach when you need them most. Since the shower is usually a place where you are battling wet hands, soapy vision, or slippery bottles, keeping bathroom supplies organized and within easy reach is especially important. TikTok user @marlenamcfarland1 recently made a discovery that you might not have noticed about your own wire shower caddy that might be just what you need for easy access use of shower essentials. Many wire organizers not only provide convenient shelves and hooks but also holes for storing or using products upside down, making them even easier to squeeze out. 
Unless you already store your bottles and tubes upside down, you may have found yourself seeking out the very bottom of your favorite product for just one more use. By slipping the top of the bottle into these convenient recesses, there is much less squeezing and pounding the bottle. It also keeps them secure and less likely to tumble or slip from your hands. While most only accommodate appropriately-sized bottles, they are still a great way to keep your shower experience streamlined and efficient. 
Ingenious product storage
While not all wire shower organizers boast the ability to hold bottles upside down, many do, including this Silver Shower Caddy from Home Depot and the iDesign shower caddy from Amazon. While the bottles they accommodate will vary in size, you can also pour your larger container contents into other bottles to fit into the organizer with ease. Many have ample room to dispense the bottle's contents while still in the holder, though others are smaller and just allow you to store the product upside down to be taken out and used. 
In addition to these shelved organizers, there are some other options for storing inverted products, like this Evelots mesh pocket caddy from Walmart with openings in the bottom for the bottles, or this over-the-showerhead ShowerGem model from Amazon that holds all bottles at a 45-degree angle, which makes getting their contents out much easier with slippery hands. Storing products upside down also leads to less wasted product at the end.