No Demo Reno's Jenn Todryk Explains How To Choose Kitchen Colors To Go With A Bold Floor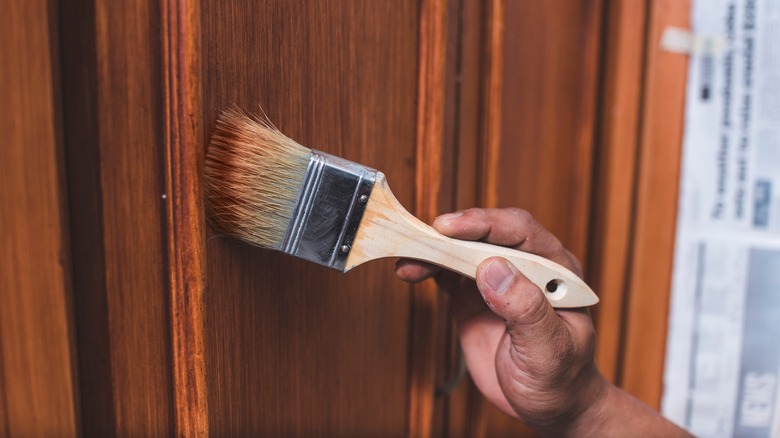 MDV Edwards/Shutterstock
One of the most common projects done during a home renovation is updating old cabinets. But when it comes to choosing the right cabinet paint shade or wood stain color, there's one age-old question that has always plagued homeowners and renovators: What stain goes with my flooring? After all, the wrong cabinet color can make floors look dated, out of place, and even dingy. Leave it to blogger, star renovator, and interior designer Jenn Todryk to discover the perfect trick for choosing paint colors and finishes that will compliment your floors while keeping them from stealing the spotlight. Next time you're refinishing cabinets, wood trim, or any other fixture in your home, be sure to pick up some spare wood to test stain colors against the floor!
In an Instagram reel shared by HGTV, Todryk explained that this dilemma is especially apparent for dark or bold wood stains. In the first season of her series, "No Demo Reno," Todryk met with clients who disliked their monotonous dark cherry cabinets and floors. She explains, "If you have floors or anything in your house that is a distinct color, like the cherry wood, it is hard to work around, but it can be done," said Todryk. Here's how she determines the perfect shade to compliment and subdue those darker wood hues.
Todryk's trick for finding the perfect stain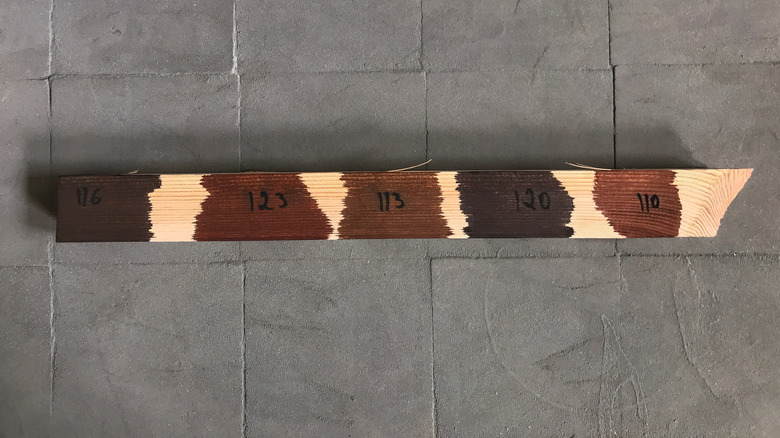 Heidy Hills/Shutterstock
In her "No Demo Reno" episode, Jenn Todryk didn't have the budget to change both the cabinets and the cherry wood floors, but she proves that you don't always have to do a massive overhaul to brighten up a home. The right color combinations can make a dark floor blend in seamlessly to a fresh, new look. Todryk opted to repaint the cabinets in a light, warm-toned gray to tone down the red of the flooring and reflect more light throughout the space. When it came time to install a faux wood beam, she needed to find the perfect wood stain. "We've got these very red floors, so I have to pick a stain color that fits in with my new modern design and what we're doing, but also doesn't make this [floor] look horrible and disgusting," said Todryk (via Instagram). 
To figure out which stain would look best in the space, Todryk painted each corner of a wooden board in a different shade, then examined the board against the deep, cherry floors. After narrowing her choices down to espresso or Jacobean, Todryk ultimately decided on the lighter of the two. The key to the winning color was that it held notes of red like the cherry wood, but it didn't clash with the cherry or add more darkness to the room. "This [espresso] brown right here kind of makes this red disappear, but it also fits in with everything else I've got going on in the house," she explained.