The Hardwood Floor Finishes And Textures That'll Be Hot In 2024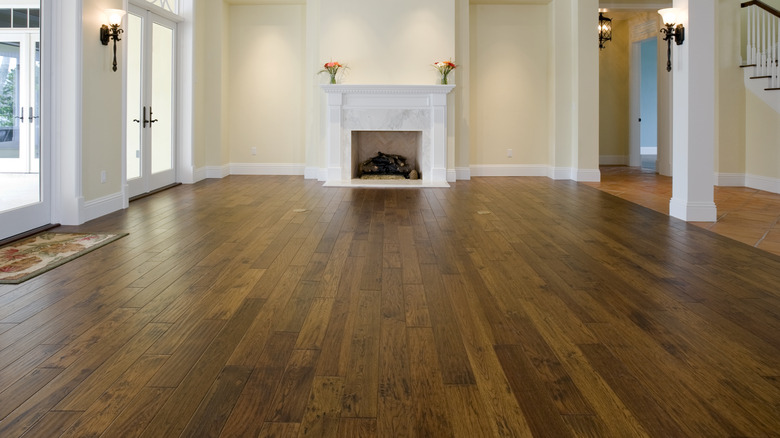 Terryj/Getty Images
Hardwood floors are timeless and durable. When we start talking about the floor, color is almost always the first consideration. That's because, light or dark, the floor sets the room's mood. But a trend that's showing up for 2024 focuses on the finish and texture of hardwood floors in addition to the tone. Sure, there's the smooth, elegant, classic look that's always on trend. But newer ways of working with hardwood floors are popping up, and these will be hot in the new year and beyond.
One technique is brushing. There are several ways to get this look. Using a stiff wire brush exposes the heartwood, bringing it to the floor's surface. Wire brushing looks great with Hickory and Oak. Another way to achieve a distressed look is by using a hand scraper. This method gives the floor an antique look that's great for historic homes, cabins, a farmhouse kitchen, or a hearth room. Hand scraping purposely leaves dents and gouges and works well with slightly softer woods such as pecan, pine, and walnut. Brushed floors should have a matte finish to retain a natural, rustic look. It's a look that anchors the room with a traditional feel, yet is sturdy enough to stand up to pets, kids, and toys.
A perfectly imperfect whitewash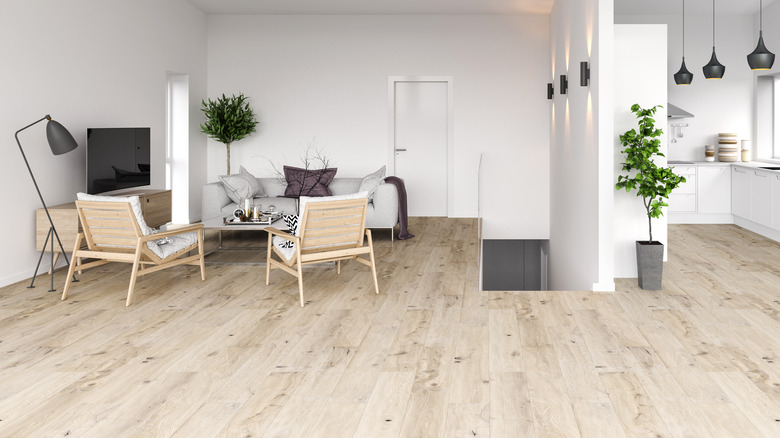 Nelleg/Getty Images
Other ways to distress hardwood floors include bleaching, pickling, and antiquing. Bleaching requires 'painting' the floorboards, not with the bleach we use in the laundry room, but with hydrogen peroxide or Oxalic acid. No matter what you use, be sure the room is well-ventilated, and wear gear to protect both eyes and skin. The effect of applying these acids lightens the wood, giving it a rustic, lived-in look perfect for a shabby chic or beachy vibe.
Pickling is another way to bleach wood and is sometimes referred to as whitewash. Whatever you call it, the process treats wood that's already light-colored, such as pine, oak, or ash, and adds a chemical to whiten the surface. There are a couple of ways to achieve this look. One is by sanding, brushing on primer, and wiping it off with a rag. There are also pickling solutions available at many paint stores. The result is a driftwood look that exposes the natural grain.
Moody and distressed alterations
Aging is using natural tannins or chemicals to darken and/or scratch hardwood floors. Once the surface has been brushed, you can stain the floor with natural tannins. Make a solution by soaking anything made of iron in vinegar for several days. Use nails, hinges, hooks, or bolts, but the longer you soak the metal, the more intense the wash becomes. Apply the solution to your hardwood floor, preferably a floor that's already been distressed. You can also use brewed black tea to achieve the same distressed effect.
Other ways to achieve a different tone for a hardwood floor include using a stain or dye, applying a chemical tannic acid, or applying a hard wax oil or oil finish. Any one of these will darken the surface of your hardwood floor. There's also smoked or fumed wood, which lends a warm, organic look to the wood flooring. Fumed wood is created by placing planks in a chamber and exposing the wood to ammonia gas. The process brings the natural tannins to the surface, giving the wood a distinct and rare appearance.