Elevate Your Bathroom With The Tile Flooring Erin Napier Had To Have In Her Own Home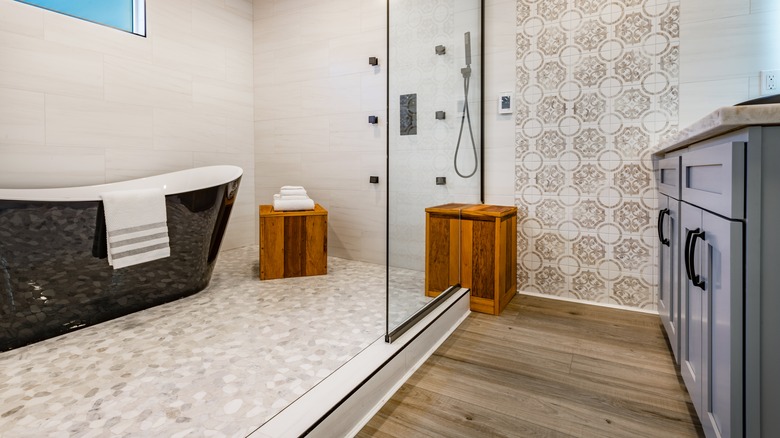 Sheila Say/Shutterstock
HGTV's "Home Town" host Erin Napier is known for her country-inspired interiors and grand millennium style, often transforming homes into cozy abodes with unique and enviable accents. This is especially true of her own home, which she shares with her husband and cohost Ben Napier. The couple recently took on a complete renovation to make their country dream home. Their design plans included a complete rehaul of the master bathroom, most notably the shower, which they expanded and refinished with marble and tile. Napier's use of mosaic zellige tiles created a unique, but challenging, floor design that turned out beautifully. 
Mosaic tiles are a great way to elevate your bathroom space, even in small doses, like a shower floor, providing an alternative to larger and more uniform tile varieties. These tiles are a beautiful addition, particularly in vintage-inspired rooms, where they are usually laid in distinct and unique patterns. While a bit more labor intensive in terms of laying and planning designs, they pay off in impact.
The allure of moasic tile
In the early days of the renovation, Erin Napier shows the beginnings of her desired layout for the tiles in an episode of  "Home Town," telling her contractor, "This is different than anything we've ever done ... This is a dream for me to do this floor, I've wanted to do it forever" (via YouTube). Napier's zellige tiles, which are slowly gaining a new wave of popularity, are a variety of Moroccan clay tiles known for their rustic beauty and the individuality of each piece. This means they are beautiful, but more of a challenge to work with than traditional manufactured tiles, with differing thicknesses, imperfections, and sizes that make designing a pattern more challenging.
According to Napier, laying the tiles took a bit of ingenuity on the part of her contractor to get a smooth finish and intricate pattern that included diamond accent tiles between the larger tiles and a lavish decorative border that had to be pieced together. While it was the first time that Napier had used zellige tiles on the floor, she had worked with them in a previous remodel on the wall, explaining to Realtor.com, "They're square, they're imperfect, they have almost a rippled surface." This surface makes them a perfect material for a gorgeous, non-slip shower floor.
Getting the look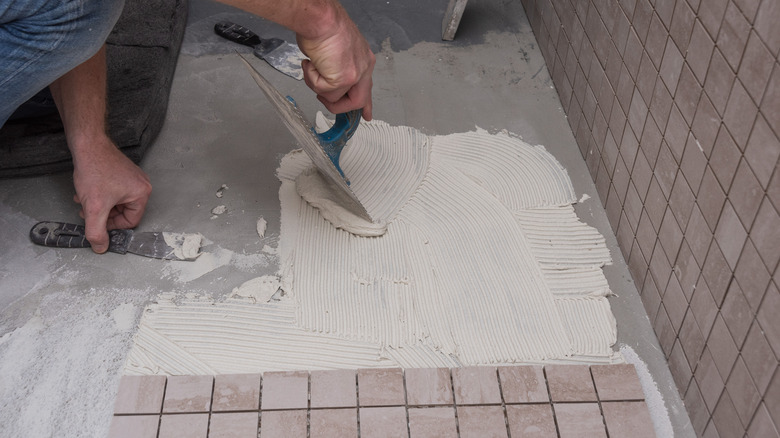 mol_farius/Shutterstock
If you are looking to bring this unique tile beloved by Erin Napier into your home, consider adding it in smaller doses, such as a shower, mudroom, or foyer where the laborious layout is much less overwhelming. The tiles can be pricey, costing $25 to $30 per square foot from retailers like Zia Tile, Mosaic Tile Outlet, and Wayfair. They are available in a variety of colors and shapes, including round conventional geometric shapes, waves, and teardrops. For a unique and sea-inspired look, try this fish-scale scalloped tile from Marble Online.
Because they are more challenging to lay due to irregularities, it's also advised you have a tile professional or experienced craftsman install them, particularly if you plan an intricate design or employ an ornate border design. For more DIY installations, working with more even and uniform mosaic tiles can mean a perfect design without a professional.