For A Timeless Front Door, These Are The Three Colors You Should Consider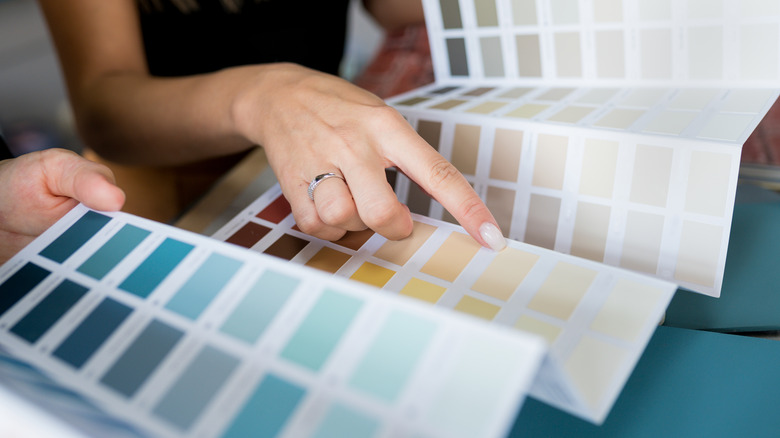 Tatiana Gordievskaia/Shutterstock
Your front door is one of the first things people see when they approach your home, so it's essential to choose a color that makes a good first impression. You want a shade that is both inviting and everlasting — something that will seamlessly tie together your exterior design. When it comes time to choose, black, brown, and gray are three timeless options for your front door that won't disappoint.
Black, brown, and gray never really go out of style. This means that you won't have to repaint your front door every few years to keep it looking up-to-date. These colors can complement a variety of homes and be incorporated into other outdoor elements, like siding, porch furniture, and planters. They are also durable and can withstand the elements — your front door will look good for years to come, even if it is exposed to direct sunlight or rain.
Black doors can yield more money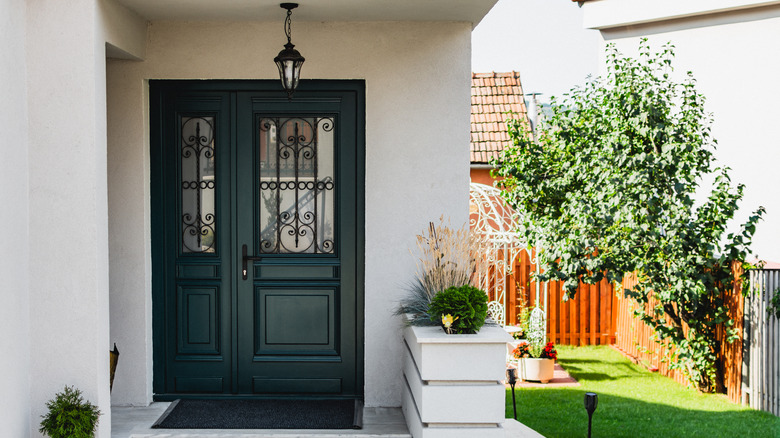 Madrolly/Getty Images
Black is a classic and sophisticated color that complements many aesthetics, from traditional to modern. It can create a dramatic and inviting entranceway, and it also hides dirt and scuffs well. If you have a white or light-colored home, a black front door will create a bold and eye-catching contrast. If your home is brick or another dark color, a black front door can add a touch of elegance.
When you choose a black front door, consider the finish. Black doors come in various finishes, from glossy to matte. Choose a finish that complements the overall style of your home.
Black front doors offer more monetary value. According to a survey by Zillow, buyers said they would pay over $6,000 extra for a home with a black door. However, keep in mind that the color isn't for everyone. Those who didn't think it was becoming felt it gave off bad vibes. If you want to come close to a black door without taking the leap, try charcoal. It has all the benefits of a dark, classic-looking door without being as dramatic. 
Brown doors are earthy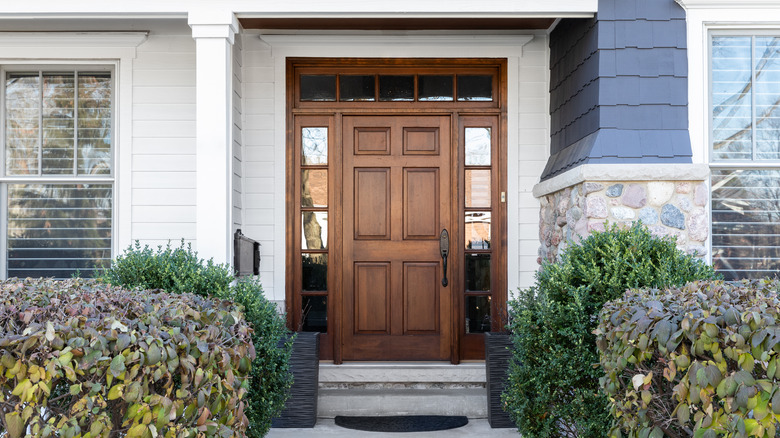 Joe Hendrickson/Getty Images
Another classic choice is a brown front door. Unlike black, brown can add a touch of warmth and earthiness to any home. They are especially popular for homes with natural wood or stone exteriors, but they can also look complementary to homes with brick or stucco exteriors. They also pair well with other earthy colors like beige, white, and green.
Brown doors are also very multifaceted — you can pick a light brown wood or a deep dark mahogany. For wooden doors, you can also try to go with a wood stain to draw attention to its natural state. 
The natural appeal of a wood door can be dressed up or down with different hardware and accents. For example, a brown front door with brass hardware and a potted plant can create a warm and inviting look. A brown front door with black hardware can appear more modern.
Gray doors have wide appeal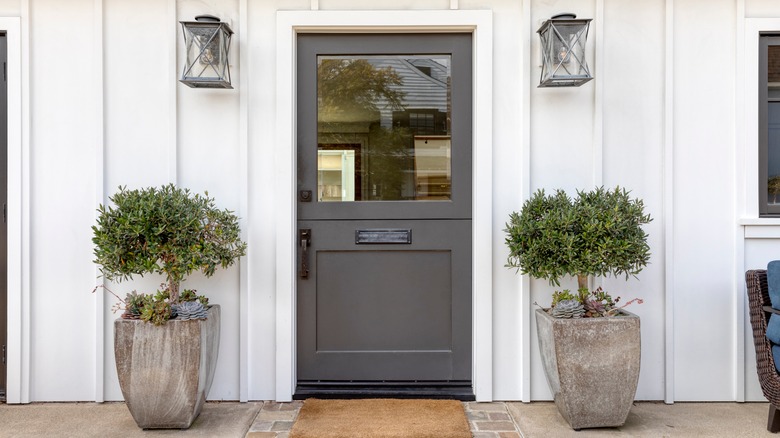 David Papazian/Shutterstock
Gray front doors are a popular choice for many homes. Like the previous options, gray front doors can be paired with a variety of colors, from white to black to navy. Slate gray-blue is a popular and sought-after color. 
Hardware and accents are also fun to add to gray doors. A gray front door pairs nicely with silver hardware and a white wreath for a present-day elegant look. Try black hardware for a more contemporary look.
Whether you choose black, brown, or gray, consider the surrounding neighborhood. You don't want your front door to clash with the other homes on your street. If most of the homes in your neighborhood have neutral-colored doors, you may want to choose a neutral color for your door as well. However, if you want your home to stand out, you may choose a more bold color. Also, consider the amount of sunlight your front door receives: Darker colors absorb more sunlight and can fade over time, so you may want to choose a lighter shade if your door is in a sunny spot.