We Have A Stunning DIY For All Those Extra Magnolia Leaves In Your Yard
We may receive a commission on purchases made from links.
Magnolia trees (genus Magnolia) bloom green, rubber-like leaves and white, pink, green, or purple fragrant flowers. Native to East Asia, North and South America, and the Himalayas, magnolia trees are typically grown in warmer climates and USDA hardiness zones 4 through 10, as they enjoy full sun and are tolerant to drought. If you have a magnolia tree in your backyard that's full and lush, you could DIY a stunning garland with the leaves to decorate your mantel. To do so, you'll gather fallen leaves and full branches, then secure the branches together with wire and string. Plus, if you have a backyard full of different types of flowering trees, you can customize your garland by adding a few leaves from your other greenery.
A magnolia leaf garland makes a wonderful mantel decoration for fall and winter. Purchasing pre-made garlands from retailers can be expensive, so using your magnolia leaves is an excellent budget-friendly alternative. For this project, you'll need magnolia branches with the leaves attached (the amount will depend upon how long you want the garland to be), nylon string, 18 gauge wire, 28 gauge paddle wire, wire cutters, and a pruner. You can purchase the Nylon Blend Diamond Braid Rope from Walmart for about $4, the 18 Gauge Stem Wire from Michaels for around $4, and the 28 Gauge Round Green Enameled Wire from Walmart for $6. Before you begin this DIY, make the magnolia branches last longer by soaking them in water for 24 hours. 
Steps for DIYing a magnolia leaf garland
Once your branches are done soaking and have dried, prune back the stems with a pruner so that the bottom 5 inches of each piece are bare. Also remove any dead or unaesthetic leaves. Then, use your nylon string to measure your mantel and cut it to the right length. Next, tie one end of the string to a branch's base below the leaves. Wrap the 28 gauge paddle wire around both the stem and the nylon string to secure them together. Take another magnolia branch, add it on top of the string and previous branch with the leaves facing the same way, and secure it with the paddle wire. Don't cut the wire; it will connect to all the stems. Place the second branch's stem slightly below the first to make the garland look lush. Continue stacking the branches and wrapping the string and paddle wire until you only have one branch and only a small amount of nylon string left.
Finally, place the last branch so that the leaves are facing the opposite end to close off the garland instead of letting the stems stick out. Stack the stem closer to the leaves to prevent a large gap from forming. Tie the string around the final piece, wrap both the branch and the string with the paddle wire, cut the wire with the wire cutter, and bend the ends behind the leaves so that you can't see it peeking out.
Ways to personalize your garland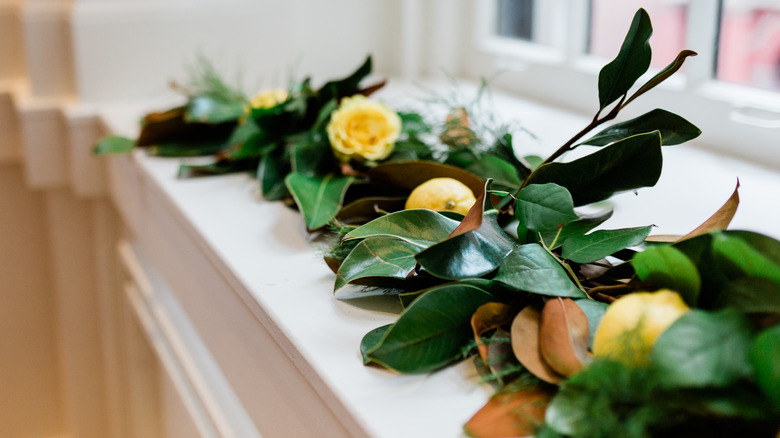 D. Patalano/Shutterstock
While you can keep your magnolia leaf garland as is, there are also countless ways to customize it and improve the appearance. One idea is to use the 18 gauge stem wire to attach more magnolia leaves to make the piece appear extra lush. You could also use the stem wire to attach pine cones, evergreen branches, dried fruit like orange slices and pomegranates, cinnamon sticks, and different fall-colored leaves for a gorgeous Thanksgiving-inspired garland. Find pine cones at your local park or buy Cinnamon Scented Pine Cones at Michaels for just $4. Michaels also has Decorative Fruit Slices you can mix into your magnolia garland for under $5.
To create a more wintry and festive garland, add cranberry stems, twinkle string lights, red bows, and small colorful ornaments. Amazon has 12 Artificial Red Berry Stems for around $14 and Red Velvet Ribbon for about $9. If you're not using all your Christmas ornaments on your tree, use the smallest ones for your garland. Attach the stems, ribbon, and ornaments with the stem wire and intertwine the twinkle lights throughout the garland. It's best to use twinkle lights that are battery-operated to avoid using a long cord that needs to be plugged into an outlet; Target has LED Christmas Dewdrop Fairy String Lights for $5. Add more of your favorite items to personalize the garland, then display it on your fireplace mantel with your other holiday décor.