The Shower Hook Hack That Will Save You Time Cleaning The Curtains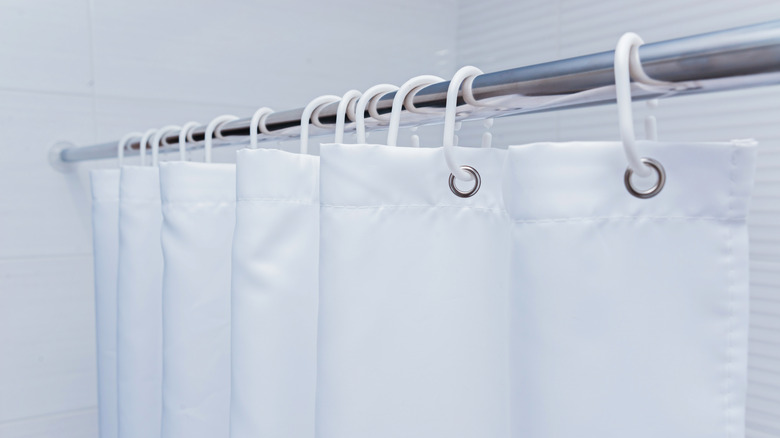 Ira Shpiller/Shutterstock
We may receive a commission on purchases made from links.
Did you know that you should be cleaning your shower curtain liner at least once a month? If you're hesitant to do so, it's probably because you have to fight with your liner and curtain every time you pop open those pesky plastic curtain rings. However, laundering your shower drapery is about to get a whole lot easier, thanks to double-sided hooks. In a game-changing TikTok video, @littlefarmhouseontaylor shares this genius shower hack, and your bathroom cleaning regimen will never be the same. 
There's a reason you need to wash your shower curtain liner once a month. Soap scum accrues, and your liner becomes susceptible to mold and mildew growth. If you have a fabric shower curtain liner, especially a cotton one, this fungal growth can quickly eat away at its fibers. To bring more ease to your cleaning process, swap out your dated plastic shower curtain rings and invest in double-sided ones. You can purchase them for less than $6 on Amazon, and they're commonly made from sustainable materials, such as metal. This means you can recycle them down the road. Until then, you'll enjoy a convenient way of removing your shower curtain liner, saving you time and energy as you tidy up the bathroom. 
Swap out your old shower curtain rings
This TikTok shower hack is incredibly easy to carry out. Simply remove your old shower curtain rings and replace them with double-sided hooks. You can even install rustproof ones. Stainless steel is an example of a material known for its rust resistance, so consider looking for hooks crafted from this iron-based metal. If you're looking to add to your existing decor, purchase hooks that match your bathroom's aesthetic. They come in a variety of colors and styles, so don't be afraid to get creative. You'll jazz up your bathroom and won't have to struggle to remove just your liner — that's what we call a two-for-one deal.
Once you've swapped out your old shower curtain rings, you might be wondering if all shower curtain liners benefit from a romp in the washing machine — plastic included. Similar to its fabric counterparts, plastic liners are susceptible to mold growth. Luckily, you can toss these in the wash, too. When you wash your shower curtain liner, you're not only removing harmful bacteria and fungus, but you're working to keep plastic out of landfills. These plastic liners are usually non-biodegradable, and even the ones that are can take a thousand years to decompose. Instead, use double-sided shower curtain rings to effortlessly remove and clean your liner, reusing the same one over and over. Your wallet — and the environment — will thank you.