The Unexpected Store Where You Can Score Cheap Tile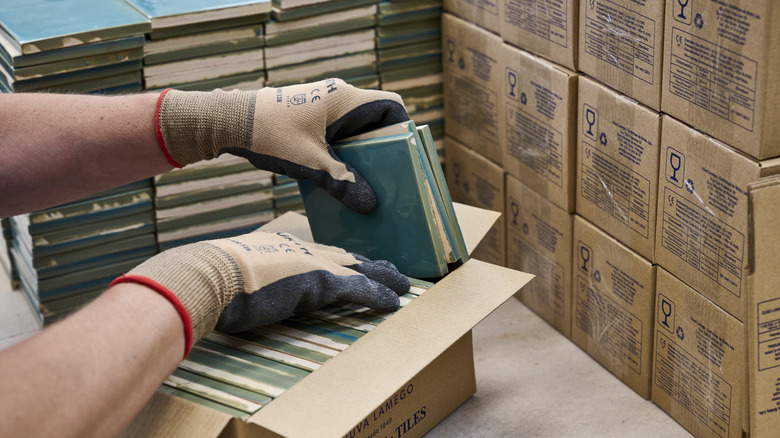 Horacio Villalobos/Getty Images
Whether you're doing a big flooring project or you need high-quality tiles for a certain area, tiling can put a dent in your budget when you calculate everything from the materials to the installation. The good news is that you aren't limited to the big-box stores, and there are other avenues you can explore for more affordable tiles. Your local salvage yards and secondhand stores, like the Habitat for Humanity ReStore.
Buying tiles from these types of stores is an underrated way to source materials for your home project. They'll typically be more affordable than the types of tiles you can buy at Home Depot, and you'll never know what you'll find since they come from different sources. You might find new or used products, which is good either way because you'll be getting them for a fraction of the original price and making an eco-friendly purchase because you're reusing materials. By doing your due diligence in the buying process and keeping an open mind, you can find cheap and quality secondhand tiles for your home.
Secondhand and thrift stores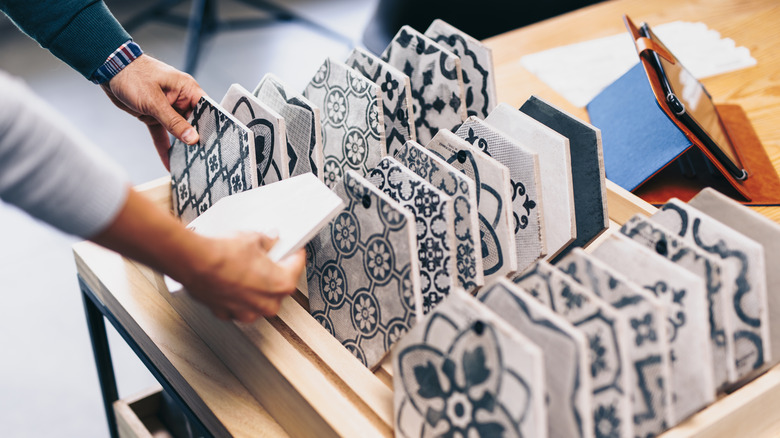 hedgehog94/Shutterstock
Those secondhand and bargain stores that you pass by in your neighborhood or city are great places to score cheap tile. Some of them receive brand-new or unused open-box tiles from people who had too many for their projects and couldn't resell or return them. This is normal in the case of custom-made products or quantities that are too small, but whatever the reason, you get to browse through the donations and might even be lucky enough to find a trendy tile. Look up salvage tile yards or secondhand tiles in your area. One popular option, as we mentioned, is the Habitat for Humanity ReStore.
The ReStores receive tiles from builders who are done with their projects, buildings that take out their old tiles, and people who simply want to upgrade their flooring, so you can expect to find a wide variety there. Alongside offering good prices and being eco-friendly, ReStores are a good place to shop because the profits go towards Habitat for Humanity's mission of providing affordable housing everywhere. You can also find reclaimed tiles online on platforms like Facebook Marketplace and eBay. Etsy is also good, especially if you're looking for really unique vintage or handmade tiles, though they tend to be considerably more expensive.
What to do when shopping at secondhand stores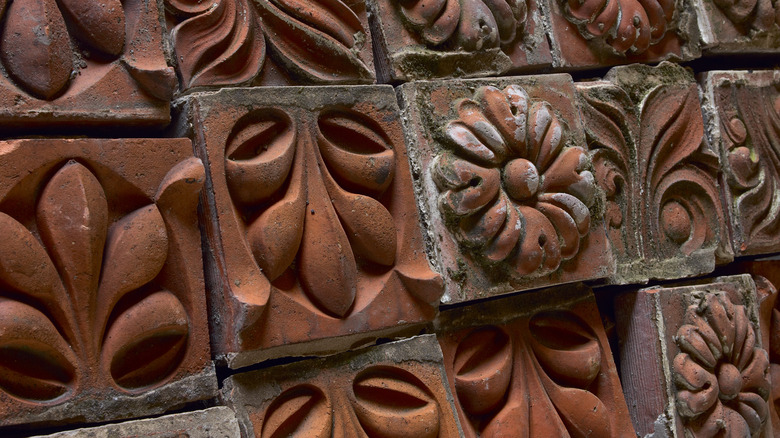 Construction Photography/avalon/Getty Images
When buying tiles from secondhand stores, there are some things to look out for to ensure you get the right tiles for your project. The first is variety. You'll come across different options in terms of sizes, shapes, and styles, so check if there are enough of the same tile to have a cohesive home project. They also come in different quantities, so check if the store has the number you need. If you don't find a complete collection, consider the possibility of mixing and matching.
The used tiles may also have signs of wear, like chips, cracks, and other surface imperfections, so you need to carefully inspect them before buying. Look out for the level of restoration needed. They might need cleaning and refreshing until they're ready to be installed again. It always helps to visit multiple stores to know what's out there before making a purchase. Talk to stores about what you're looking for, and you might even be able to negotiate a deal.