How An Old Fidget Spinner Can Revolutionize Your Cabinet Storage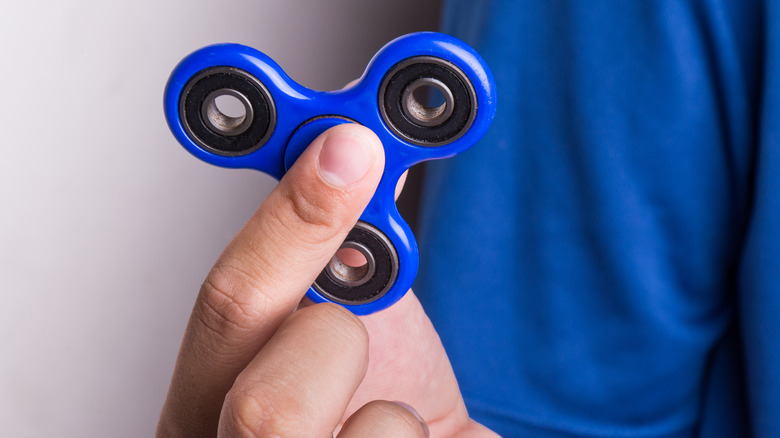 Thamkc/Getty Images
We may receive a commission on purchases made from links.
We've all been there: you open your kitchen cabinets, in search of a particular spice, only to find it wedged in a far corner. By the time you're done rooting around, you forget why you needed it in the first place. But thanks to an inventive TikTok hack shared by @lahlahlandhomedecor, you can create a DIY lazy Susan with a few Dollar Tree items. You need a fidget spinner, a glass tray, a candle holder, a tea light, and hot glue. Lazy Susans are a kitchen's best friend, and this one offers convenient accessibility to all your items. They organize any area while offering storage space for things such as spices, toiletries, and even small containers. 
Before carrying out this genius TikTok hack, you'll want to remove everything from your cabinets, giving them a thorough cleaning. It's recommended to clean the inside of your cabinets yearly, if not more, and this trick gives you the perfect opportunity to do so. And once your cabinets are clean, you're ready for this Dollar Tree hack for DIY kitchen storage organization. You can also use this custom lazy Susan in other parts of your home. Lazy Susans are great for toiletries under the sink, items in a craft room, your linen closet, and for organizing your home office — the possibilities are endless. 
How to make a lazy Susan
After you've gathered your materials for this TikTok hack, remove the top button from your fidget spinner — you need one side of the fidget spinner securely in place. Next, glue the button-free side of your fidget spinner to the tray. Be sure you measure first, ensuring your cabinets are deep enough to accommodate the plate of your choosing. Flip your tray over so the fidget spinner is on the bottom, rotating your plate in place. Glue a tealight in the center of your tray and top it with a candle holder, gluing your second tray on top of that. If you need more or less height, you can switch up the size of your candle holder. You can also add or remove tea lights, so long as your lazy Susan is sturdy.
You can buy fidget spinners at the Dollar Store, making this an affordable hack. However, there is an alternative method to this TikTok trick that involves nothing more than marbles, which can be purchased at Amazon for less than $4. You also need two 8-inch cake pans from Dollar Tree. Place the marbles in one pan and top with the second pan for an instant lazy Susan.