Take Your Door From Builder-Grade To Custom-Made With TikTok's Stunning DIY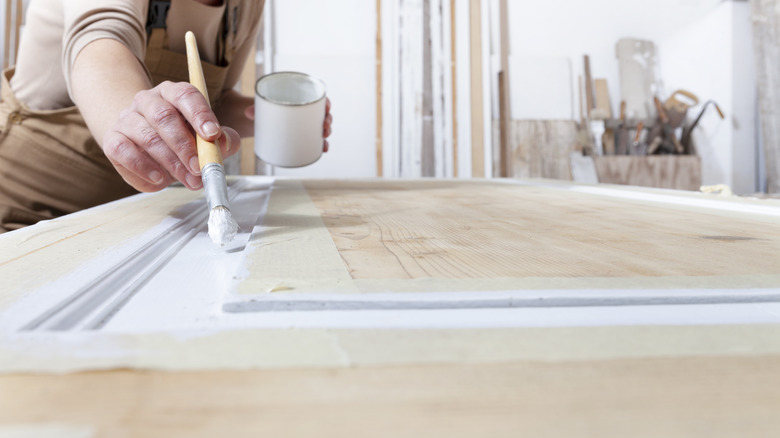 amedeoemaja/Shutterstock
While sometimes beautiful and simple, builder-grade materials in our homes can often lack a certain amount of creativity and spark that make homes unique. While older homes boast unusual and intricately carved accents and handmade touches, manufactured pieces like cabinets, windows, mantles, and doors in newer homes often seem overly basic and without custom detailing. TikTok user @bailey.at.home recently showed off the way she created a gorgeous custom set of upgraded closet doors out of the builder-grade ones that were already in her home with the addition of some pieces of inexpensive MDF board. 
The result is a stunning slatted set of doors that looks much more custom and expensive than what she started with. The only required materials are new paint and two large sheets of ¼ inch MDF,  available for around $50 each from home retailers like Home Depot, making this an extremely budget-friendly alternative to replacing the double doors with new ones.
Customizing a door with MDF
@bailey.at.home began by removing the current doors from their hinges, sanding them down to paint them, and removing the existing hardware, which she planned to replace. She gave both doors an all-over coat of paint on both sides before using a sheet of MDF to reface the front side of each door. She cut out a frame from the MDF that divides the doors into three sections along the length, fastening it down with nails. After painting the frame, she used several slats in each section of the door to form a chic ribbing effect, gluing them down with wood glue before painting the entire door with the desired color. As a final touch, she added new wood hardware.
The narrow paneling grants the door a custom look, adding texture and dimension that did not exist with the previous doors. While @bailey.at.home painted the doors in their entirety in a muted grayish green, you can also leave the slats natural for a tropical or Balinese-inspired look over another color like black or brown. MDF board comes in a variety of widths, including thicker ¾ inch width panels from Lowe's, which allow you to vary the cuts of wood to create a greater sense of depth. For a more ornamental touch, add inexpensive wood appliques like floral details and scrolls to the MDF.